The Corning Museum of Glass just got a whole lot bigger. On Friday, the museum plans to open a 100,000-square-foot, $64-million contemporary art and design wing, designed by Thomas Phifer and Partners. Approximately 26,000-square-feet of gallery space will now feature works by artists like Dale Chihuly, Roni Horn, Robert Rauschenberg, and Kiki Smith, and many others.
The new wing is comprised of two buildings and was built to further accommodate the needs of its unique glass art. (Unlike paintings, many of the Corning's glass pieces do not need to be hung on walls, and benefit from ample light). A full-room installation by Ms. Smith, produced by Pino Signoretto and titled Constellation (1996), features 26 glass animals of in the style of celestial patterns.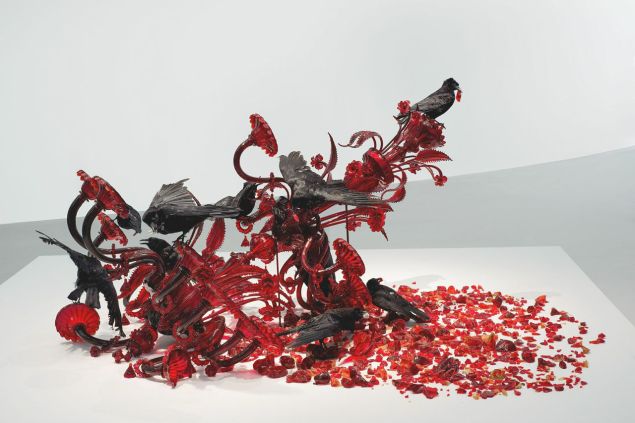 Currently, the museum's collection features work that span 3,500 years to the present, and the new galleries will focus on works form the last 60. "In the last sixty years, glass art has grown significantly in scale, and we wanted to build a new wing that could accommodate that shift in the field," Karol Wight, president and executive director of the Corning Museum of Glass, told the Observer.
Adjacent to the new gallery space will be the newly renovated historic glass factory renovator building, with a brand new 500-seat demonstration theater where visitors can watch hot glassblowing demonstrations. In a statement from the museum, Ms. Wight explained that the space also doubles as a place where "glass makers and visiting artists can experiment and create larger works."
In addition to perusing the new galleries in person, museumgoers can explore the objects on display with the museum's GlassApp, a mobile site that features video conversations with staff, images, and artist biographies.