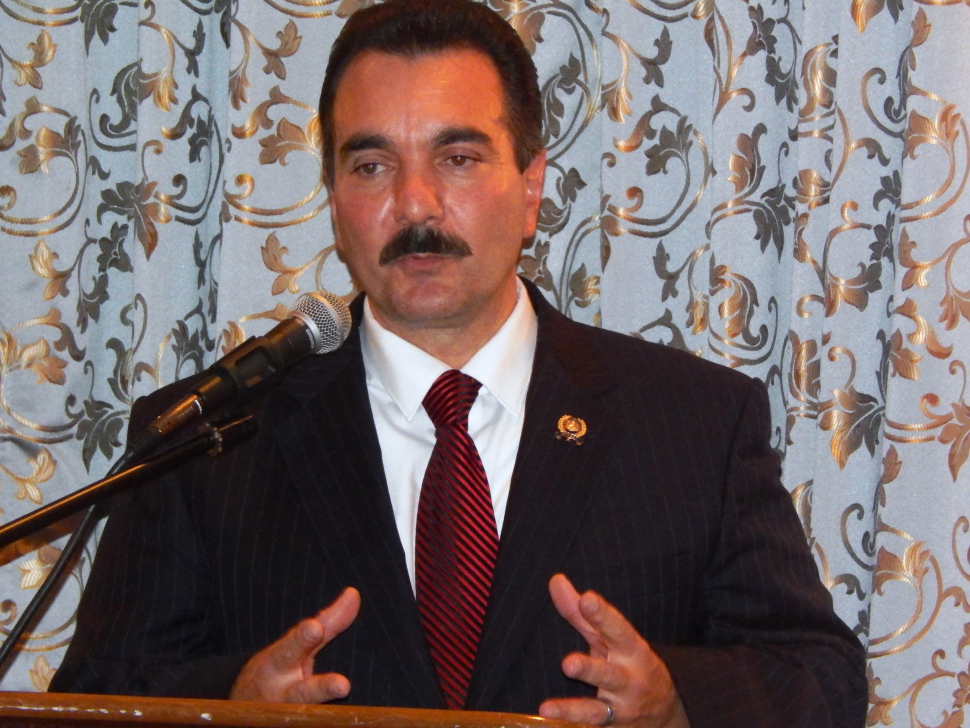 In The Expendables, Sylvester Stallone leads a group of guys professionally hung up to dry, a condition just as readily applicable to assembly people in Hudson County.
Unlike other counties where organizations appear to cultivate longer-lasting political brand names – Middlesex, for example – Hudson's habit of giving mayors free rein to pick their own legislative representatives leads to an interchangeable parts mentality for those oftentimes unwitting souls condemned to Trenton.
"The political culture of how the different elected officers are treated varies from county to county," acknowledged Assemblyman John Wisniewski (D-19), a 20-year veteran lawmaker from Middlesex.
Those newcomers to the Statehouse scene might be tempted to do themselves a favor and resist learning the names of lawmakers from Hudson County. Blink and they'll be gone, or so shows the history. Look at all the volatility in just the last eight years.
Take LD31. Bayonne's Tony Chiappone beat Nick Chiravalloti. Chiappone got jammed up. So Chiaravalloti campaign manager Jason O'Donnell replaced Chiappone. Then O'Donnell ran afoul of U.S. Senator Bob Menendez (D-NJ) (and state Senator Ray Lesniak). So they found a replacement for him. Chiaravalloti.
Lesson Number Two: Never underestimate the capacity of someone for whom you served as campaign manager to come back with some Menendez muscle and depose you.
Take the Jersey City portion of LD31. There was Lou Manzo. Then there was L. Harvey Smith. Then there was Charles Mainor. Then there was (for a half second) Joyce Waterman and Denise Ridley and then (as in now) Angela McNight.
In LD33, Ruben Ramos got on the bad side of state Senator Brian P. Stack. So Stack got rid of him. Carmelo Garcia? Two years and done. Caridad Rodriguez? Redistricting chopped her out of LD33 into LD32 so she took a promotion (womp, womp) as a West New York Commissioner. At least it's (relatively) stable work.
LD33's Sean Connors was supposed to be the new face of the HCDO.
Trapped between Stack and a Jersey City in political flux, he lasted two years in Trenton.
Granted, that redistricting commission decision to remove West New York from LD33 and extend Jersey City into Stack's district mangled some careers, Assemblywoman Joan Quigley's included; and created others, like that of fledgling Assemblyman Raj Mukherji (A possible future candidate for Jersey City mayor, Mukherji fascinates by virtue of the fact that he navigated the transition from Jerry Healy's to Steven Fulop's city hall. That's unheard of in this climate, where each mayor appears to prize – before all else – a low maintenance and wholly expendable loyalist in the assembly). Certainly, that 2011 redistricting commission could convincingly make its case for rearrangement based on Hispanic population trends, but how convenient that those disruptions occur in Hudson, where to get politically comfortable on an uneventful day would be to demonstrate a severe case of misjudgment.
The only assemblyperson still active who's managed to survive in the lower house for an extended period of time – double digit territory – is Speaker Vincent Prieto (D-32). Compared to his Hudson County colleagues, Prieto possesses nothing less than a remarkable political history.
Eleven years.
That's how long he's been in the Assembly.
Living snugly under the protective wing of Hudson County's longest-standing mayor (after Weehawken's Richard Turner), the phlegmatic Nick Sacco, Prieto's seen them come and he's seen them go. He's supplied the consoling shoulder to any number of ravaged HCDO allies. When Brian Stack beat Sal Vega in the 2007 Democratic Primary to succeed Bernie Kenny in the LD33 senate race, Prieto embraced his Cuban American cohort on the floor of the Assembly.
For Prieto, legislative longevity ultimately meant the reward of the Assembly leadership seat in 2013 and traction to duplicate the political accomplishment of his Cuban American successor Albio Sires, who went from speaker to U.S. Congressman in 2006.
Strong Mayor Sacco stability gave Prieto a statewide foundation.
It wasn't always like this.
There was a time when more than one assemblyperson in Hudson abided for a longer period of time than one or two terms. Former Speaker Joe Doria of Bayonne served in the Assembly from 1980 to 2004. Joe Charles served from 1982 to 2002. Even David Friedland, who gave the finger to the feds in a pair of skis before disappearing ahead of embezzlement charges, put eight years into the Assembly: from 1966 to 1974.
There's also, of course, the upwardly mobile model employed by Menendez (three years in the Assembly, 1988-1991, before moving up) and Stack (four years in the Assembly (2004-2008) before assuming the Oath of Office in the senate, where he remains.
Perhaps the trend reflects the consequences of an increasingly digitized culture with precious little attention span. If Doria was Shakespearean, his successors are expected to be variations on SpongeBob SquarePants. At the very least, these days, if you see a lower house lawmaker from Hudson County in the hallways of the Statehouse, consider yourself in the presence of an individual who abides in an undeniable atmosphere of expendability.