JERSEY CITY – Drums, pipes, kilts and hard faces trudging behind Mercer County Executive Brian Hughes in this year's annual one block St. Patrick's Day Parade felt like staging area props and players for the next war, as though a moat or open field or another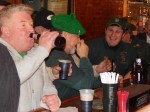 nondescript block would unleash house-to-house fighting or worse, an abiding grimly contained havoc finally diffused and prevented alone by the presence of a tavern with its doors flung wide.
In this case, it was Healy's Tavern, which sits on Newark Avenue in Jersey City almost under the highway. The kid behind the taps moved around the big, U-shaped bar like Fast Eddie Felson around a pool table. Several people in the fast-filling tavern remarked that he was the best bar back in the city. It was former Jersey City Mayor Jerry Healy's mayor's son, Patrick, a firefighter and co-owner of the place with his father.
"He's a tough city kid," said Hudson County Executive Tom DeGIse.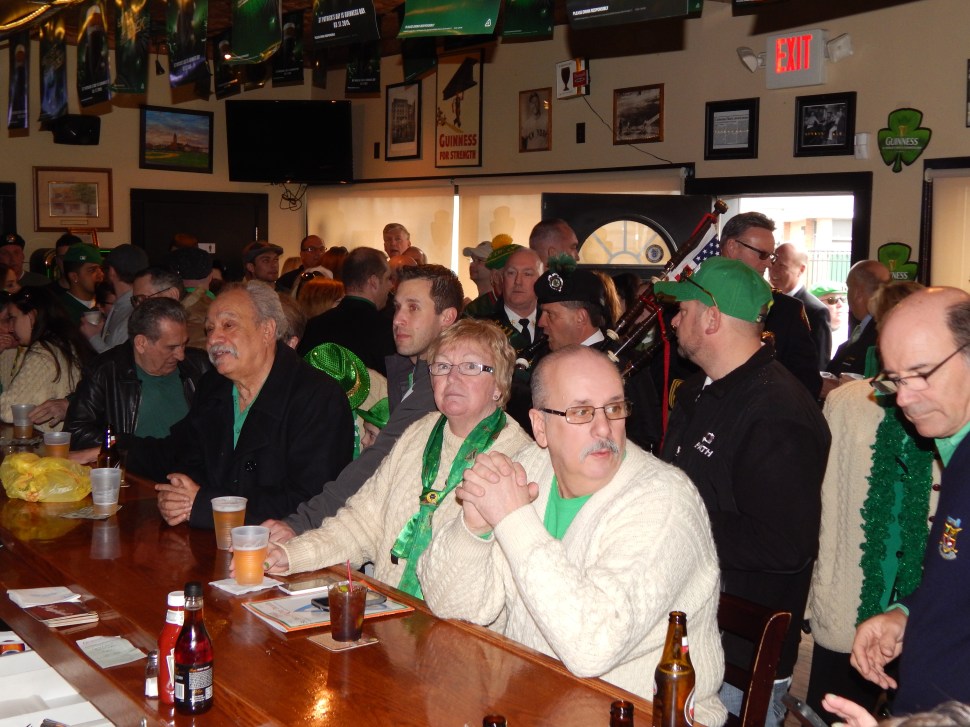 Two years ago, Jersey City Mayor Steven Fulop drove Healy out of office and today, he welcomed Hughes to the favorite watering hole of the vanquished, whom he's folded into his fiefdom along with other assorted old Healy allies, as a 2013 reformer turned front-line loyalist of a slightly reconfigured Hudson County Democratic Organization (HCDO).
Healy and Fulop shared some bar time. They weren't bear-hugging each other, but they exchanged close-quarters St. Patrick's Day cordiality. One former Healy diehard admitted that Fulop's fast pivot from mayoral candidate to gubernatorial hopeful surprised him, but didn't gripe. "Jerry took a job at the county after he lost, and no one [close to Fulop] bitched," a face half obscured by a mug of beer explained to PolitickerNJ. "We're all friends here."
When a camera flashed in the direction of former mayor and mayor, Healy told Fulop with a friendly paternal grin, "Don't look at the camera."
For an hour plus, the bar turned into a drop zone for Irish politicians from all over New Jersey.
Former Governor James McGreevey, executive of the City of Jersey City's Employment and Training Program, looked irrepressibly mayoral as he networked – apparently equally at ease with Hughes, Fulop, Healy, Assemblyman Tom Giblin (D-34) and Assemblyman Raj Mukherji (D-33).
Giblin was arguably the event's lone St. Patrick's Day celebrity.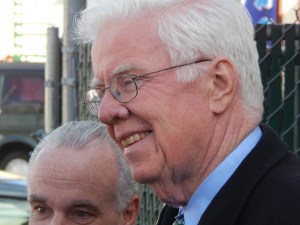 Politicians looking to elevate their status groped for Giblin's sleeve in the vicinity of cameras..
Standing on the sidewalk outside of Healy's, the assemblyman from Essex County looked like he would sink a battleax in the skull of anyone of English extraction who looked at him sideways. Towering above a former governor, mayors, county executives and assorted local, county and state lawmakers, the only suitable title for the white haired Irish totem seemed to be His Eminence.
Old rivals nursed beers.
Fulop ronins Tommy Bertoli, Shawn E. Sullivan-Thomas and Jason Solowsky sidled with Buddy Demellier and Frank Burke. Craig Guy hovered nearby. Demelier was chief-of-staff to former Mayor Gerry McCann, and Burke also goes back to that era.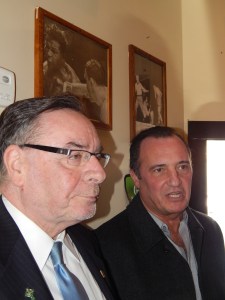 Fanwood Mayor Colleen Mahr appeared and there were grumbles down the length of bar
about Union County Democratic Chairman Jerry Green's decision to back Rahway Mayor Jim Kennedy for an LD22 Assembly seat over the woman who cut her political teeth in McCann's City Hall in the 1980s. Green wants to be chairman again, a source said, so he went with Kennedy because Kennedy pulls bulk Rahway votes in the Tuesday after the first June Tuesday election and gets him another two years as party chairman.
"Jerry wants to be chair in 2017, the gubernatorial election year," a source said.
"The Girl from Ipanema" was playing on the radio as the discussion turned to LD31.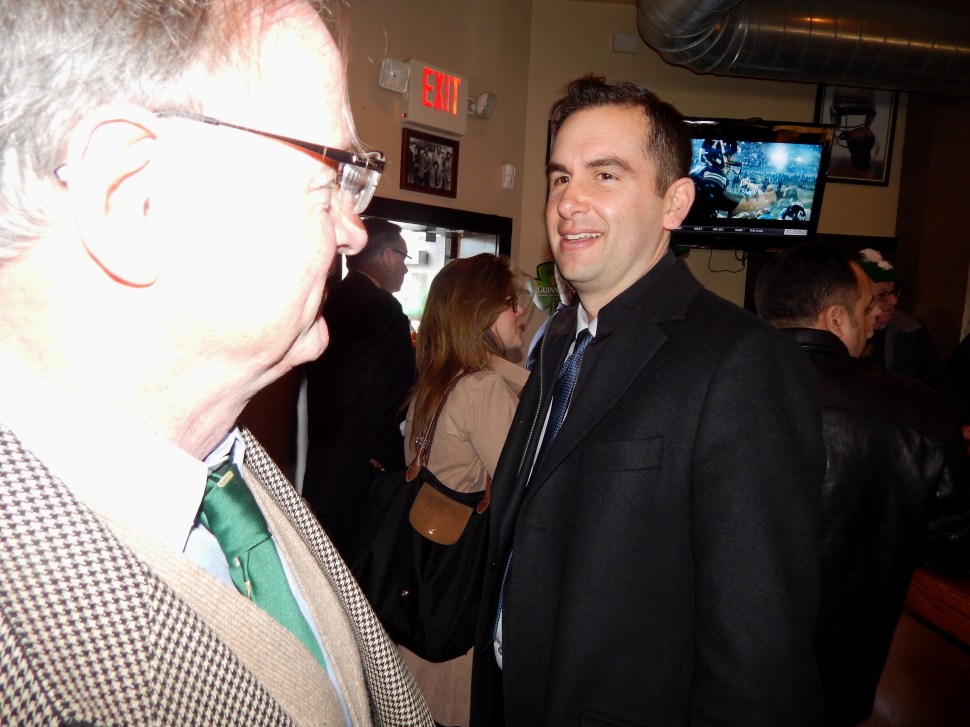 Will the organization-jettisoned incumbent Assemblyman Charles Mainor (D-31) run? In response to the question, the mayor's people assumed Joe D-like expressions of campaign time insanity, eager, apparently, to test drive the operation while running over Mainor.
"God, I hope so," said one of them, nursing a beer.
Mainor won't have traction without a running mate from Bayonne and the trouble, a source said, is there's no one strong from Bayonne. The similarly discarded Assemblyman Jason O'Donnell (D-31) won't run on a ticket with Mainor, the source insisted.
There was also rolled eye mention of the DUI bust on Saturday of Jersey City Councilman Chico Ramchal, a Fulop ally, as Monmouth County Assemblyman Declan O'Scanlon (R-13) sniped with crack-down legislation from afar.
When it came time for the parade, Hughes (pictured above), beloved in Irish-American circles, especially among those who remember his late father, Governor Richard J. Hughes, assumed the point.
"Do you have any idea who's running against me?" Hughes cracked.
He's up for reelection this year.
The bagpipes blared and the Mercer executive hit a military stride, the other mayors, Hoboken Democratic Committee Chair Jamie Cryan, Healy and Fulop and a positively giddy McGreevey falling in behind him, with most of the human activity concentrated as usual around Giblin.
Defense attorney Joe Hayden was in the crowd. So was Maureen Healy, former first lady of Jersey City, and attorney Ramon Rivera.
Someone asked about the absence of North Bergen Mayor/state Senator Nick Sacco.
"He's banging on doors in North Bergen," said Guy. "They're not taking that [reelection] race [against challenger Larry Wainstein] lightly."
The remark elicited a laugh, as though the seemingly impregnable Sacco's efforts constituted theatrics at best.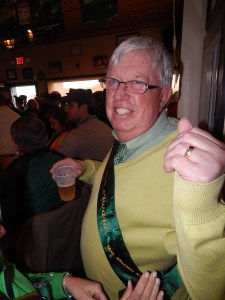 Running for reelection in the June Democratic Primary, DeGise (right) was arguably the happiest man on the street and in the bar. As someone stepped out of the crowd to fit him with a parade sash, he raised his arms in cheerful surrender.  The county executive ran with Peter Brennan, Bill Gaughan and Healy – the local Irish politicians who attended the wakes and hit the firehouse spaghetti dinners and reorganization meetings and worked it and finally lost or didn't seek reelection.
DeGise keeps going, unchallenged, or so it would appear, this year.
Fulop's old pal on the freeholder board, Bill O'Dea, who once looked like the logical next step in a Fulop-led reform movement as the countywide challenger to DeGise, won't run, and in Healy's tonight, no one had any suspicions about a challenger emerging over the course of the next two weeks in time to meet the state deadline.
Does DeGIse feel like the last man standing?
"A little bit," he admitted. "But I've been through the wars. I ran against Glenn Cunningham [for mayor, in 2001, and lost]. I ran against Lou Manzo."
2007?
"That was a good one," he said with a grin.
For the moment, the county executive said he didn't mind not being in a war, in fact liked having what looks like a 2015 parade walk, as he milled with Hudson pals in Healy's on St. Patrick's Day. But sentimental bar buzz and a crowd of aging once bright luminaries now in the twilight gnawed on the notion of O'Donnell and former Assemblyman Sean Connors (right) going belly up politically in the last three years. "You earned this," DeGise told Connors just four years ago, prior to the Jersey City police detective, who appeared at the time on a City Hall collision course with Fulop, running afoul of the organization. Once the next generation of torch bearers for Hudson's Irish American politicians, Connors and O'Donnell, the latter just this year denied the line, went the way, at least so it seems, before their time, of Healy and former Assemblywoman Joan Quigley, casualties in a war the Irish once routinely won.