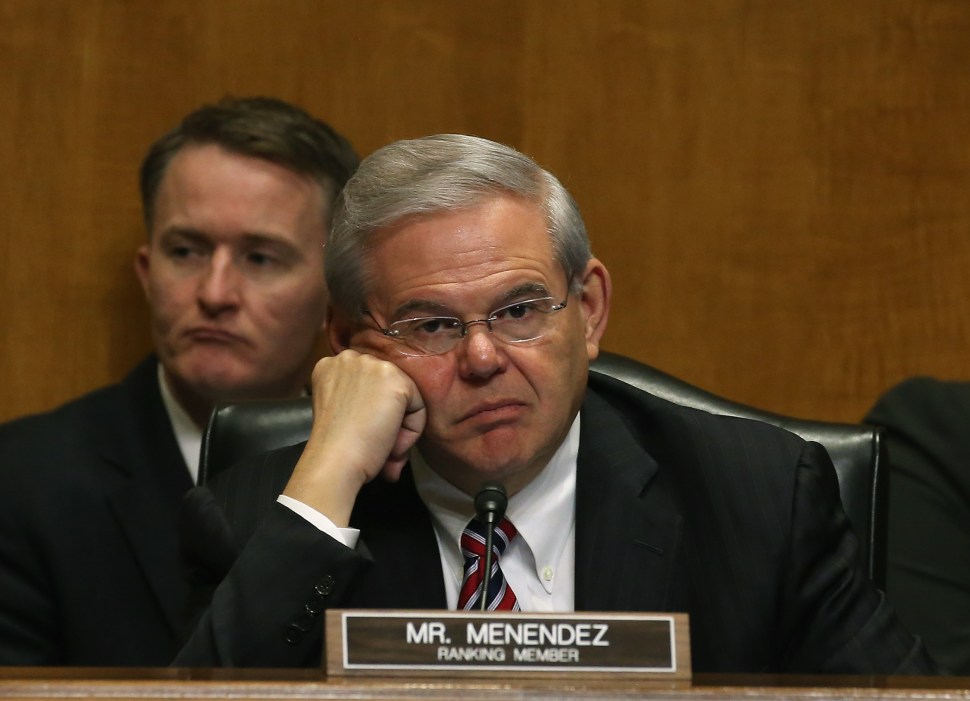 It would be a mistake to start speculating about who will succeed New Jersey Senator Robert Menendez, who apparently is on the verge of indictment on federal corruption charges. (But if you crave that kind of speculation, the Observer's sister site, PolitickerNJ offers exactly that.) The Senator has made it clear that he has no intention of resigning when the feds announce their case against him. That is as it should be. Even U.S. Senators, even those from New Jersey, are entitled to the presumption of innocence.
The timing of the case against Senator Menendez is too curious to let pass without comment. Several weeks ago, during a hearing on Capitol Hill, Senator Menendez delivered a powerful critique of the Obama Administration's rationalization for a nuclear deal with Iran. "I have to be honest with you," the Senator said, "the more I hear from the administration and its quotes, the more it sounds like talking points that come straight out of Tehran. And it feeds to the Iranian narrative of victimization when they are the ones with original sin."
These comments were not especially well-received in the White House and the State Department. Mr. Menendez showed no small amount of political courage to take on his fellow Democrat on an issue of supreme importance. The Senator also dissents from Obama orthodoxy over Cuba, an important issue but not of the magnitude of the prospective Iranian deal and its potentially catastrophic consequences for Israel and the world.
---

Mr. Menendez showed no small amount of political courage to take on his fellow Democrat on an issue of supreme importance.

---
So it is fair to wonder if President Obama's man at the Justice Department, Eric Holder, is using his agency's enormous and largely unchecked power to deliver political payback as he prepares to leave his post. The leak about the investigation's progress, based on court papers that were mistakenly unsealed several days ago, struck many as unprecedented and simply wrong. Criminal lawyer Joe Hayden told PolitickerNJ.com that it was "outrageous" for the government to leak word of an impending indictment "weeks in advance."
Senator Menendez is no stranger to questions about his ethics. He cut his political teeth in Hudson County, where Tammany Hall might be mistaken for a reform club. As a member of the state Assembly, Mayor of Union City, congressman and, since 2006, a U.S. senator, Mr. Menendez earned the reputation as the de-facto boss of Hudson politics. Ethics complaints have shadowed his every move, but nothing has stuck, to the chagrin of New Jersey Republicans who have run against him largely on ethics issues.
The Senator's relationship with a political benefactor, Salomon Melgen, a Miami-based eye surgeon, has a familiar Soprano State odor about it. The government apparently will contend that the Senator improperly intervened with Medicare officials to adopt reimbursement policies that enormously benefitted Dr. Melgen. The doctor, who has made millions in Medicare reimbursements, has been an extraordinarily generous donor to the Senator and other Democratic Party campaigns.
The case deserves investigation. But Senator Menendez deserves a fair hearing and the chance to continue in the Senate until a verdict is reached.