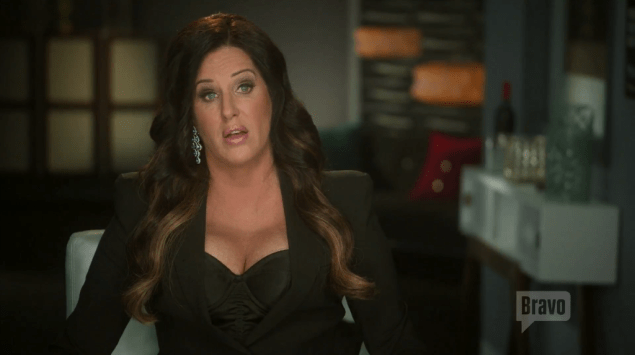 An important event occurred yesterday. No, I'm not talking about Eva Longoria or Kellan Lutz's birthday. I'm talking about the 100th episode of The Millionaire Matchmaker. Congratulations, Patti: May your questionably-pantless outfits and phrases like "let the peepee do the picking" last for another 100 to come.
But let's get to the millionaires. First up is 26-year-old Brooklyn Tankard, from that Bravo show Thicker than Water, which I've never watched. Has anyone ever watched Thicker than Water? Has anyone ever turned to their friend and said, "Sorry, can't go out tonight, Thicker than Water is on"? Nay, they have not.
Anyway, Brooklyn's dated a lot of losers in the past who have used her for her fame and her connections to the music industry (her dad is this guy). Now, she's looking for a more mature guy who can be a good father figure to her 11-year-old daughter, Diamond.
"No more users or losers for me," she vows.
Our second millionaire is Amit Ram, a liquor mogul from Long Island with a man bun and a massive beard. Patti, unsurprisingly, isn't digging Amit's look.
"I don't know if I want to order sushi from you or order some opium," she tells him.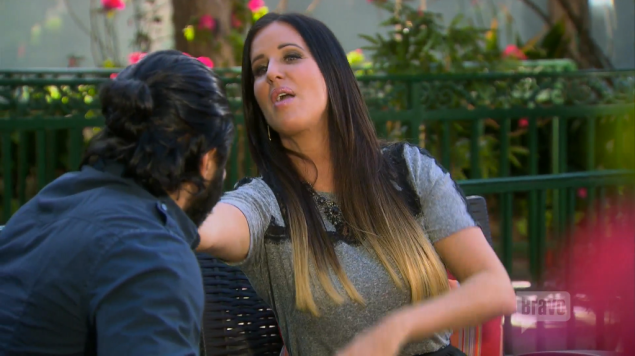 But that nasty-ass beard is the least of Amit's problems. First of all, can we talk about what he's looking for in a woman? He wants someone who's short, with dark hair, tanned skin, fake boobs and small feet, who's also family oriented, and who also loves the gym. Sorry, but no one with a man bun gets to be that picky.
Amit was married for seven years, but got divorced because he ex-wife accused him of cheating. Girlfriends since then have also accused him of cheating. Patti needs to reform him—to teach him her no-sex-before-monogamy ways, and also maybe shave his beard.
"One false step and you risk the wrath of Patti," she warns, "and I'm not pretty."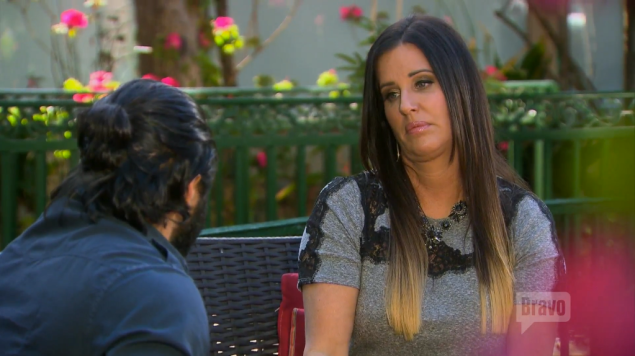 For reasons unknown to us matchmaking laypeople, Patti decides to do a "hot seat mixer" this week. That means she'll pick a bunch of matches for each millionaire, and then they'll get to interview the matches one by one. If they like someone, that person gets to sit in the hot seat. If someone better comes along, the person in the hot seat gets replaced. Whoever's left in the hot seat by the end of the mixer gets a complimentary therapy session master date with the millionaire.
For Brooklyn, Patti chooses a bunch of men including Cory, who works for SpaceX, Michael, who's opening a gym, Matt, a celebrity bodyguard, and Jason, who's 6'9.5″ and is literally the sweatiest man ever to have lived.
Brooklyn narrows it down to Jason and Michael, but ultimately chooses Michael—probably because he announces he loves sucking on women's bottom lips during make-out seshes. Hello, father figure for Diamond!
For Amit, Patti chooses Emaan, a hair stylist who was also on Luke Rockhold's episode, Ghazale, a reiki healer, and Daniella, a fitness enthusiast looking for her "swollmate" (BRB BARFING FOREVER). As a test of Amit's sleaziness, Patti also throws in Paris, a 21-year-old bikini model.
Impressively, Amit eliminates Paris because she's too young. He opts, instead, for Daniella, who Patti describes as the "three Ms": Martha Stewart in the kitchen, Mary Poppins in the nursery, and Madonna in the bedroom. Patti Stanger, ladies and gentlemen: a powerful voice for women's advancement.
It's master date time! Amit takes Daniella to a free-running gym—like, one of those places where you learn to run up walls and do back flips off dumpsters and stuff.
"I think my implants might burst trying to crawl up that thing," Daniella points out.
I mean, fair: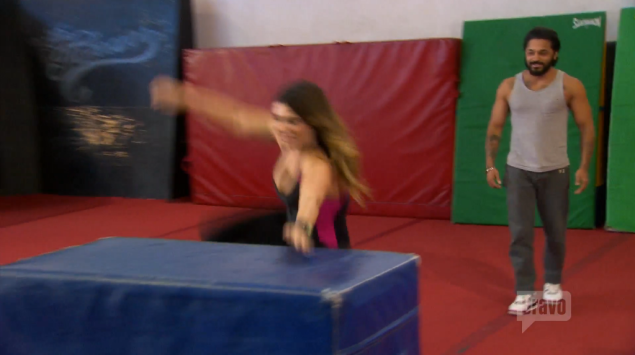 Over on Brooklyn's date, Michael has rented hydrobikes—i.e., bikes that float on water, thanks to a set of thick yellow cylinders. In fact, you might even argue that in order to stay afloat, the hydrobikes must be thicker than water.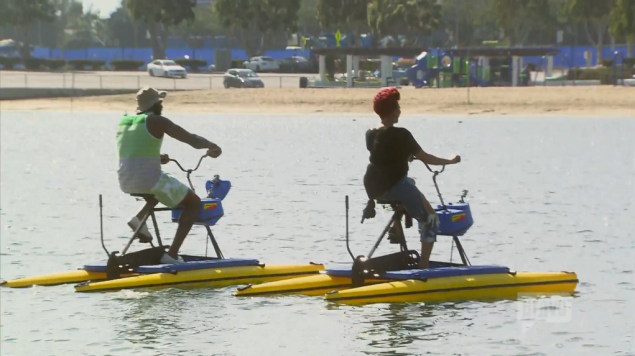 After their hydrobiking session, Michael pulls a Max Hodges and carries Brooklyn onto the beach. He's prepared a blanket with champagne and flowers, and Brooklyn is really into it.
Meanwhile, Amit takes Daniella to dinner at an Italian restaurant. As they talk, they realize they're in the same boat, in that both of them used to be married. Daniella says she'd consider coming to New York to visit him, and would also be cool with him moving out to L.A. to be with her. Uh, this conversation is moving super fast, but Daniella seems okay with it, because they kiss at the end of the meal.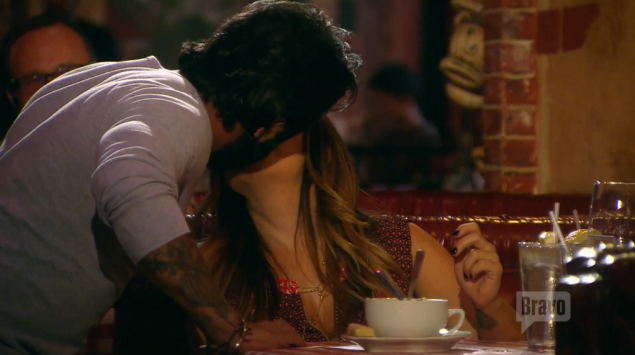 But wait—there's something bout Amit that Daniella doesn't necessarily love.
"The only thing I would do is shave that muff off his face," she tells the camera. "That has got to go."
Elsewhere, Michael is taking Brooklyn out to dinner, and Brooklyn has chosen to wear a dress with the scariest-looking sleeves of all time.
Their dinner date is going well, until the topic of kids comes up. While Brooklyn makes it clear she'd be fine not having any more children, Michael says he wants a "colony"—like, maybe six. AND THEN THERE'S SILENCE. It's horrible. I'd honestly rather be watching anything else. I'd rather be watching Thicker than Water.
"Um, you want to turn it in?" Michael finally asks. Womp womp.
After the dates, Patti starts by calling up Daniella. Daniella says she had a great time, but would only date Amit again if he shaved that godforsaken beard. Okay, I get that these people hate beards, but they're acting like it's a freakish, unusual accessory—like he strapped a unicorn horn to his head, or something. Have none of these people been to Brooklyn?
Amit says he's open to shaving, and we later learn he's planning a visit out to L.A. to visit Daniella—hopefully for a date that involves less potential boob-popping.
Things don't go as well for Brooklyn. Though Michael texted her after the date, he never called—and he and Brooklyn don't see each other again.
The fact that Michael never called Brooklyn makes Patti furious. Women love to hear men's voices, apparently.
"YOU GOTTA HEAR THE VOICE TO GET JUICY FUCKING GOOSEY," Patti screams sycophantically. Yes, this show has lasted 100 episodes. Good work, America.