I've been hard on Season 8 of The Millionaire Matchmaker, mainly because it's been less about singles looking for love, and more about C-list celebs trying to resurrect their careers. BTW, did you hear TLC is going on tour?
Thankfully, this week's episode was nothing like that.
Perhaps inspired by Shereè's (albeit totally lame) appearance on the show, Atlanta Real Housewife Kenya Moore decides to let Patti set her up. She's accompanied to Patti's lair by fellow Housewife Cynthia Bailey, because sure, why not?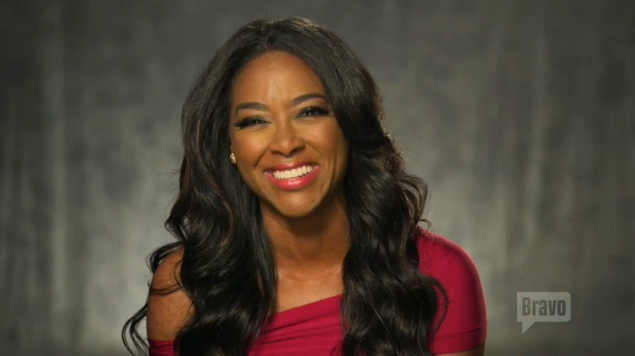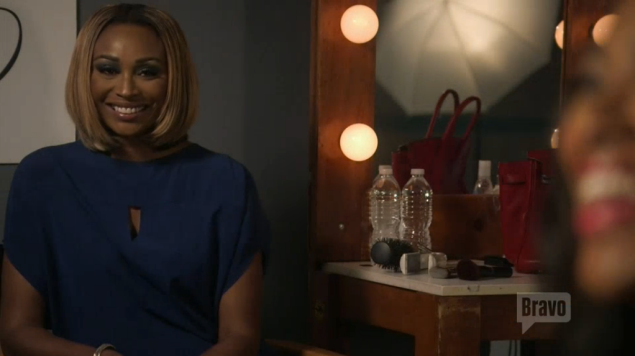 At her preliminary meeting with Patti, Kenya reveals a couple of problems she has when it comes to finding men. First of all, men tend to find her intimidating, and feel that she's too much to handle. It's hard to imagine why men would think that about someone who stars on The Real Housewives.
But Kenya's real problem with men runs deeper than the fact that she's physically fought with other ballgown-clad women on national television. Turns out, even when men are interested in her—she's been proposed to seven times, FYI—she won't start relationships because she's scared of commitment. Kenya suffers from abandonment issues, all stemming from the fact that her teen parents considered giving her up for adoption.
Turns out, Patti was adopted, too, and all of a sudden everyone is crying and dear lord, this escalated quickly.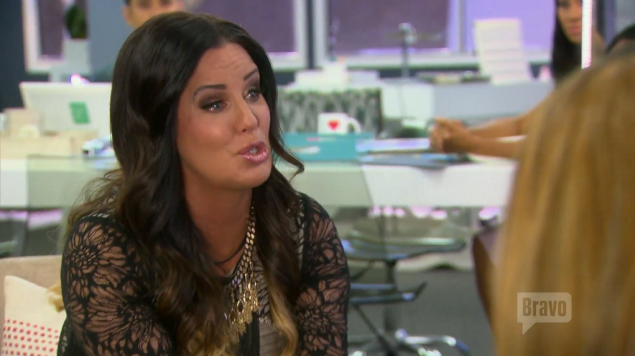 Our second millionaire is singer/songwriter Taylor Dayne. From what I can tell, Taylor is very intense. "I deserve love," she says in her opening interview. "We all deserve love. Except mother F-ers."
Taylor has always put her career first, and has never prioritized love. She was so certain she wasn't going to find a man, she had twins via a surrogate—or "immaculate conception," as she puts it. Now, Taylor's finally ready.
"I'm direct and to the point, but there's a big ol' pussycat chicky chicky in there," she tells Patti, in an attempt to convince her she's ready for a real, adult relationship.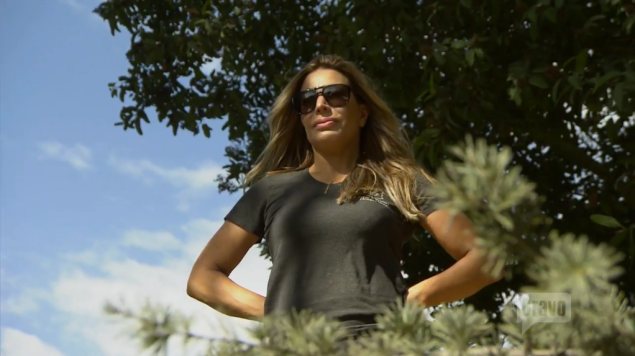 Because Cynthia Bailey needs a purpose on this episode owns a modeling agency, this week's mixer will be in the form of a fashion show, where the men will walk out in tuxes and answer questions from Kenya and Taylor when they reach the end of the runway.
"Women have been objectified for centuries; now it's the men's turn," says Patti, the same woman who, a few short weeks ago, was telling feminists to "shut the fuck up" because they're "probably fucking single anyway."
Can we pause for a moment to talk about Kenya's dress? I mean, she looks fabulous, but I am deeply concerned for its structural integrity: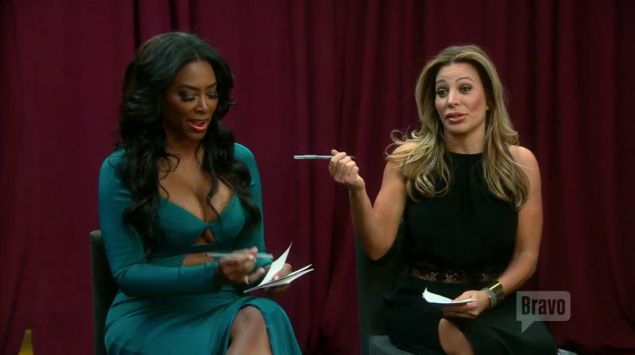 Anyway, the fashion show is fun! Taylor likes Erik, a sprinter whose butt and legs are so nice, Patti makes her go up to the runway and squeeze them (how's it feel to be objectified, assholes?!), and Joel, a former hockey player who's apparently good in bed, according to Patti's mysterious ability to read people's ~energy~.
Kenya likes Todd, who's both a pilot and a jiu jitsu master (OMG same!), but it's clear her top choice is James, who works in commercial real estate.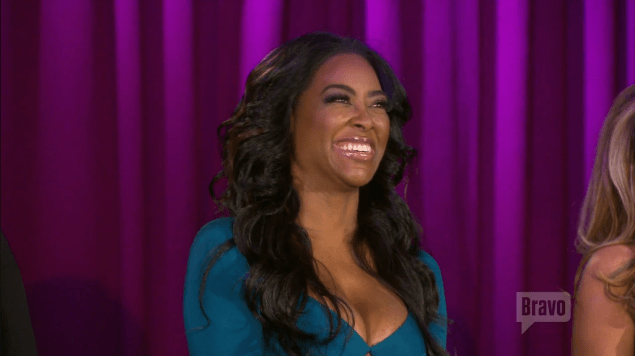 It's master date time. Kenya obviously chooses James, who takes her to a dance studio for salsa lessons! They're barely 15 seconds into the date when it's clear they're ready to run off and get married. Seriously, though, they're so cute. They're having so much fun.
"This is, like, the perfect date so far," Kenya says.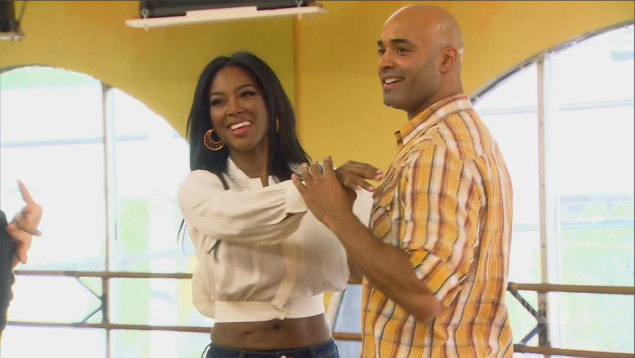 Meanwhile, Taylor chooses Joel! On Patti's recommendation, Joel takes Taylor to a "chakra spa," no doubt praying none of his former hockey bros are watching Bravo right now.
At the chakra spa, Taylor and Joel do a bunch of kooky stuff, like rubbing oil all over each other's hands and closing their eyes as a healer creates etherial-sounding noises from a "chakra bowl."
"Is that not amazing?" Taylor asks, after the chakra bowl. Joel, ever the gentleman, agrees.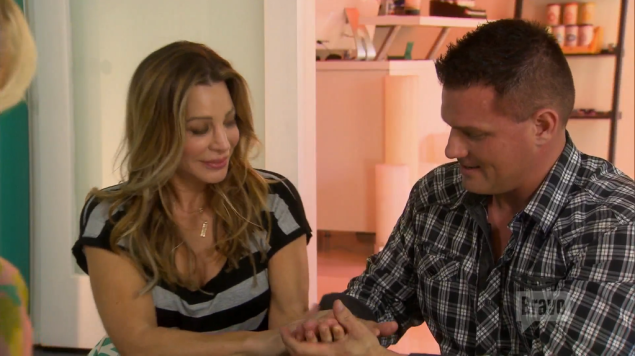 Meanwhile, Kenya and James are having a super flirty dinner date (it's at Sur, BTW, because one should never turn down an opportunity to cross-promote Bravo shows).
James is a total gentleman, and Kenya is smitten—going so far as to offer to read his palm, which really just amounts to her stroking his arm a whole bunch of times. At the end of the date they kiss, and it's super adorable. Kenya and James #4eva.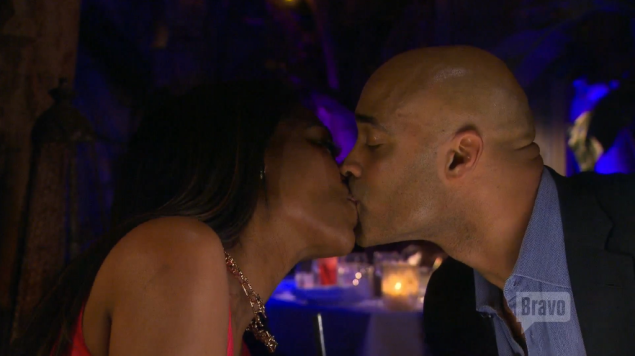 Taylor and Joel's date goes well, too! At dinner, Joel asks Taylor how she's feeling, and she says she feels "girly." There's a lot more hand rubbing, and this time, there isn't a creepy chakra healer looking on. Eventually, Joel lunges towards Taylor and they make out—a lot. Like, a lot a lot.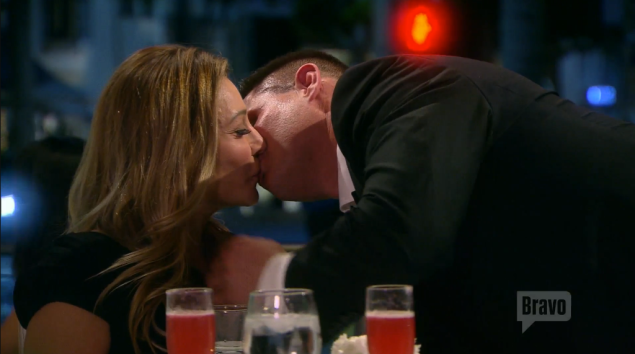 In her follow-up phone call with Patti, Kenya reveals that she and James have been talking since she went home to Atlanta, and she's still totally into him.
"I am bowing down to the queen," she tells Patti. "I think you found me the perfect guy."
Then we learn that since filming, Kenya and James have hung out again! YES!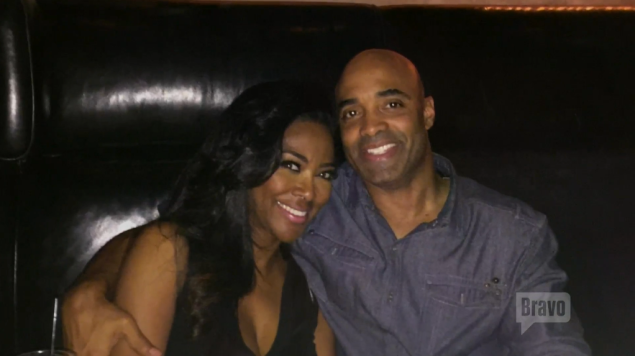 But wait, you guys—this episode contains even more proof that Patti actually maybe kind of knows what she's doing. In Taylor's call with Patti, Taylor says Joel is a total sweetheart who "lit up the room," and even reveals she's gotten together with him again since their first date!
But wait—there's more! According to Bravo, the couple is now "dating seriously." I actually get a lump in my throat because I'm that moved. Then again, I've also cried during McDonald's commercials, so do with that information what you will.