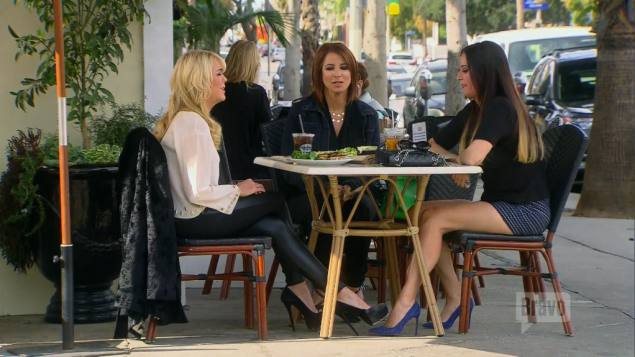 A thousand years from now, when Earth's future residents look back on today's reality TV offerings, a few moments of greatness will stand out: Tyra Banks totally losing it on that America's Next Top Model contestant; Kelsey going full-on Gone Girl on The Bachelor; Aviva Drescher throwing her fake leg across Le Cirque. And now, Dina Lohan—a.k.a. the progenitor of Her Majesty Lindsay Lohan—appearing on The Millionaire Matchmaker finale.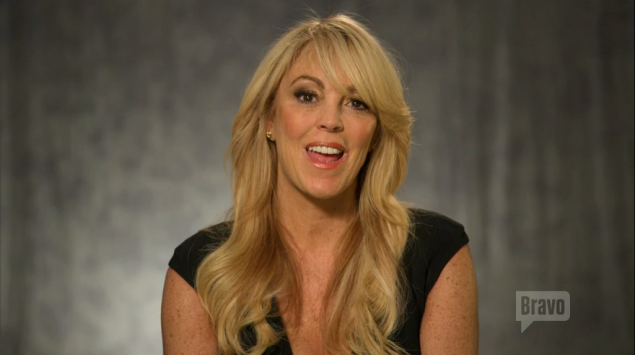 As expected, Dina is kooky right from the get-go. She's really nervous and can barely get through her opening interview, practically racing off the set when it's done. She does manage to squeeze out a few details: She doesn't date much, she tends to attract the wrong type of people, and she's always been misunderstood.
"There so many misconceptions, but they don't know me," she says. "I'm just like other women who are single moms who went through a lot in their lives, and are looking now to find somebody."
People who spawn Lindsay Lohan: They're just like us!
Here's a great fact: Jill Zarin, of The Real Housewives of New York fame, is friends with Dina Lohan (worlds colliding, I know). Jill was so happy with her daughter's experience on The Millionaire Matchmaker, she apparently convinced Dina to go on the show, too.
Patti meets Dina and Jill for lunch, and immediately begins a rapid-fire psychoanalytic assault against Dina. Why didn't Dina divorce Michael Lohan when he got sent to prison? Because she likes pleasing people. She's a pleaser. Did she date anyone after divorcing Michael? Yes—she tried to please him, too. What's the root of all this? Dina always tried to please her father. It all goes back to daddy issues. Boom, done.
"ARE YOU READY FOR LOVE RIGHT NOW, DINA LOHAN?!" Patti shouts. Dina looks like she might be dead.
This has all been so exciting, I almost forgot we had a second millionaire! It's Peter Marc Jacobson, who was married to noted nasally-voiced person Fran Drescher, until he realized he was gay.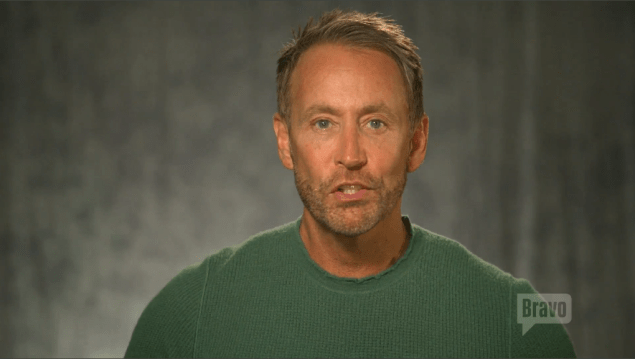 While married to Fran, Peter says he "buried down" his gayness. "Eventually it boiled over," he says, "because you've got to live your truth." Now he's at peace with himself, and he wants to share his life with someone.
At his preliminary meeting with Patti, Peter talks about the symbiotic, borderline-creepy emotional connection he and Fran still share. "When she hurts, I hurt," he says.
"If you could take Fran and merge her with a hot guy," Patti concludes, "there's the perfect match." That is a truly horrifying prospect.
And what would a Millionaire Matchmaker finale be without a friendly bump to a C-list celeb's career? This week's charity recipient is Lance Bass, who now apparently hosts a radio and actually looks really good. Patti thinks Lance will have good advice for Peter, as they both came out later in life.
"You've got to be yourself," Lance says, "but don't reveal everything about yourself."
"Are there any boy band people around?" Peter asks, perhaps hoping another N'Sync member is newly-out and on the market. I hear Zayn Malik isn't up to much these days?
Time for the mixer! Patti brings Fran Drescher on the show to help pick met for Peter, because hey, this is the season finale, and it's totally normal to have your ex-wife to select your dates for you.
"I've been hoping [Peter] could have the same happiness I've found," Fran says. So, marrying a dude who staunchly claims to have invented email?
For Peter, Patti and Fran pick Ryan, an event planner, Matty, a photographer, and Jay, an anti-aging wellness coach who's perfect for Peter because he likes young-looking men with mature personalities. How convenient! Peter has great connections with all of them, and has a hard time picking because he's genuinely attracted to all three.
We can't say the same for Dina Lohan, who bombs her conversation with the three guys Patti and Jill pick for her. It actually becomes disturbing to watch—how she's terrified for Patti and Jill to leave her alone, the way she's hunched over in her chair, how she can barely talk, and instead jabs her finger at one of the men and spurts out a random question. Dina has no self-esteem. She's like a wounded puppy.
Things get especially awkward when one of the men describes a recent party he threw for his 15-year-old daughter.
"Be careful how far you go with that," Dina says ominously.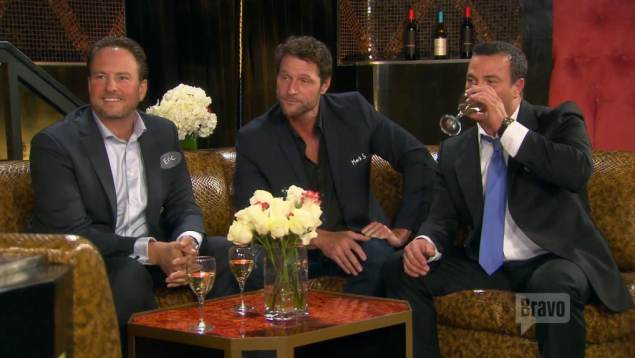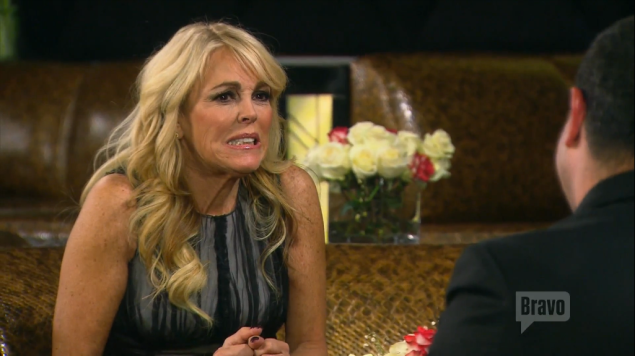 Eventually it all becomes too much to bear, and despite Patti's pleas for her to stay, Dina storms off the premises.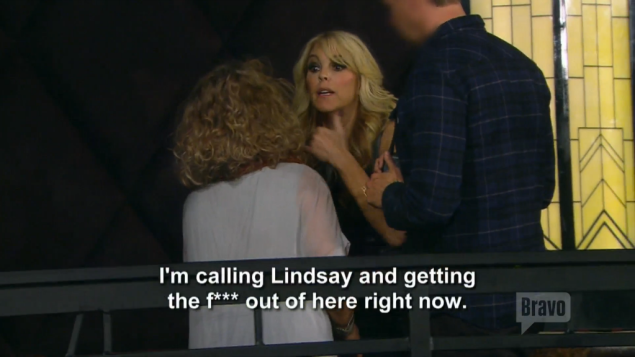 Elsewhere, in the world of more normal dating, Peter has chosen I'm-old-but-I-look-young Jay! They go for a positively delightful-looking gondola ride, where they eat strawberries and talk about their shared love of painting, as well as the fact that Jay is 45 but looks like he's younger than 45.
Meanwhile, Dina Lohan has somehow been convinced to return to the show. Patti has also convinced Marc, the hottest guy from Dina's horrible mixer, to come back and take Dina on a date. What a man!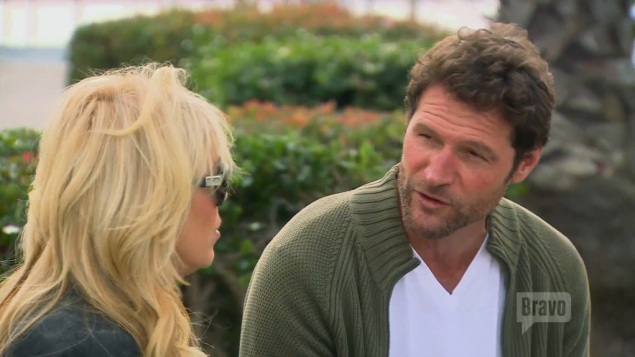 Marc keeps the first part of the date really low-key—as in, sipping fast-food drinks on a park bench. They talk about their kids and their families, and Dina seems to relax, like, a tiny bit.
"It's really is nice to see the real person," Marc says. "There's a lot of persona that proceeds someone who's in the spotlight. I'm presently surprised by how human and real she is." Sorry, Marc, are you, like, regularly poring over Dina Lohan tabloid stories?!
Meanwhile, Peter takes Jay out to dinner. They bond over their mutual love of home design and how they both have the obsessive-compulsive tendency to re-position the throw pillows on their couches. It's love!!! When they're done eating, they get up and share a cute (albeit kinda stiff) kiss.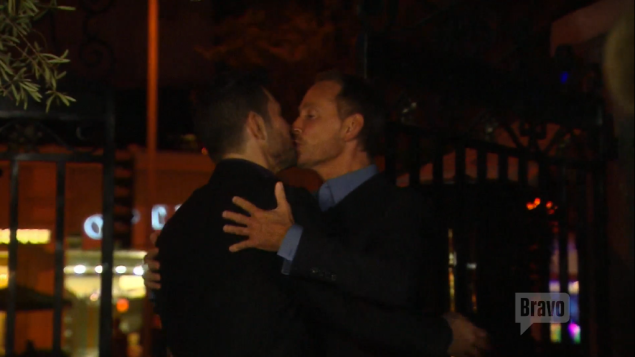 After drinks on the random bench, Marc takes Dina to dinner in what appears to be a doll house.
Dina and Marc have a nice dinner, and at the end, Marc says he'd like to see her again. Dina says she'd be down. Marc leans in for a kiss, and Dina transforms into a petrified child and gives him her cheek. It's so uncomfortable. I think Dina might need therapy more than she needs Patti.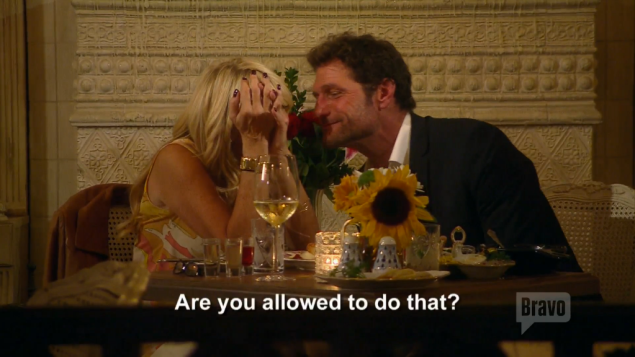 But I guess the experience was somewhat beneficial, because we learn that Dina and Marc have gone out again since their first date.
Peter also had a great time on his date, and has gone out with Jay a few more times, too.
And that, folks, is the end of The Millionaire Matchmaker, Season 8. Here's hoping LiLo makes an appearance on Season 9.