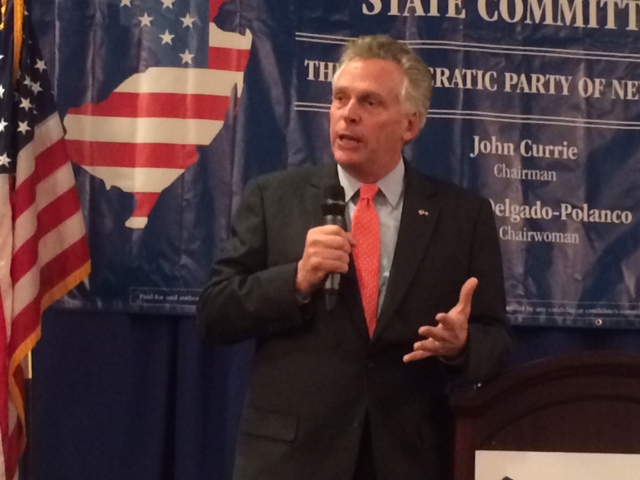 Virginia Governor Terry McAuliffe is known not only for being the former Democratic National Committee Chairman from 2001 to 2005 – he is also a close confidant to both halves of America's premier political power couple. McAuliffe, 58, was the co-chairman of President Bill Clinton's 1996 reelection campaign and chaired Hillary Clinton's unsuccessful White House bid in 2008. In an interview with PolitickerNJ, McAuliffe surveyed the looming landscape of the 2016 presidential race, and explained why he thinks it's Hillary time.
PolitickerNJ: What is the Democrats' Plan B if Hillary Clinton doesn't wind up becoming their 2016 presidential nominee?
Terry McAuliffe: I'm very hopeful that she's going to run. I'm very optimistic. Obviously, I chaired her campaign in 2008. I'm going on the assumption that she's going to run although she hasn't made her announcement yet. I'm going to operate that Hillary is going to run, that she's going to be our nominee, the next President of the United States, and the first woman President. I can tell you this – New Jersey is going to go big for Hillary.
PNJ: Are you concerned that if the Democratic field basically clears for Hillary Clinton, she won't have a tough primary challenge, which will hurt her in the long run?
TM: First of all, I don't think the field will be cleared. [Former Maryland Governor] Martin O'Malley, who's a very good friend of mine, is very serious and I think he's probably going to run. Jim Webb, the former U.S. Senator for the great Commonwealth of Virginia, is going to likely run. But at the end of the day, people have got to make their own decisions about what they're going to do. Hillary has got to make her own decision if she runs, and if others run, so be it. This is going to be a very healthy, competitive race for President. The Republicans have a lot of folks running, and it's going to be a very tough race on their side. What the voters want to know is who is going to get out there, fight for them and deal with the income gap that exists in the nation today.
PNJ: New Jersey Governor Chris Christie, a potential Republican presidential candidate in 2016, has been trailing in recent polls comparing the prospective GOP candidates. Is he still a viable presidential candidate at this point?
TM: Yes. You can just ask many of the potential Presidents of the United States who [did well] early in the [Republican] presidential process – President [Michele] Bachmann, President [Rick] Santorum. You're up, you're down. Until we actually have people going out and voting, don't ever count anybody out. Everybody is viable. There's going to be a lot of events between now and the Iowa caucuses that we don't even know about today. It's way too early.
PNJ: If Hillary Clinton doesn't enter the race for any reason, which potential candidate do you prefer: Jim Webb, or Martin O'Malley?
TM: I'm all about Hillary. If Hillary doesn't run, I'm still with her.
PNJ: During his appearance Sunday on ABC's "This Week," O'Malley said that "the presidency of the United States is not some crown to be passed between two families," a clear reference to the Clintons and the Bushes. Do you think the American public is willing to go in a more populist, dynasty-defying direction in 2016?
TM: It's early, but if you look at the polling data today and where the American public is, [voting for prominent political families] doesn't bother them at all. They want who's going to be the best. As the father of five children, with three daughters, I'm pretty fired up to have the first woman President of the United States. In fairness, I've known the Clintons since 1980, so I'm very biased on the topic. Hillary is smart, she's tough, she'll get a lot of great things done for the country. But this is going to be a long, drawn-out process. Running for President is a contact sport.
PNJ: Do you see Cory Booker, New Jersey's junior U.S. Senator, as a potential vice presidential candidate?
TM: If you're not looking to Virginia for your V.P., then I'm fine with going to New Jersey. I think [Booker] would be spectacular.
PNJ: Why is 2016 going to be different from 2008 for Hillary Clinton?
TM: Circumstances are different. She'll have a different campaign structure. Robby Mook might be her campaign manager if she runs, which I think would be spectacular. He was my campaign manager [in the successful 2013 Virginia gubernatorial run]. We had a long tough process in 2008, but I made the argument back then that the long process got so many people energized that they stayed in and were active in the general election.
It's a different economy than we had eight years ago. The world is different, with the issues we have with ISIS in the Middle East and with China. Hillary has a great set of skills from her time as Secretary of State. But Hillary Clinton is still the same Hillary Clinton. If she decides to run, she's going to have a great race for President.