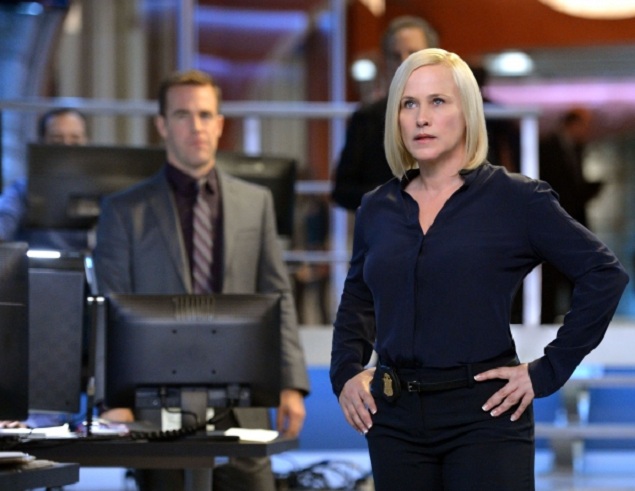 On Wednesday, CBS launches its bajillionth version of CSI. Ok, maybe there aren't that many, but it sure feels like. Let's see there was the original one, CSI, and then there was CSI: New York, CSI: Miami, and CSI: Sheboygan…wait. Alright, there is no CSI: Sheboygan, but it sure doesn't seem out of the realm of possibility.
The next real incarnation of the franchise hits the air Wednesday night with the new series, CSI: Cyber. True to it's name the show features a team that solves crimes using technology and 'cyber psychology.'
Newly minted Academy Award winner Patricia Arquette leads the team as FBI Special Agent Avery Ryan. She's joined by fan favorite stars James Van Der Beek, best known as the title character from Dawson's Creek and Peter MacNichol, who's had major arcs on shows like Gray's Anatomy, 24 and was a regular on Ally McBeal.
Behind the scenes, the creative staff contains CSI dream team members Ann Donahue, Carol Mendesohn, Pam Veasey and Anthony Zuiker.
With all of this, is the show worth your time? Well, that's up to you, but it does have a few things going for it.
First, there is that star power at work. Arquette is a little clunky at first, but there are some moments where it's definitely clear that she'll settle into the role nicely going forward. And, most importantly she's totally believable as the leader of this team. It's not just her age and title that make her the senior member of the team, there's some factor that she brings that just makes her seem like she's really been doing this job for years. Ok yes, that's basically what acting is, but not everyone does it as well as Arquette does here. (CBS must be rejoicing to have secured her for this this prior to her taking home that Oscar statue!)
Her interaction with MacNichol, who portrays FBI Deputy Director Simon Sifter, who is also Avery's boss, works extremely well too. The two have an interesting dynamic and as he does with all of his roles, MacNichol shows that amazing ability he has to say, 'I will help you, but don't f—k with me' and he does it without having to utter a single word. He emits a vibe that says he will be a leader and a confidante, but it's best not to cross him.
Van Der Beek, the one-time teen heartthrob, is all grown up and he's still a bit of a heartthrob, adding a certain, and very welcome, swagger to this team.  As Special Agent Elijah Mundo, he shows some impressive running and gunning moves in the first few episodes and that seems to be his primary role in the series – action hero – and that's totally ok.
This trio makes this spin-off not just another manifestation of the original series, but rather something unique. Mainly, it's just good to see all three of these actors back on TV. The fact that they're working together is an added bonus.
The cyber aspect of the show makes this franchise feel progressive and yes, there's a lot of typing on keyboards, but it's with done visual components that are intriguing, pleasing and realistic.
It seems like it would be hard to sustain a show built pretty much on technology but if the first few episodes are any indication it can be done. The only thing that might be a concern here is that technology is changing so fast some of the gadgets and tracking techniques might become obsolete a bit too quickly. Having said that, that isn't much of a concern currently because accurate technology or not,  there is a part of this show that makes it a bit scary – it's that when you watch it you think, 'Holy crap this could really happen!' But, this is intrinsically true of all of the CSI shows and basically all forensic shows in general.  And, this is precisely what draws people to these shows; that thrill of watching what has happened, what could happen., and how science and technology lead to the truth in the end. If that's what draws you in, then CSI: Cyber is definitely for you.
The CSI franchise has been around for 15 years (!) and in celebration of that CBS has declared Wednesday World CSI Day and is asking viewers to help break the Guinness World Record for Achievement in Largest Ever TV Drama Simulcast. The current record was set by the special 50th anniversary episode of Doctor Who, which was broadcast in 98 countries across six continents in November 2013.
The global event will feature a worldwide simulcast of the CSI episode "Kitty" which originally aired April 30th, 2014 and served as the planted spin-off for CSI: Cyber. The episode will air in more than 150 countries at 7:00 pm ET (12:00 gmt) and will be streamed in the U.S. on CBS.com from 4:00pm PT to 12:00am, PT.
CBS Entertainment President Nina Tassler, David Stapf, President CBS Television Studios, and Zuiker all commented on the event.
"CSI blazed a trail when it introduced the world to 'feature television' with its unique storytelling and innovative production values," said Tassler. "It's a tribute to the vibrancy of the franchise that 15 years later, it can evolve again with CSI: Cyber."
Added Stapf, "CSI has taught us over the years the evidence does not lie. We're so proud of the cultural impact it's made, not just in the U.S. but around the globe."
"When CSI premiered, I had no idea it would become the sensational global franchise it is today," revealed Zuiker. "CSI has taken on Las Vegas, Miami, New York and now, with CSI: Cyber, we drive into the vast world of cyber crime. I can't think of a better way to kick of CSI: Cyber and celebrate 15 years of international success than with a worldwide simulcast."
CSI: Cyber premieres Wednesday 3/4, at 10e/p.