This week's episode starts with the slightly terrifying Pettifleur, my seventh-favorite of this season's crop of seven housewives. Is Pettifleur the most abrasive person on this show, or in the history of humankind? Share your thoughts in the comments section!
Today, Pettifleur is at a luxury car dealership to test-drive the $450,000 Bentley she wants her partner, Frank, to buy her for her 50th birthday.
"A Bentley is like my personality: beautiful; classy; sophisticated," she says, before asking if the dealership can put mirrors on the floor of the car so she can "check out her landing strip" as she drives. In case you needed another reminder, Pettifleur never wears underwear.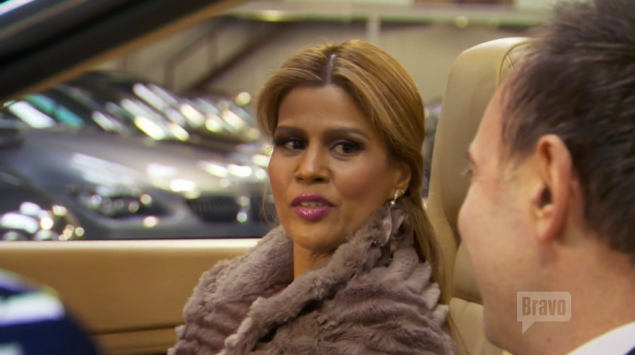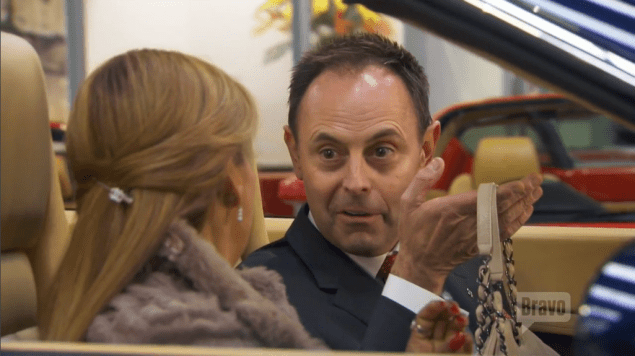 It must be nice not to work, and to spend your entire day decided what clothing your dog should wear for its walk outside. To clarify, I mean it must be nice for Lydia. I can't say the same for Figaro, who's forced to sit still as two grown women—Lydia and her mom—oscillate between his royal blue raincoat, lime green turtleneck and Irish-inspired sweater.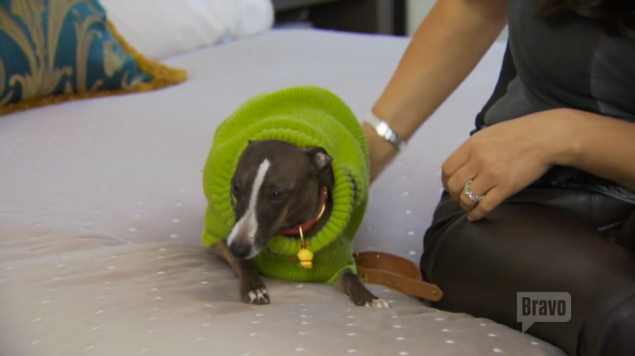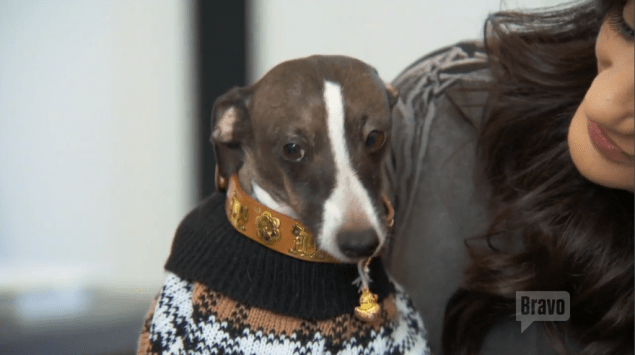 Speaking of dogs, I owe everyone a correction. Gamble's dog is not named "Cat," as I once thought, but in fact is named—equally obnoxiously—"Cash."
Gamble has hired a dog trainer in the hopes of turning Cash into a prize-winning show dog. When the trainer asks to see Cash's obedience skills, he's surprised to discover Cash can literally do nothing. Cash has less training than a common squirrel. "Can you teach him how to do pilates?" Gamble asks.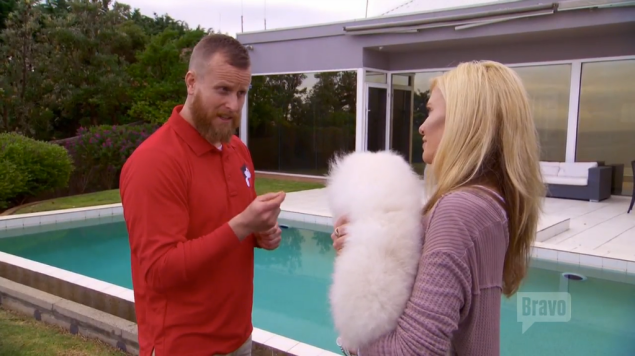 Later that night, at dinner with her partner, Rick, and stepson, Luke, Gamble announces she's going to throw a party for the rest of the housewives—not just be any party, but a murder mystery party.
But wait, it's not even just a murder mystery party, but a witch-themed murder mystery party. I haven't seen a party this specific since Jackie and Ben's Mexican-but-not-too-Mexican housewarming fête. To prepare for the party, Jackie, Janet and Pettifleur hit the costume shop to find spooky and sexy (but mostly sexy) outfits to wear.
Remember that time Pettifleur viciously yelled at her possibly-mute housekeeper? She does the same thing to Imogen, the poor, innocent employee at the costume shop. Jackie and Janet are appropriately revolted. As further proof that Pettifleur has no interest whatsoever in making friends or courting fans, she proceeds to twerk in the middle of the floor.
"How do I personally feel about a 50-year-old woman twerking?" Janet asks the camera. "I don't think its something I personally want to see myself."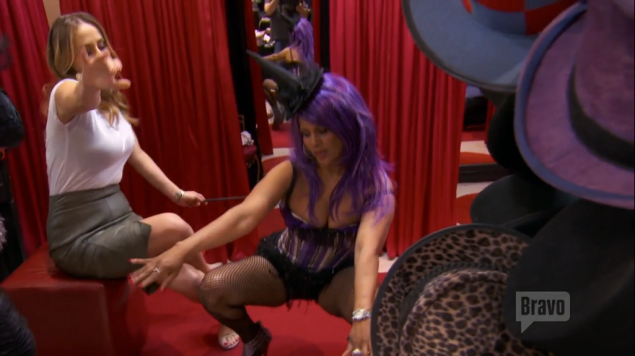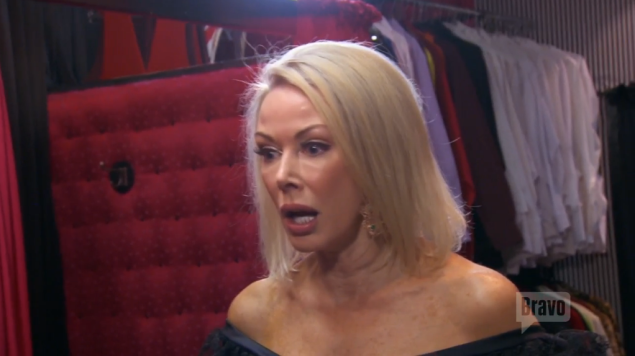 Needless to say, Janet is not on #TeamPettifleur, and she makes her feelings known at lunch with Chyka, Janet and Gamble. It's just the encouragement Gamble needs to admit that Pettifleur's been treating her like crap, too.
Elsewhere, Pettifleur's reign of terror continues. At lunch with Lydia, Pettifleur admits she doesn't think Gamble is "that bright."
Lydia asks Pettifleur what she initially thought of her, Lydia.
"I thought you were very pretentious," Pettifleur says, evidently not giving a single f***.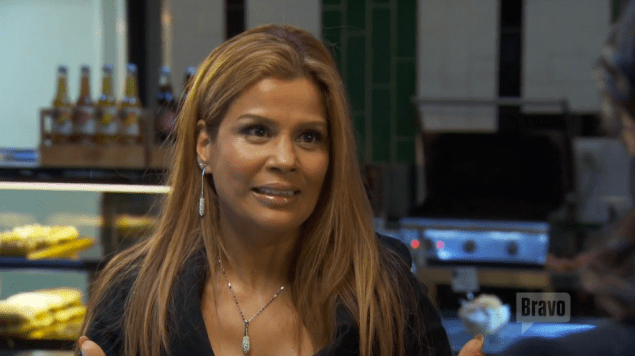 And now for something completely different! Just kidding—it's more Pettifleur. Pettifleur invites Gina over to her lair home and announces she's writing a self-help book called "Switch the Bitch."
Gina has a hard time discerning what, exactly, the book is about.
"You can behave in a way where you actually don't have to demand for what your heart desires," Pettifleur explains. Soooooo this book is basically the opposite of "Lean In"?
"I think it's something about bitches," Gina concludes.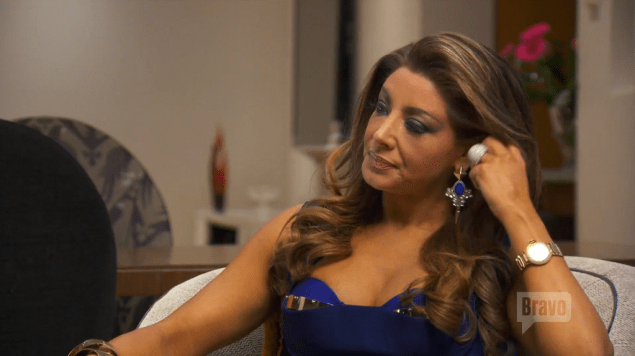 If I had to name an MVP of The Real Housewives of Melbourne, it'd far and away be Rick, Gamble's partner. Rick takes his performance on this show so seriously, and it's heart-warming and heart-breaking all wrapped into one adorable, grandfatherly package.
"There are times in your life that are exquisite—that you remember," he says, recalling various happy memories he's shared with Gamble. You can tell he wrote this out on cue cards last night, and practiced in the bathroom mirror once Gamble was asleep.
AND THEN RICK PROPOSES, AND GAMBLE SAYS YES!!!!
"I'm not a single father anymore," Rick says, cradling Gamble in his arms, because suddenly this show is a Nicholas Sparks novel. Also, let's take a moment to appreciate Gamble's future married name: "Gamble Woof." Woof.
Finally, it's time for Gamble's party! Holy hell, Gamble went all-out with the decorations. Are there episodes beyond this one, or does the entire Real Housewives of Melbourne cast die tonight?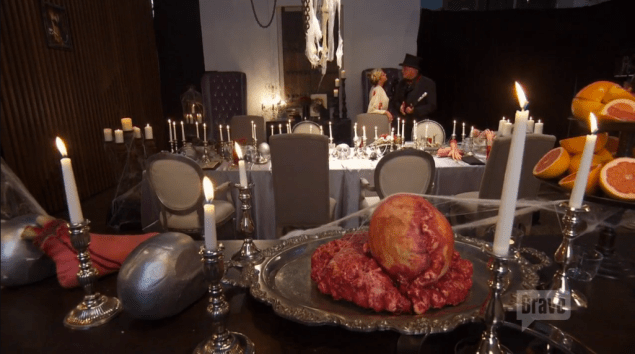 Unfortunately, no one really gives a f*** about the murder mystery. To be fair, the story seems really complicated—Lydia's character was a mind-controlling witch who possessed Janet's character to kill some fictional character named Selma? Or something?
But what's even less interesting is Pettifleur, who launches into yet another attempted explanation of her book. Nobody a) understands; b) cares.
"Another Melbourne socialite writing a book," Gamble says to the camera, "just what the world needs." SHOTS FIRED.
Rick shakes up the party by standing up and making the big announcement: that he and Gamble are engaged. Everyone's thrilled—partly because Rick and Gamble are getting married, and partly because social norms dictate that Pettifleur has to stop talking now.
You know who's not over-the-moon about Rick and Gamble's upcoming wedding? Janet. Janet, if you'll recall, has heard "rumors" about Gamble—rumors that could be detrimental to her relationship with Rick, if true.
At lunch with Chyka and Gamble, Janet reveals the rumors she's heard from multiple different sources, apparently: that Gamble has worked as a call girl and a stripper, and that she regularly hosts sex parties. Gamble says they're totally untrue.
Gamble thinks Janet is being malicious and making up the rumors.
"Why don't they take a look at themselves, and do something good for themselves, and stop being bitches?" Gamble asks, because she is basically Jam'ie King.