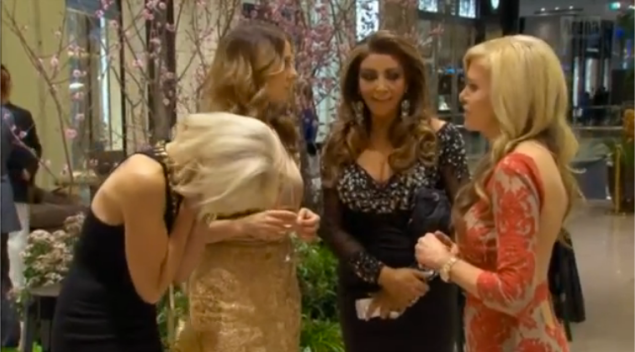 Last night's The Real Housewives of Melbourne opened with two of this season's more sane cast members (sane, of course, being a relative term): Chyka and Lydia.
The pair meet for lunch, where Chyka tells Lydia all about her tumultuous lunch date with Janet and Gamble—you know, the one where Janet was all, "BTW Gamble r u a stripper and/or call girl?!"
Lydia is stunned by the rumors—she's never heard those things about Gamble. Since the rumors haven't reached Lydia, Chyka suggests that maybe Janet's put the gossip to a rest.
Ominous music plays in the background. "D'you think?" Lydia asks.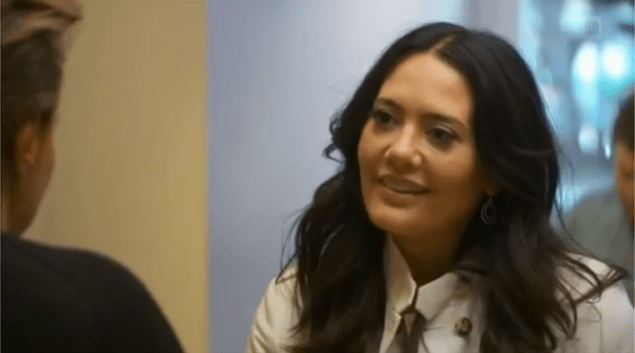 Elsewhere in Melbourne, my new BFF Jackie Gillies is filming a call for entries to find the new face of La Mascara, the beverage company Jackie is almost entirely incapable of pronouncing. ("Why don't you learn Espanol and get up here?" she yells at husband Ben, who's been criticizing her pronunciation. "I do know one word in Spanish," he replies, "La Mascara.")
Janet sneaks onto the set and surprises Jackie, whose psychic powers must not have detected Janet's arrival. The pair sit down to talk—wait, isn't there a full film crew waiting to finish this shoot?!—and Janet asks Jackie for a psychic reading about the Gamble situation.
"I think she's going to be very angry with you for a long time," Jackie says sagely. Um, are psychic powers really required to predict that a person might be angry if you wrongly accuse them of hosting wild sex parties?
Janet also announces she's going to host a golf day—and Gamble will be invited. It'll be up to Gamble if she wants to attend. "The ball's in her court," Janet says, using a sports metaphor that has nothing to do with golf.
Meanwhile, Gamble's getting ready for a fashion show—or "fashion parade," as they say in Australian-speak—that a bunch of the other housewives will also be attending. Janet and Chyka keep calling her to apologize for the sex rumors, but she's, like, so not picking up.
Before we can watch s*** go down at the fashion parade, we have to stop in at Pettifleur's lair condo. Today Pettifleur's meeting with her personal eyebrow-tweezer, Charlotte, who also happens to be collaborating with her on that sure-to-be-a-bestselling book, "Switch the Bitch."
Charlotte tells Pettifleur she's been really busy working on the book, and has written about ten chapters. Pettifleur, meanwhile, has written 20—and isn't so sure Charlotte's portion is up to snuff.
"As loud and clear as your message is, it probably doesn't blend with my message," Pettifleur says. Bye Charlotte. Sorry about the 100+ hours you spent writing those chapters. Don't quit the eyebrow-tweezing biz just yet.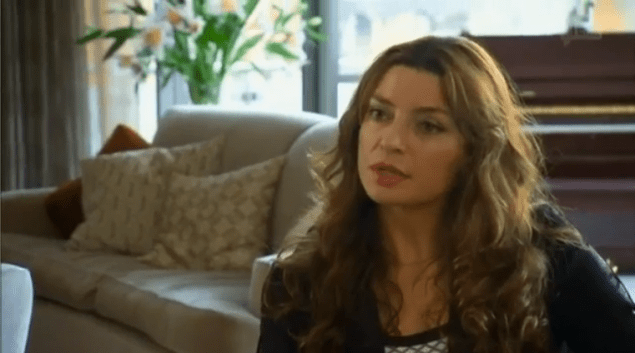 Pettifleur, meanwhile, is envisioning her book's bright future. She's planning to have it published in Chinese. "There are a lot of crazy Chinese bitches out there!" she exclaims, because political correctness apparently doesn't exist in Australia.
It's finally time for the fashion parade, and Gamble wastes no time in confronting Janet about all the sex rumors. "You're a liar!" she screams, about 0.4 seconds into the party. Janet tries to argue that Chyka was the one who first brought up the rumors, but Gamble isn't having it.
"I know the name of the people that started these rumors," Gamble tells the camera. "It's called Janet, Janet, Janet, and Janet." Tell 'em, gurl.
And now, for this season's most outrageous plot point so far: Gamble retaliating against Janet by insisting Janet's had sex for heroin.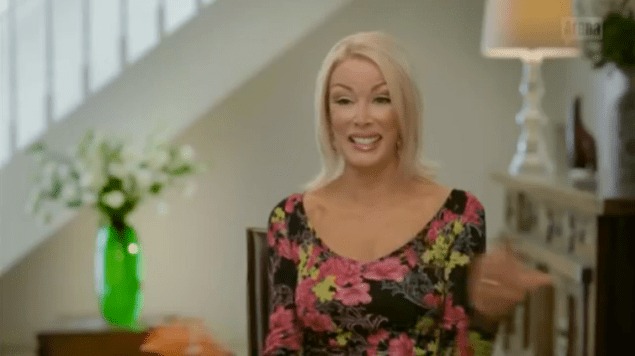 "I was so angry about what Janet said to me," Gamble tells the camera, "I thought I'd make up something to make her feel as bad as I felt." Cool!
Gamble's causing so much drama, I almost forget that Gina's even a cast member on this show—until she shows up at the fashion parade, clad, as usual, in a fabulous array of sparkly things. Gina suggests Gamble might actually be mad because Janet was flirting with Gamble's fiance, Rick (luv u Rick), at the couple's murder mystery party. Janet denies it, and I believe her—everyone knows Janet, the self-proclaimed "sabertooth tiger," prefers younger men.
The fighting only escalates throughout the evening. For whatever reason—maybe she's delirious from having only eaten peas all day—Gamble keeps swinging her arm around in the air to demonstrate a point. She doesn't just do it once. She does it, like, 800 times.
Ultimately, Janet is so #overit. "Alright, I've already heard this enough, darling," Janet says, before leaving the party.
Whew, that was intense. Next, we get to cool down with three comparatively light-hearted scenes: Lydia learning to play poker so she can compete at some charity event to benefit sick and/or poor children; Rick being super adorable and Dumbledore-esque as he vows to support Gamble through her drama with Janet; Chyka and daughter Chessie culling Chyka's massive clothes collection, which for some reason features a garment that looks like this:
In the days following the so-called "fashion flare-up," Janet has lunch with Manuela, "one of the best-connected women" she knows and who I met up with one time in NYC for a good ol' fashioned gossip sesh.
"I'm friends with Manuela because I'm too scared to be enemies with her," Janet tells the camera.
Janet fills in Manuela about the drama with Gamble. Apparently, Gamble's thinking of hiring Gina to help her take legal action against Janet. Manuela thinks Gamble might be reacting so strongly because she has something to hide. Janet does another impression of Gamble's arm-swinging.
"That's a stripper move, isn't it?" Manuela asks.
The more Janet and Manuela talk (BTW, they're my new fave power couple), the more they become convinced that Gamble's probably lying about a lot of stuff. And now, for my favorite line so far this season:
"She told me she does pilates twice a day," Janet recalls. "WHO THE FUCK'S GOT TIME TO DO PILATES TWICE A DAY?!"
Well, that proves it. Gamble's def lying about everything.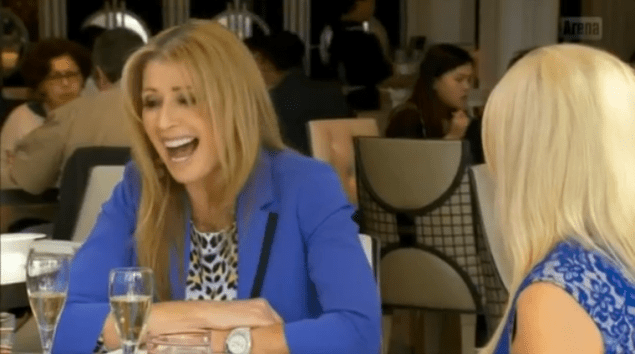 Speaking of pilates addictions, Gamble and Gina go out to dinner, and Gamble orders "carrots."
Gina coaches Gamble on how to handle the fight with Janet. She tells Gamble she shouldn't be spreading made-up heroin-related rumors—because in case you missed Gina's tagline this season—and literally every episode in Season 1—Gina deals in fact, not friction.
"Stick to the facts," she instructs Gamble.
Gina confesses she's super disappointed in Janet, and offers to sit down and talk with her about everything happening with Gamble.
"It's difficult to maintain a friendship with someone who lacks integrity," Gina says.
Can't wait to see how this goes.