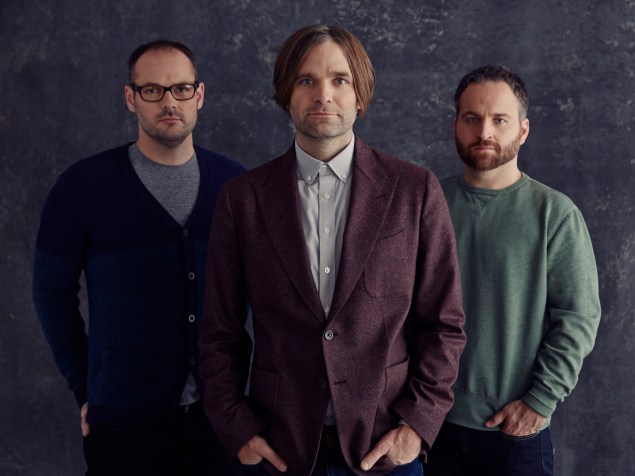 Death Cab for Cutie is arguably the original hipster band. Formed north of Seattle 18 years ago, the group bridged the gap between pop and melodic indie rock with poetic lyrics and the super-soothing vocals of front man Ben Gibbard. With the departure last year of co-founding band member, guitarist and producer Chris Walla, the band took a creative hit. But, while recording its eighth album, Kintsugi, it gained both a fresh sonic perspective from producer Rich Costey—and some new band members.
For longtime fans, Kintsugi might sound like homage to "classic" Death Cab albums (Transatlanticism, Plans, Something About Airplanes). The band continues its penchant for thoughtful, poetic confessionals; the music flows like a well-written novel, telling the group's latest chapter beautifully. Kintsugi (the name for the Japanese technique of fixing broken pottery with lacquer and gold) carries charmingly melancholic undertones (ballads like "You've Haunted Me All My Life" and "Binary Sea") balanced by more upbeat elements ("No Room In Frame," "The Ghosts of Beverly Drive"). But while the darkness is pervasive—something reflective of the past few years for Mr. Gibbard, which were marked by becoming sober and divorcing actress Zooey Deschanel—if you look closely, you'll see some sunshine coming through.
The Observer recently talked to Mr. Gibbard about working without Mr. Walla, the possibility of another solo record and starting anew.
Kintsugi pays homage to the way that Transatlanticism had such a big impact on the music community. Are there any parallels there?
I suppose it's not my place to compare our records to older records. I'll leave that to people like yourself, which I appreciate. I feel like there's a thread that ties these two records together. I feel like these two records are both open, honest and at times painfully earnest. I think I've realized over the years that those are the elements that people gravitate toward the most in the songs that I write. The times that I've strayed from that, fans have been the least excited about those songs or records. None of us have ever made a conscious decision like, "Let's make the record that we made 10 years ago," but the constant forge of being a band that's been around as long as we have is to stay true to what we're good at while also pushing the boundaries to do new things. I'd like to think that we've been fairly successful with that, and with this record in particular.
---

'I've gone through some very public, painful things over the past few years, but there's also been a lot of redemption, sunlight and rediscovery of some things that have been really important to me.'

---
Is there a consistent theme that resonates throughout Kintsugi, or is each song a separate anecdote?
The songs on this record are written between 2012 and early 2014. I'm not writing the lyrics at the end of the album or trying to tie it all together at the end of the record like, "What does it all mean?" It's a document of these past few years and [the songs] are tied to each other because they're related to me in some fashion. I've gone through some very public, painful things over the past few years, but there's also been a lot of redemption, sunlight and rediscovery of some things that have been really important to me. I don't think there's one thing that ties this whole album together; I feel like there are a number of themes that are very present on the record.
Do you think you'd ever embark upon the journey of a solo record again?
I wouldn't say no. When I made that record, I'm sure we talked about it, but I found myself with a surplus of tunes. Some of those songs had been lying around for a couple of years, and some of those songs that didn't fit Codes and Keys. I had written a lot of songs for Codes and Keys, but some of the songs didn't fit into the album. So, I don't have a surplus of material right now. That solo album burned off a lot of that solo material. As I get older, I tend to not be as prolific as I was when I was 23. So, if I found myself with a surplus of material or a big gust of inspiration to focus and write a solo record, I might do it.
It sounds like you'll be pretty busy. For Kintsugi, were there any songs, sounds or musicians in particular that influenced the album?
There's always been a time when Chris was producing the records that we'd inevitably get in the studio after he was off in India or living in a hut in Norway or whatever at the time. So we'd show up in the studio and he'd be like, "I've been listening to this band "________." And I bought this new "________" and we're gonna use it a bunch on this record. When Chris was at the helm, there would be a lot of these proclamations. Going into this album—working with Rich—he was the influence on the record. It wasn't like we were sitting around listening to whatever band we were all listening to being like, "We need to bring in elements of this band." We sort of just got right to work. A part of the process of working with Rich was finding out what his palette was and where our aesthetics crossed over. There were times where we butted heads or where he'd tell us, "Well, that doesn't sound like you guys." I think that was the new musical influence on the record: Rich Costey. It wasn't a particular record or band that we were trying to emulate. Rich, in himself, definitely was the catalyst for sonic change.
How has your live show changed?
We've added two members. [The live show] just sounds huge now. For years, we were always hemming and hawing about adding a fifth person to fill out the sounds on the records, but for internal reasons we were never able to pull the trigger on that. With Chris' departure, we've been able to realize the vision that the three of us had for some time, like, let's really fill these rooms. We need a fifth person. There are so many things we're not covering on not only the new record, but the back catalog because we didn't have enough hands. For me, it's been so exciting having three guitars on all the rock songs. It sounds really big.
What's your favorite song on the new record?
I think I've always struggled writing choruses. If you look through the body of work in Death Cab songs, there are a lot of song structures that don't involve true choruses. There are some, but not a lot. For me, when I wrote "Little Wanderer," I wrote that song for someone that's very important to me, so I had this very real, personal attachment to it. I also liked the fact that it had an actual chorus. It's a chorus I was actually proud of and a sentiment that's not expressed too often. There's a lot of songs written from the perspective of a rock musician being on the road—Bob Seger has like four of those songs. I wanted to write a song from the perspective of someone being at home, someone waiting for a weary traveler to come home. In my humble opinion, I feel like that's the song that represents a lot of smaller things I do really well in one song. I feel like that song is the quintessential Death Cab song. My friends who have heard the record have been like, "Oh my god, that sounds like an old Death Cab song." I'm like, "That's a good thing, right?"