A blizzard was raging outside, but 25-year-old Sadie Kurzban was wearing a crop top and a bright smile when she bounded, curls bouncing, into the lobby of the Marlton Hotel on West 8th Street. She had just popped over from the boutique fitness studio she runs, and now she was curious to know if the bakery window served anything with chocolate.
Ms. Kurzban is the founder of 305 Fitness, the much-buzzed-about dance-based workout class poised to become the next Zumba. An hour at 305 Fitness—named for the phone area code for Miami where Ms. Kurzban is from—is like going to a club, except attendees are pumping their arms instead of pounding shots. The dance moves are fast, intense and sexy—think shimmying and booty popping—and a live D.J. provides beats and a curated, multi-colored light show. Classes cost $32, or $469 for a 20-class package.
First-time 305 clients might flock to the gym looking for a great workout. But watching Ms. Kurzban ricochet around the underground studio, alternatively screaming praise, cracking jokes and fiercely dancing, they might discover the most fascinating aspect of 305 Fitness is not the flashing, hot-pink lights—though those are cool, too—but Ms. Kurzban herself.
Rarely breaking eye contact, Ms. Kurzban talked with a controlled intensity when she described the history of 305 Fitness.
She got the idea, she said, at a Miami nightclub while home on spring break from her junior year at Brown. She had already been teaching exercise classes in Brown's gym, but it was at the nightclub—covered in sweat from dancing—that she realized combining fitness and clubbing could be a viable business idea.
"I just had this moment of epiphany," Ms. Kurzban recalled.
Back at Brown after spring break, Ms. Kurzban changed her major from history and gender studies to economics. At the end of her senior year, she entered Brown's business plan competition to pitch 305 Fitness to the judges—going up against "a lot of all-male teams that had come up with medical procedures or the newest tech app," she explained.
"And here I was," she went on, "telling these judges I have this idea for a dance class."
Hundreds of students who had taken Ms. Kurzban's exercise classes at Brown showed up to cheer her on. She won and took home $75,000 in cash and in-kind services.
For two years, Ms. Kurzban taught 305 classes pop-up style in whatever venues she could find. Eventually, with some financial help from friends and family, she opened the permanent studio space on West 8th Street in October 2014. She has also launched pop-up classes in the Hamptons and another location in Washington, D.C. Ms. Kurzban typically works 80-hour weeks but it has paid off: Her business has been profitable since its second month.
"You can say I live on Mott and Spring," Ms. Kurzban said, when we asked about her commute. "I'm about to move there. I'm so excited—it's so trendy!"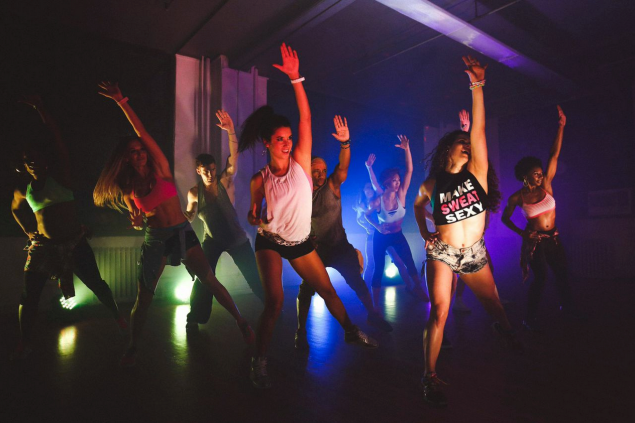 When 305 Fitness devotees talk about Ms. Kurzban's business, they do mention the physical benefits. Liviya Kraemer, who works in TV development, noted that she's lost 20 pounds in the two years she's been working out at 305.
But what came through more was the emotional impact of the 305 ethos on her clients, who say they have built confidence and self-acceptance since starting there. Throughout any given class, as dancers valiantly sweat their way through, Ms. Kurzban shouts inspirational mantras about giving life your all.
"Sadie is your friend, therapist and the girl you want to be, all wrapped into one, tiny firecracker package," Ms. Kraemer said.
Deaton Jones, one of 305 Fitness' male clients, has sampled other boutique fitness studios including Ray's Boot Camp. He described some as being "tunnel-visioned" about burning calories or building muscle.
"305 emphasizes the emotional elements of fitness, too," he said.
And then there is Wilhelmina model Carolina Coto, who spoke of Ms. Kurzban with the reverence you might show a religious figure.
"She's like a Beyoncé to me," Ms. Coto gushed.
In the past, the Costa Rican-born model's fitness regime focused heavily on military-style martial arts. It was all very "serious and rigid," she explained.
"Having fun," she said, "wasn't part of the equation."
When Ms. Coto started at 305 Fitness in December, she hadn't realized it was possible to feel so happy and free while exercising—to not have to count sit-ups or burpees, and yet still get a great workout. She now takes two to three classes per week, and describes them as "pure joy."
"It's like they say: Dance like no one's watching," Ms. Coto said. "That's what really happens, underground there."
Knowing that she has been channeling confidence to her clients—particularly women—"is truly what's driving this whole thing," Ms. Kurzban said, "this feminist impulse inside of me to awaken women to their full potential."
It is a mission instilled in her by her dad, who she described as a "feminist, sensitive, ambitious man" who "raised me to really believe that I was limitless and as equally capable as my brother."
"As a result," she said, "I have a lot of confidence, I don't question myself in a lot of things and I feel like I have a seat at the table."
As we ate our breakfast—there was no chocolate, so Ms. Kurzban had to settle for an olive oil citrus muffin—she talked about her vision for 305's future.
With the success of the brick-and-mortar studio, "it's sort of a no-brainer for me to keep expanding," Ms. Kurzban said, "as long as I can deliver my promise to clients, which is a high-quality workout every time, with an amazing instructor."
She is planning a "big push in 2015 for national pop-up programs," ideally on college campuses. She is also considering brick-and-mortar expansion in New York—"maybe one or two more studios coming soon," she said, "because 8th Street is doing so well right now."
It was surprising to learn however, that Ms. Kurzban still would not call herself successful.
"I just think there's so much more to do."