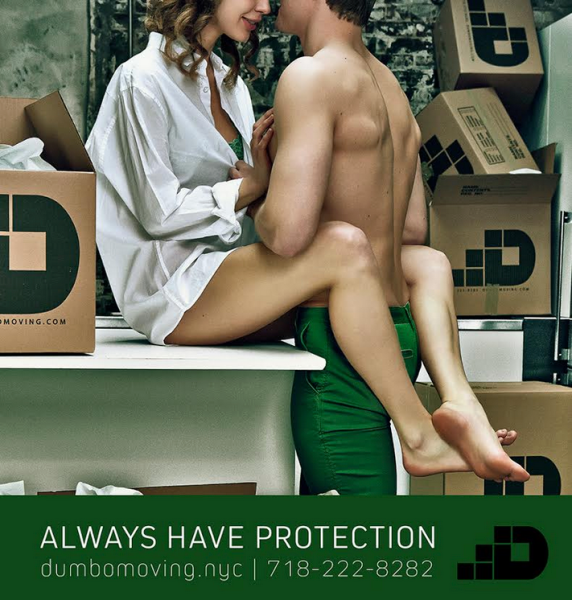 The MTA has vetoed a racy ad from a Brooklyn moving company on the grounds that it's "too suggestive" for the virgin eyes of innocent passengers.
The Dumbo Moving + Storage ad, shown above, depicts a half-dressed couple surrounded by moving boxes. The pants-less woman is perched on her new kitchen countertop, her legs wrapped around the waist of a shirtless man. "ALWAYS HAVE PROTECTION," a green banner at the bottom of the image reads. It was supposed to run on March 16.
In an email provided to the Observer by the moving company, CBS Outdoors—the MTA's advertising management company—apologized to Dumbo Moving + Storage and told them the ad was "too suggestive."
The moving company followed up by suggesting relocating the green banner so it covered the couple's midsections, but CBS Outdoors still declined. They commented that the tagline, "ALWAYS HAVE PROTECTION," might be too much about sex and not enough about moving.
"They weren't expecting to have such a complex message from a moving company," Lior Rachmany, CEO of Dumbo Moving + Storage, told the Observer. He suspects the MTA was anticipating a more generic slogan—a "lame cliché" like "We're going to protect your belongings," or "Your items are safe with us."
"It's a game of words," Mr. Rachmany said of the ad's tagline. "Nobody can say [sex] is only what it says."
"We're a moving company," he explained. "We want people to know that we have a lot of resources on protection of the items."
The MTA did, however, approve two other ads from Dumbo Moving + Storage. Both featured the "ALWAYS HAVE PROTECTION" tagline, but were significantly less sexy.
Though the banned ad was certainly racy, Mr. Rachmany thinks it would have been appropriate—educational, even—for audiences of all ages.
"I think this is a great message, even for younger crowds," he said. "Sooner or later, if they're going to be in any kind of act of affection, they should have protection. I know I'm going to teach my kids that. I do not see anything negative about it."
Oddly, the MTA has approved racy ads in the past, the Daily News noted. Last year, they okayed a breast implant ad from a team of Long Island City plastic surgeons that was literally just a close-up picture of a woman's cleavage.
Last year, CBS Outdoors also okayed an ad from a 9/11 truth group on a billboard near Times Square.
Mr. Rachmany doesn't see why breast implants are fair game, but protected sex isn't. In fact, he said, encouraging people to use contraception is a more positive message than the one conveyed by the plastic surgeons' ad.
"We're not encourage anybody to somehow not be comfortable with their image," he said.
Though the ad won't be gracing the L train anytime soon, the company is already sharing it across social media. They might also print the ad on their fleet of 50-plus moving trucks, Mr. Rachmany said.
And besides, now that the ad's been banned, there'll probably be more people discussing the ad than if it had run, like planned, on the subway.
"To quote the great Miles Davis," he continued, "Don't be afraid of mistakes, because there are none."