This weekend, hordes of young techies will descend upon the Javits Center to take part in a cutthroat battle. Between robots.
We're talking about the FIRST Robotics Competition, an annual event to help foster young people's interest in science and technology. This year's competition—which asked participants to make recycling-themed robots—is expecting 2,500 participants from not just NYC, but countries like the U.K., Brazil, Turkey and China, a press release stated.
In preparation for this weekend's battle royale, the Observer caught up with Kiana Dyson, a senior at the Bronx High School of Science. She also happens to be the captain of an all-girl robotics team, FeMaidens, which she thinks has a "fair shot at winning" this weekend.
How did you get into in robotics? 
I was very aware of the robotics team at Bronx Science, but wasn't sure if I should join or not because I was worried it wouldn't be the "cool" thing. In my middle school I was treated as the nerd and geek who knew everything, and I really wanted to get out of that stereotype of a nerd. So I was a bit unsure if robotics was the thing for me.
However, that quickly changed once I attended Bronx Science's club fair. All the clubs and teams were in the gym with posters saying why they think you should join their club. I remember seeing a huge crowd forming in the back of the gym and wondering, "Why's that crowd forming?" I moved closer to the crowd to see what was going on. To my shock, this huge crowd was watching a robot move around. I was amazed that high school students not much older than me could build that. From that moment on I knew robotics was for me.
Tell me about the robot your team is entering into the competition. What does it do? 
The challenge varies every year; in 2012 we had a basketball game, in 2013 it was a frisbee game. This year, the game is called "Recycle Rush." The objective is to stack totes and recycle cans as fast as possible. Our robot this year is able to stack totes and pick up cans.
Here's the team's robot in action:
[youtube https://www.youtube.com/watch?v=CwGI6lMBGZE&w=560&h=315]
I love that you're part of an all-girls team. Was it a conscious choice to be all-girls? 
Yes, it was a conscious choice to be an-all girls team.
The team was started about eight years ago by a few girls on the Bronx Science Co-ed team, the SciBorgs. These girls felt they wanted to do more, and weren't having the same opportunity to do so as others on the team might have, so they branched off and started their own team. Now, it's clear the impact having an all-girls team has on every member. We are all so close and a lot of us look at each other as family. We've become so comfortable with each other and I'm confident that I will keep in contact with many of the members after I graduate.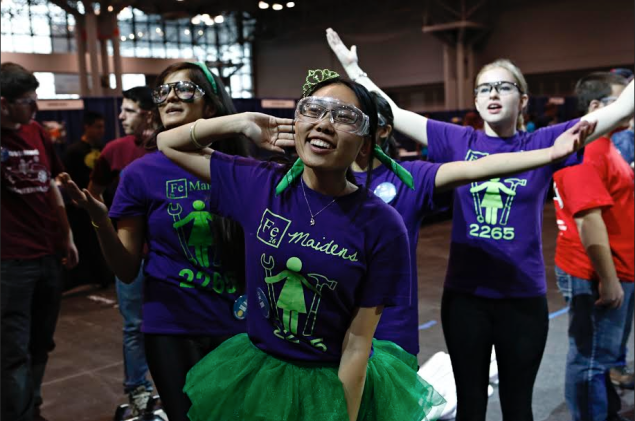 How has becoming involved in robotics affected your life?
In middle school I was always kind of afraid to be labeled the "nerd" or the "geek." So I was a bit hesitant to join things like robotics. However, after joining robotics I'm confident in who I am as a person, and what I want do. I've never felt so comfortable being myself, and that's because of this robotics team.
What do you hope to study in college? What's your dream career?
In college I plan to major in Computer Science and continue learning the thing I love to do. In the future I would love to start my own company. The company would be geared towards mixing the arts with STEM fields.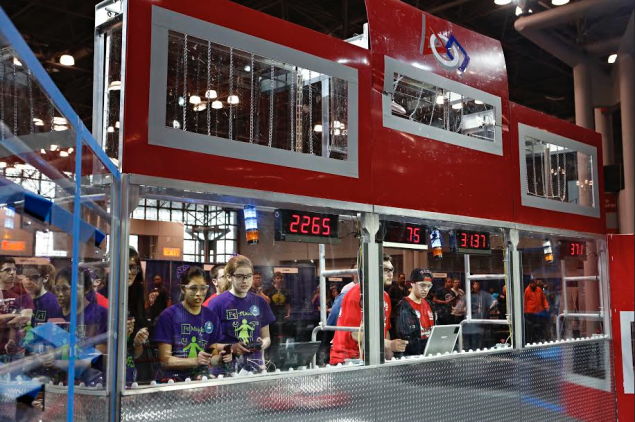 Why do you think fewer women than men pursue degrees and careers in science? 
Because they don't see nearly [as many] women going into STEM fields as they see men. The [number] of times I've heard women talk about how their computer science, physics, or AP math class is predominantly male is overwhelming.
I think a big portion of getting more girls involved and interested in these STEM fields is making sure they know it's completely normal wanting to major in these fields. [FeMaidens's] main goal is to make sure other girls know that they can pursue anything they want, whether or not that may be a STEM field. In my opinion, when we compete, we aren't just competing for the FeMaidens, but we are competing for every other girl who's unsure if they should major in STEM because "only guys do it."
What are your goals for this weekend?
My goal for competition is to give it everything I got. I expect to perform well, and I believe we have a fair shot at winning.