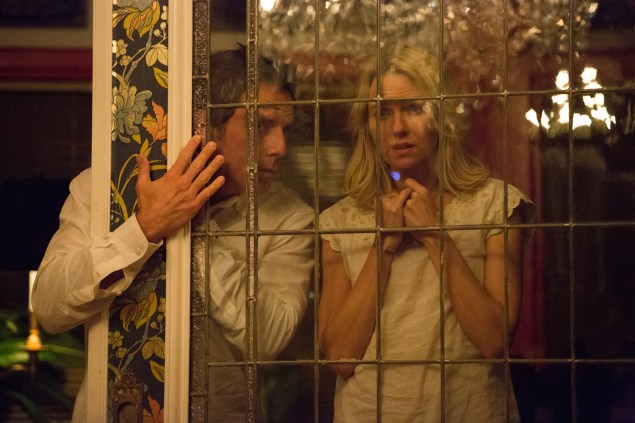 Another inconsequential Noah Baumbach parody of so-called "normal" people trying to function in a fractional society changing too rapidly to keep up with, While We're Young is a dreary bummer. The theme is about how awful it is to become a responsible, middle-aged adult drowning in a culture that worships youth and considers anyone over 40 six-feet-under. Writer-director Mr. Baumbach observes misery from the same point of view ("I hate myself!") in every film, but this one is more obnoxious than most. You don't get many contemporary comedies that even begin with a groan-quoting Ibsen, no less. It goes downhill from there.
---

WHILE WE'RE YOUNG ★★
(2/4 stars)

Written and directed by: Noah Baumbach
Starring: Ben Stiller, Naomi Watts and Adam Driver
Running time: 97 min.

---
Josh and Cornelia (Ben Stiller and the overexposed Naomi Watts, who seems to pop up these days in every role Meryl Streep turns down) are a married couple trying to convince each other they're happy and content in their union—enjoying a freedom that comes without the responsibility and inconvenience of children. But he's a neurotic 44-year-old filmmaker with arthritis, failing eyesight and no income, and she's just frustrated. Her husband just can't measure up to her father, a famous documentary director, played by a desperately miscast, poker-faced Charles Grodin, who, as an insulting, intellectual power brain is about as believable as Johnny Depp playing a cocker spaniel. Anyway, they become infatuated with a younger, hipper couple who convince them they're wasting their lives somewhere, as Auntie Mame used to say, between 40 and death.
The younger couple are Jamie (Adam Driver), a filmmaker so dumb he can't distinguish Citizen Kane from The Goonies, and his wife Darby (a waste of the enchanting Amanda Seyfried), an over-stimulated weirdo who sells almond and avocado sorbet. They share a hippie New York apartment that looks like a warehouse with a pet chicken. Battling the New York traffic on bikes, buying stupid hats and attending hip-hop classes, the older people give up charades and cookouts with their old friends in exchange for vile Peruvian-root juice diets, vomiting up their toxins into buckets on the living room floor. The 40-somethings turn into 20-somethings, but once they discover the idiotic wastes of time called Facebook and Twitter, their lives fall apart. The big shock comes when Josh discovers the young people who talk incessantly about truth are in fact willing to betray him because they secretly crave the same kind of success the older people have.
"Times change, different things matter now," somebody says. Forget about ethics and loyalty and honest human values. Jamie steals everything from Josh in a subplot that questions the authenticity of documentary filmmaking. The idea that experienced maturity is better than youthful ignorance is a valid one, but this is not a movie I'm likely to remember. It's not witty or original enough to resonate, and some of the scenes, like the prolonged visit to a hippie commune with a spaced-out guru, are corny enough to play like discarded pages from a Judd Apatow movie. For me, the problem with While We're Young is that everyone under 40 is moronic and everyone over 40 is guilty, bored and too eager to trash their values to hang out with kids whose ideals couldn't fill the pages of a comic book. There's something wonderfully reassuring about age, and a movie this empty makes me glad I'll never see 40 again. The actors have the frantic look of people rising from a nightmare, except for Charles Grodin, who never wakes up at all.