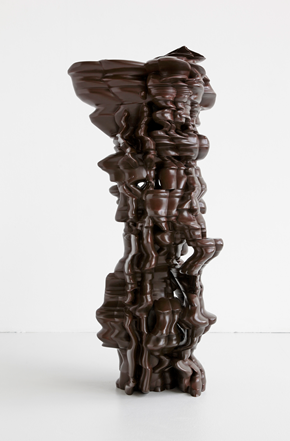 The tony European Fine Art Fair (TEFAF) is best known for its Old Master treasures and valuable antiquities: The edition on now in Maastricht, Holland, through March 22, for example, is offering ancient Roman statuary, 1,000-year-old Gospels and a 1540 portrait of Cleopatra.
But the fastest booming sector of the art market is contemporary art. So, in an attempt to boost such sales in Maastricht, fair organizers turned to a familiar name, or a familiar last name at least, Sydney Picasso. Daughter-in-law of the Spanish painter, author and collector, Ms. Picasso has guest-curated a special exhibition of Contemporary art at the fair: "Night Fishing."
"TEFAF has been searching for different ways to bring the fair clearly into the 21st Century," Ms. Picasso told the Observer. "Night Fishing" features eight artists, who are primarily sculptors, each presented by an individual gallery who had never shown at the fair before, but the works are exhibited all together.
So, how do you put eight galleries showing contemporary art into one, 2700-square-foot space in the middle of an art fair that mainly shows antiquities and make it shine?
Monumental figurative bronzes by Georg Baselitz, Tony Cragg and Cristina Iglesias and a twisted wood abstraction by Richard Deacon dominate the space. Nam June Paik pieces add pizzazz with big multi-media structures incorporating video and lights, while Wolfgang Laib, Mark Manders and Markus Raetz show intimate pieces that provide links to the past.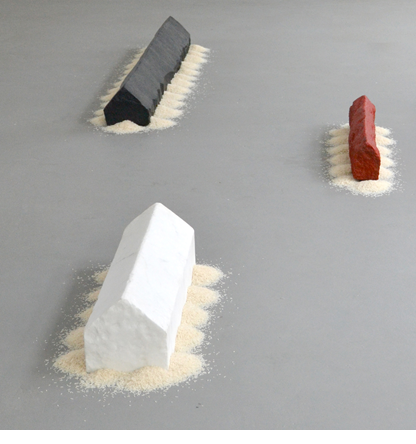 There's a strategy to all this. "I felt that sculpture was the best medium—in terms of materials—to relate to works of the past 7,000 years that are being exhibited at the fair," Picasso said. "With painting—really—there's no competing with the Old Masters. I thought that sculpture would work best in dialogue with the other objects here and with each other."
Ms. Picasso chose the artists that she wanted to exhibit and the fair organizers selected galleries that work with them. London-based dealer Hidde van Seggelen, who conceived the idea for a special exhibition, said: "We could have simply borrowed work to make a show; instead we asked the dealers to pay their fair share, and they all said, 'Yes.' We put them together in one space and they're happy."
"The challenge was to make a dynamic contemporary space within the fair," Meike Hartelust of Tom Postma Design, the architect for TEFAF, as well as the three Art Basel brand fairs. "We had to construct individual spaces while still making it feel like one exhibition. We created high ceilings, specifically placed thick walls and added more lighting."
And what about the show's unusual title? Although critics speculate that it references Pablo Picasso's 1939 canvas Night Fishing at Antibes (or the fair's desire to lure more big-fish), the curator had another explanation.
Said Ms. Picasso. "It came to me in a dream; It has nothing to do with attracting dealers or with Night Fishing at Antibes, even though it's a very sculptural painting. I've done a lot of thinking about how the traditional arts get integrated into contemporary art and curated a show that emphasizes individual technique."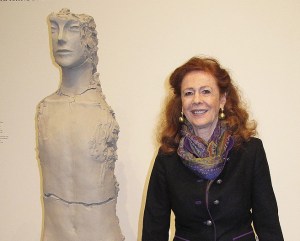 Is it a success?
It certainly attracted the attention of museum directors and curators on opening day. Sited opposite TEFAF's main sponsor AXA Art—a lounge area that provides a gathering point for wealthy collectors—the project is seen likely to return with a new curator next year. And sales are off to a good start, with Baselitz's painted limewood sculpture of a female torso going early in the fair's two week run for 1.4 million Euros ($1.5 million)—a price that far exceeds many of the older works on view.