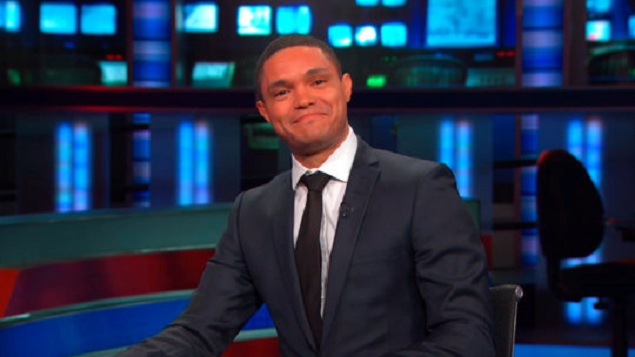 Last night, the two biggest trending topics on Twitter were #BieberRoast and #TrevorNoah. Bieber Roast, of course, was referring to the Comedy Central Roast of Justin Bieber, in which comedians and other sort of famous people said mean things to pop star Justin Bieber for more than two hours. One would easily assume that Trevor Noah was trending because he was announced as Jon Stewart's replacement on The Daily Show, but one would also be wrong. Trevor Noah was trending because this is 2015, and when someone rises to public prominence it is our sworn duty to take time out of our days to go back more than six years through more than 8,000 Tweets to find the most offensive ones.
So on and so forth. People, most notably Buzzfeed Business editor Tom Gara pointed the finger at Mr. Noah for things ranging from misogyny to fat-shaming, from stereotyping to antisemitism. And don't get me wrong, like 99% of the Tweets highlighted were dumb. So, so dumb. And yes, in some ways, offensively dumb. But its the offense people are taking that I find so interesting, because they were clutching their pearls and sharpening their pitchforks, all the while every so often looking up and laughing at the Bieber roast. The Bieber roast, I must add, included topics such as: 9/11, ISIS, the Holocaust, Bill Cosby being accused of rape by 38 women, whether or not Natasha Leggero has sucked a black's man's penis before, etc etc.
At one point, Snoop Dogg just repeatedly said the N-word, and that was the joke. Basically every single roaster on the dais called Mr. Bieber a lesbian, because everyone knows having a certain haircut is what makes you a lesbian in the first place. This was the cleverness, the wit, the subtlety that was apparently missing from Mr. Noah's Tweets. And that was all the roast was, for two hours, 100% of the time. Mr. Noah's Twitter account, as the Washington Post pointed out, was mined in order to find to be approximately .067% offensive.
Look, I'm not here to tell you what to be offended by. I would just like to know what the difference is, between these two events that dominated headlines late last night. Was it because of the "roast atmosphere," where anything goes? It has to be, right? Because everyone knows Twitter is different. Twitter is a place for the utmost respect and proper manners, where people only go to put their most refined and dignified thoughts.
Is it because everyone at the roast was "only kidding?" Because they were young, edgy comedians? Comedians, like a 27-year old Trevor Noah who Tweeted most of the offensive Tweets (yes, one or two were from within a year). Why is one thing a public spectacle and ratings bonanza while the other one is a call to arms?
You see, I don't have a problem with people not liking Noah's Tweets. I do have a problem with non-events. I have a problem with manufactured outrage. I have a problem with the public turning what is essentially nothing into a massive, disgusting something. I have a problem with tunnel vision, and people not realizing that if Twitter was around in 1998 they probably could have dug up some doozies from Jon Stewart's Twitter. Shit, I don't even want to imagine a Craig Kilborn Twitter feed.
This is the only time in human history where we are trying to define people by the worst thought they can put together in under 140 characters. Right now, this very second, there are thousands of people losing future jobs at the same time they hit "send Tweet." Twitter, and all forms of social media, have emphasized this knee-jerk reaction culture we have that says "the one part in front my face is bad. THE WHOLE THING IS BAD." It's almost a weird, inverted pack mentality, where people become outraged just because they want to be part of the social conversation before it becomes uncool.
If Trevor Noah had recited some of those Tweets word for word at the Justin Bieber roast, the worst that would have happened is no one would have laughed. Because that right there is the only difference—the jokes on TV landed and the ones on Twitter didn't. That's why Jeffrey Ross isn't being dragged through the mud as a racist. Snoop Dogg isn't being lampooned as a misogynist.
But Trevor Noah is a villain, and Justin Bieber is a lesbian, and somehow both of those things are O.K. to say in public.