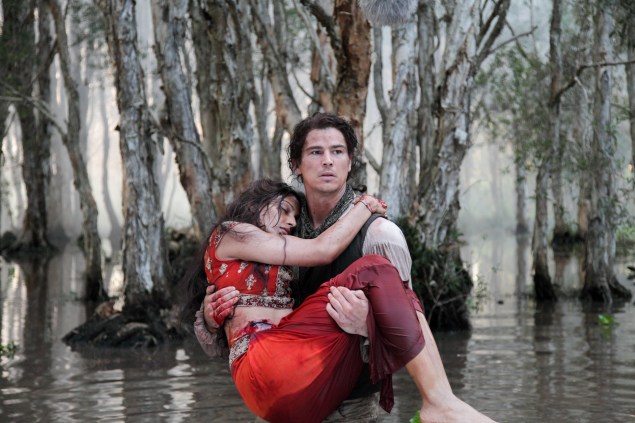 Director Roland Joffé (The Killing Fields) has, in the past, made some decent films set in exotic locales. An idiotic bore called The Lovers has so little connection with anything professional that it's hard to believe it was written and helmed by the same man. It's so deadly and unintentionally funny (I hope) that it practically defies description. Mr. Joffé should go back to film school as soon as possible.
---

THE LOVERS
(0/4 stars)

Written and directed by: Roland Joffé
Starring: Josh Hartnett, Bipasha Basu and Tamsin Egerton
Running time: 109 min.

---
Long ago, there was this Indian legend, see, about a magic ring in the shape of a serpent that signified true love. The ancient myth goes that the lovers united by the two halves of that gold ring were destined to be together forever. Even if they were separated by an ocean, or a century, they would someday be reunited. Cut to modern times, where half of the ring is discovered by mumbling, monosyllabic Josh Hartnett as a marine archaeologist named Jay, who is knocked unconscious underwater in a diving accident.
In a comatose condition waiting for the Coast Guard, he finds himself in 1778 Bombay as a Scottish soldier named James who falls for a sword-throwing lady warrior named Tulaja (India's Bollywood star Bipasha Basu). In a tangled jumble of nonsense, loyal to the king and opposed to the greed of the crown's colonialists in India who want to fill their own coffers by establishing a trading empire, he finds himself caught up in a baffling war that is never explained.
This is heavy mumbo-jumbo, especially for Josh Hartnett, who can barely handle a foreign accent, much less a musket. Sporting a mystifying brogue that sounds like it might come from a planet that is waiting to be discovered, he is an immediate candidate for the next Hasty Pudding award for Worst Actor of the Year.
A ridiculous, derivative combination of time travel, sweeping costume epic and lugubrious fairy-tale romance, all rolled into one indigestible Tower of Babble starring two incompetents with no chemistry whatsoever, The Lovers seems like a joke. The battle scenes are forced and confusing, and the captain dies a horrible death trying to save the Bollywood queen, her Bollywood servant, and a Bollywood baby, although it is never clear what he is saving them from.
When director Mr. Joffé at last returns to the present-day hospital where the scuba diving scientist is flat-lining, the knife-throwing belly dancer from India shows up with the other half of the magic ring in time for him to spring back to life, mercifully minus his hilarious accent and colonial-rule ponytail.
None of this makes a lick of sense, including the myth, since the marine biologist and his wife who end up with the rings are not even the same people who wore them in 1778. Is all-American Jay with his khaki shorts and gym abs the same person as James? Or do they just look alike with different haircuts?
There is no logical reference to time or place, no historic context, nothing to connect the science of today with the violence of the 18th century. The acting is abominable. The direction has the energy of a corpse. And while we're on the subject of movies that should never have been made, would somebody tell me why a movie set in India was filmed in Australia?