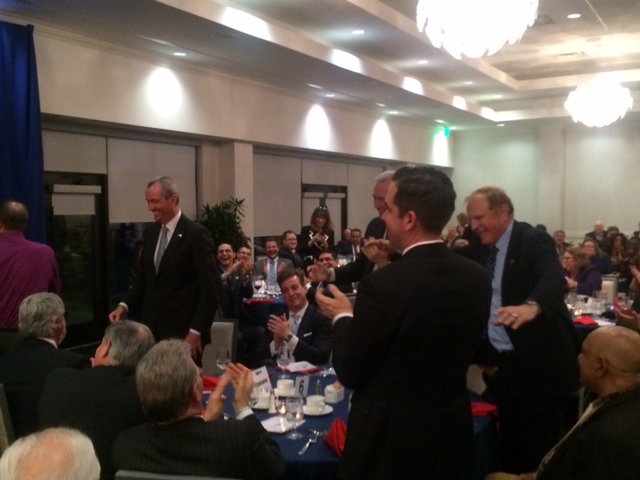 KENILWORTH – The more than 400 attendees jammed inside the Galloping Hill Golf Course clubhouse for the New Jersey Democratic State Committee's annual Jefferson Jackson Dinner on Monday night probably expected Virginia Governor Terry McAuliffe, a longtime ally of Bill and Hillary Clinton, to talk about Hillary's potential run for President in 2016.
McAuliffe, however, decided to cut the evening's considerable crowd down to a select size, cutting through months of strategic chessboard maneuvering to isolate a certain group in the audience.
"I think I met at least five people in the photo op that said they were running for governor. So if I could ask those five to stand up who said they were going to run for governor, let's give them a round of applause!" McAuliffe said, smiling. "Come on, guys! Don't be shy!"
A surreal shudder went through the group of prominent New Jersey Democrats sitting at the same table in front of the podium.
"Oh my God," whispered one of the people positioned close by. "McAuliffe didn't just touch the third rail. He licked it."
Then, one by one, they stood.
First went state Assemblyman John Wisniewski (D-19). Then went state Senator Ray Lesniak (D-20). Next was former U.S. Ambassador to Germany Phil Murphy. Finally, Jersey City Mayor Steve Fulop got on his feet. The four men even joined hands for a fleeting moment.
Why four, not five? State Senate President Steve Sweeney (D-3) left early, shortly before the evening's speeches began.
After indirectly making most of the 2017 New Jersey Democratic gubernatorial candidates declare their intentions, McAuliffe, the co-chairman of President Bill Clinton's 1996 reelection campaign and the former Democratic National Committee chairman, became intent on pointing out the path to victory for Garden State Democrats.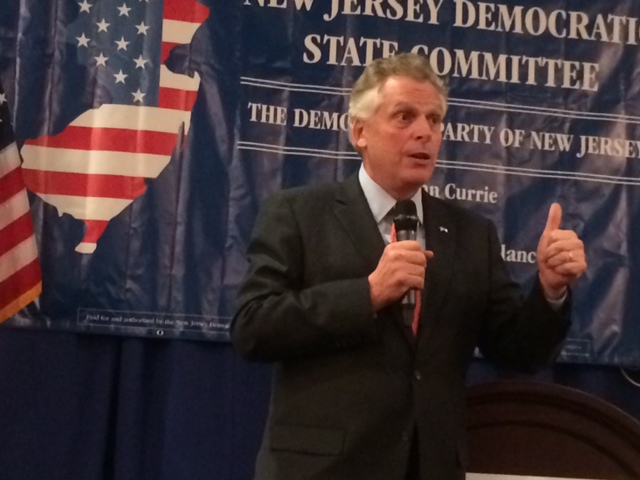 "We were on the defense the entire 2014 election. We should have been on the offense," said McAuliffe, referring to last year's rough results for Congressional Democrats, who suffered a net loss of 13 House seats. "America in the last five years has created more jobs than Europe, Japan and all the developed countries added together. The stock market is up 150 percent. And 15 million Americans today have health care that did not have it. We ought to stand up and be proud and let people know that. So candidates for governor, get out with the message."
McAuliffe, an upstate New York native and a Clinton devotee, noted that he didn't exactly fit the regular profile to be elected governor of the southern swing-state of Virginia, which he referred to as "the capital of the Confederacy." But unlike that Lost Cause, McAuliffe was able to win the Virginia governor's race on his second try in 2013.
"I took stands that I believed in," McAuliffe said, listing his positions in favor of same-sex marriage, women's health care rights and responsible gun ownership that includes background checks. "You've got to be smart and motivate your base. Because of our message, we had the biggest turnout ever in a governor's race. I got more votes as a Democrat for governor than any Democrat in the history of the Commonwealth of Virginia."
While McAuliffe made all of the New Jersey Democratic gubernatorial candidates present stand up, he called on the state's Democrats to rise up in general.
"My message to all of you is be bold. Fight," McAuliffe said on a night when Democrats raised more than $200,000, according to party officials. "This is not a sport for the sidelines. Democrats lose when we try to play cute and when don't stand for what we believe in. I would rather lose than change my position on an issue. I don't poll if I know where I stand on an issue. With the numbers you have in your Senate and your Assembly, you should have a Democratic governor here."