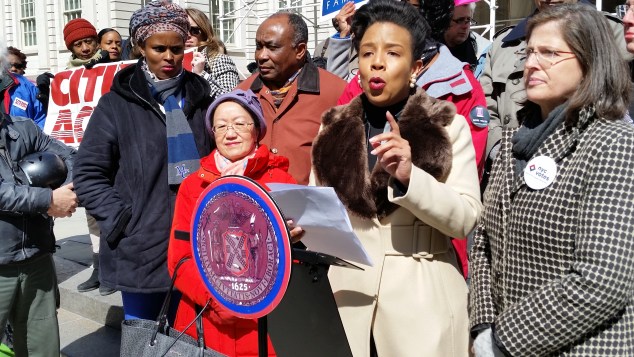 A slew of city Democrats and activists slammed Gov. Andrew Cuomo today for snubbing the State Senate minority leader in budget negotiations–even claiming that they were "duped" during his re-election bid when they lent their support to his campaign.
"I feel extremely duped because we were here to make sure that we were going to advance women's issues. Not be used as window-dressing during the campaign season and hidden and pushed to the back during the budget season," declared Councilwoman Laurie Cumbo, a Brooklyn Democrat and chair of the Committee on Women's Issues. "We have to make sure that Gov. Cuomo understands that we will not be duped. We will not be hoodwinked. We will not be put in the back."
Ms. Cumbo, joined by Public Advocate Letitia James, Manhattan Borough President Gale Brewer and several council members and union members on the steps of City Hall, ripped into Mr. Cuomo for negotiating the budget with three other men and not Andrea Stewart-Cousins, a Westchester Democrat and Senate minority leader. Typically, the Assembly speaker, Senate majority leader and governor hash out the now $142 billion budget behind closed doors, but a decision to allow State Senator Jeffrey Klein, the leader of a five-member breakaway faction of Democrats, into the negotiations has enraged many mainline Democrats and even Republicans, who blame Mr. Cuomo for not extending an invitation to Ms. Stewart-Cousins.
The argument, articulated by Ms. Cumbo and others, is that Mr. Klein only represents five members, while Ms. Stewart-Cousins' conference numbers 24. Assembly Republicans, traditionally excluded from the opaque negotiation process, have a conference of 44.
"I think we've gotten to the stage where the three to four men in the room have reached epic proportions of disgust for us but also that you would let someone in like Jeff Klein who only represents five members, five members over 24 plus members–[the numbers] just don't equal up," Ms. Cumbo said.
Ms. Cumbo is not the first elected official, or even first Brooklyn elected official, to complain about Ms. Stewart-Cousins' exclusion. Brooklyn Borough President Eric Adams, a former state senator, held a press conference this past Sunday to pressure Mr. Cuomo to include her in the budget talks. Ms. Stewart-Cousins herself said she should be included in a radio interview yesterday.
In addition to expressing frustration about a women of color being left out of the budget negotiations while three white men–and Assembly Speaker Carl Heastie, an African-American–decide the state's fiscal fate, the pols and advocates also implied they were annoyed that the most liberal leader of a conference dominated by city lawmakers was being snubbed. Mr. Cuomo is a centrist Democrat who has worked closely with Republicans; Mr. Skelos is a Republican and Mr. Klein was a majority leader for two years, sharing power with the Long Island Republican.
"New York is a vast and diverse place. The economic and social needs of our people cannot possibly be captured by three or four men behind a curtain of secrecy," Ms. James said. "Shutting out the leader of a conference that represents, how many, millions of New Yorkers is a slap in the face to those New Yorkers whose voices aren't being heard where it matters most."
"The reason why we are concerned about rent control, Mitchell Lama, the extension of protections of low-income families is because there is not a woman at the table," she added. "Every conference should have a seat at the table–and yes, that includes Assembly Republicans."
Many of the same advocates from Planned Parenthood and NARAL Pro-Choice New York who backed Mr. Cuomo's successful effort last year to establish a Women's Equality Party were at the press conference today to demand Ms. Stewart-Cousins join the budget talks. Ms. Brewer argued that the governor needed to shatter this glass ceiling.
"In New York State our state's $140 billion budget is still hammered out by three men in a room, ironically by four men in the room, one of whom doesn't have much representation at all," Ms. Brewer, a Democrat, said. "We've got to change, shatter, kill this ceiling."
Mr. Cuomo did not return a request for comment.