On Tuesday, the Spring/Break Art Show opened inside Skylight at Moynihan Station, two floors of former offices inside Manhattan's historic James A. Farley Post Office. The fair, which runs March 4-8, isn't your typical gallery affair. Instead, curators pick and choose the artists on view. Notable artists this year include E.V. Day, Maxwell Snow, Tom Wesselmann, Swoon, Walter Robinson, the Bruce High Quality Foundation, and more. The result is a wild assortment of ambitious installations, performances, and exhibitions that run the gamut from sensory light shows to towering sculptures made of exercise equipment.
The event kicked off with the surprise wedding of fair directors Andrew Gori and Ambre Kelly. Though the two wed in a private ceremony last year, they saved their legal paperwork for Tuesday's kickoff. "We just have to do a quick transaction and then we'll answer questions about the fair," said Mr. Gori to a crowd of journalists and collectors in attendance for the preview. Artist Dustin Yellin was on hand to sign as their official witness.
The James A. Farley post office takes up two city blocks, and the amount of space at Moynihan Station afforded to artists and curators is daunting. Nolita's Old School (an old school house downtown that previously housed the fair) was synonymous with its site-specific installations, but nothing has been lost in the new space—in fact, plenty is gained. The Observer even overheard one visitor compare this year's fair to the infamous "Times Square Show," a landmark exhibition of contemporary art that took place in 1980.
On the third floor, Fabiana Faria, Helen Barquet, and Katya Braxton curate Grace Villamil's Door Within a Door. The massive installation of towering foil tents sits inside an old vault. Lit with orange and red light, and pulsating with droning sound, visitors are encouraged to climb inside. Antoine Lefebvre curates artist JaZon Frings' Zollar exchange project, an on-the-spot bartering performance where he offers printed currencies of his own creation for a fluctuating exchange rate of real money. The Observer spent one U.S. dollar on the Erotic Zollar, a red bill decorated with the image of a shirtless Dolf Lundgren.
Barry Frier curates a special exhibition of rare works by Jean-Michel Basquiat from the collection of Alexis Adler, the artist's ex-girlfriend. Ms. Adler revealed the trove in 2013, and last year Christie's held a special sale and exhibition of a portion of the works—the only other time the works have been shown to the public. The drawings and color Xerox pieces are not for sale, and are shown alongside photographs taken by Ms. Adler. On Friday, March 6, filmmaker Glenn O'Brien will host a talk with Ms. Adler and Mr. Frier at NeueHouse.
On the fourth floor—where exhibits were separated into two separate wings of the building—we caught up with the Bazaar Teens, the artist collective recruited by Mr. Yellin to shred $10,000 to make paintings for charity, and they were busy doing just as they promised—shredding cash. They didn't bring a wood chipper—event organizers nixed that for logistical reasons—but they did have a shredder on hand for visitors to make donations. When asked whether they'd received any bills by the end of the first day, one member confidently said, "Oh, yeah!"
And while the Bazaar Teens boast on-site money shredding, they certainly aren't the only artists on view who claim to use real currency in their work. An exhibition curated by Tess Sol Schwab of sculptures by Margaret Bowland, Harriet Bart, and Mark Wagner all use repurposed U.S. bills—some obtained through the Federal Reserve and some altered by the artists.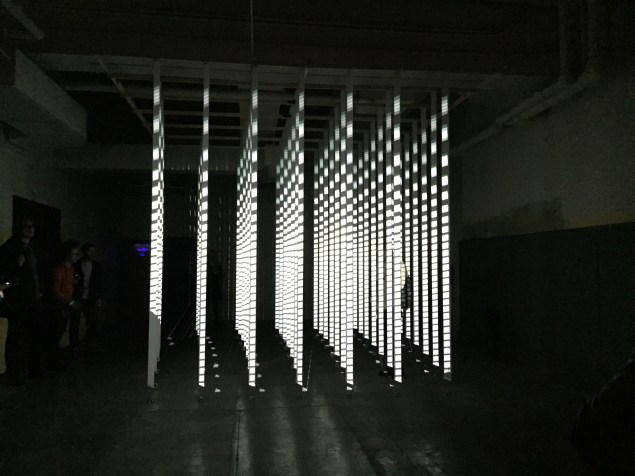 Other highlights on the fourth floor include a video and sound installation curated by Mr. Gori and Ms. Kelly by art collective Fall On Your Sword, titled Greed is Good. And an installation titled LUMINESSENZ: SPACE IS ONLY NOISE by artist duo VisualPilots (Simon Haenggi and Christophe Thuer) fills a large room with a dazzlingly dynamic array of lights projected onto hanging white rods and punctuated by the beat of club music.
See more images from the opening night of the fair below: