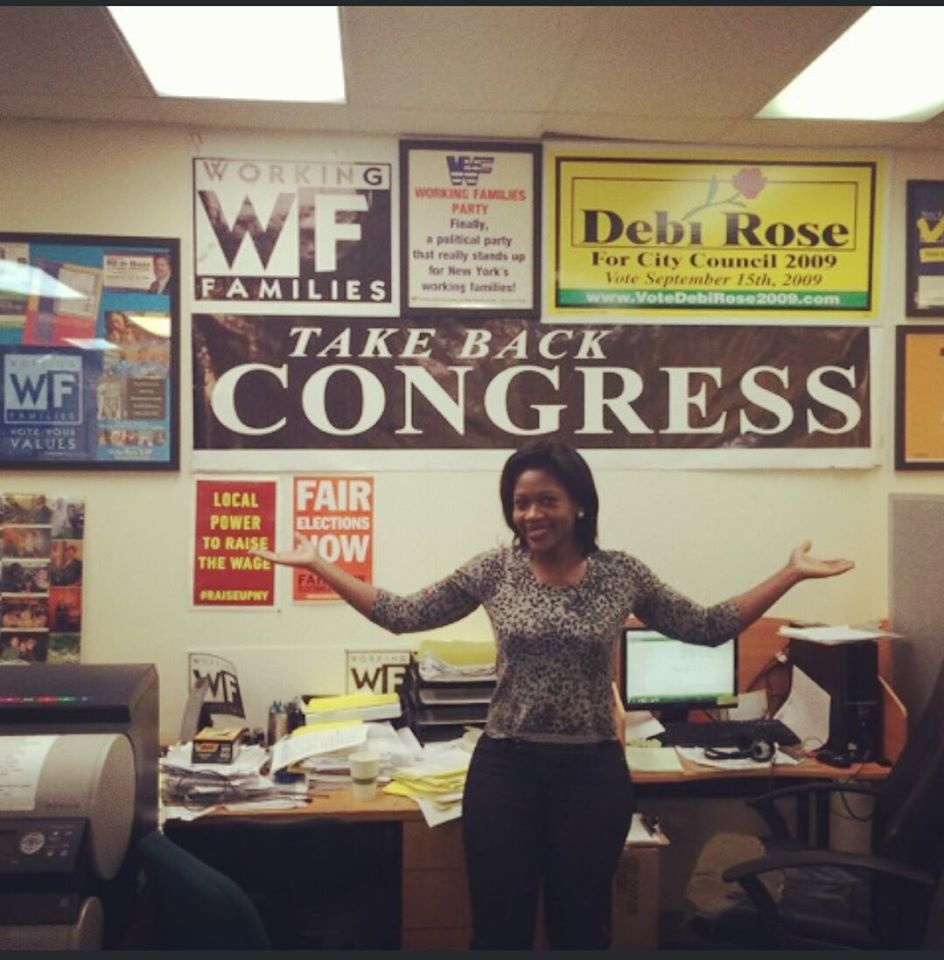 The Working Families Party announced today its support for community board member Diana Richardson in the four-way contest for a vacant Brooklyn Assembly seat—a race that, thanks to a bizarre paperwork snafu, has no Democratic candidate.
The labor-backed, left-leaning party said Ms. Richardson—who ran unsuccessfully for district leader last year—would push for affordable housing and universal childcare if she wins the May 5 special election to replace former Assemblyman Karim Camara, who is joining the Cuomo administration. If successful, Ms. Richardson would be the first candidate to win a state office solely on the WFP line, and the first to win any office solely on their ballot row in New York City since now-Public Advocate Letitia James won a special election for City Council in 2003. (Ms. Richardson is also running on the Green Party line.)
"Diana's part of the rising wing of Working Families Democrats dedicated to addressing inequality. The times demand candidates like Diana," said WFP State Director Bill Lipton in a statement. "We are particularly excited to have Diana, who was born and raised in the district, running solely on the Working Families Party line. Another candidate from Brooklyn named Letitia James first made that mark in 2003, and we're keen to have another neighborhood champion make that splash again."
The endorsement follows the strange sequence of events that led to a blank Democratic Party ballot line. Perennial candidate Guillermo Philpotts was able to control a majority of members of the district's county committee—a body of local Democrats charged with selecting a candidate in a special election—due to apparent neglect on the part of the local political machine, and made himself the party's nominee.
But Mr. Philpotts failed to submit the routine certificate of nomination to the Board of Elections by 12 a.m. today. He failed to make the ballot, leaving the line empty.
Ms. Richardson said she was excited about the endorsement, and said she would strive to increase awareness about the special election, which likely to draw only low turnout.
"I'm just going to work very hard and stay grounded and close to the community," she said. "I'm going to keep doing what I've been doing, but I'm just going to rev it up even more."
The candidate said she would make the upcoming fight in Albany over rent regulations her signature issue.
Ms. Richardson will face Shirley Patterson, the woman who defeated her for district leader last year, who is running on the Independence Party line with the support Kings County Democratic establishment. Geoffrey Davis, a district leader and the brother of late Councilman James Davis, is running on his own party line, called "Love Yourself." Menachem Raitport is running on the Republican and Conservative Party lines.
Ms. Richardson also has the endorsement of Assemblywoman Rodneyse Bichotte, who represents a neighboring district.
Updated to include comment form Ms. Richardson, and to correct that she did not file to run for Council in 2009.