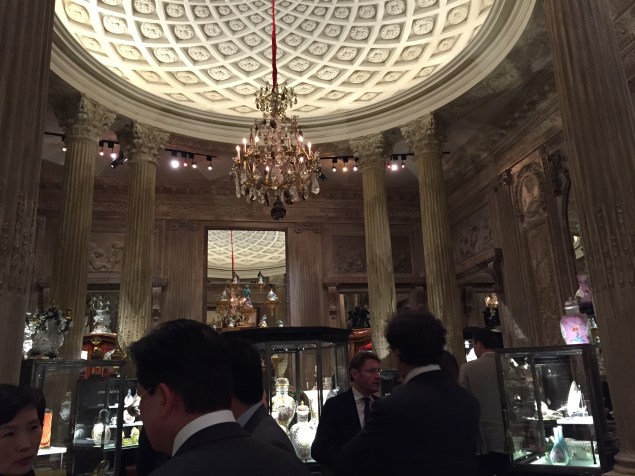 Contemporary Art, some of it barely dry, has gripped the attention of many young U.S. collectors, but the old money is being spent elsewhere. The European Fine Art Fair, a huge event that had been held in some form for 40 years in the small riverside town of Maastricht near Belgium, opened Friday to target just that market.
Walking the aisles at TEFAF, as it's called, is like no other art fair experience. Nearly 270 exhibitors fill booths as elaborate as Madison Avenue storefronts (one of the aisles is named as such), their offerings span 7,000 years of art history, with Old Masters a particular specialty, and the fair lasts 14 days. Admission is exclusive, and art experts vet exhibitors before the fair opens.
The fair is truly a place where collectors can find just about anything they want, and so we combed it for some of the more unique offerings.
Below, highlights from the first two days of TEFAF.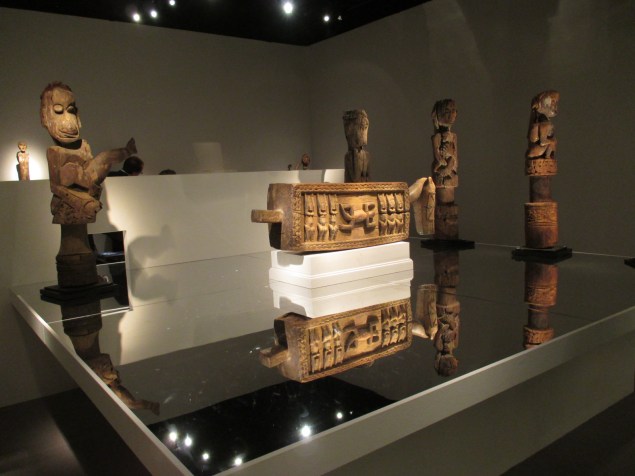 Bernard De Grunne specializes in tribal art from Africa, Oceania, and Indonesia. His booth this year features carved wooden sculptures dating from the 1600s to today that were made by the Dayak of Borneo, native peoples descended from the first inhabitants of the island 35,000 years ago. The sculptures at the front of the booth are displayed atop a series of mirrors, which create an almost watery illusion.
New York's Merrin Gallery has an array of antiquities, but a Pre-Columbian terra cotta statue stood out. It was featured in the Brooklyn Museum's 1966-67 exhibition "Ancient Art of Latin America from the Collection of Jay C. Leff." Dated 600-1200 A.D., the figure is wearing the skin of another person, a practice that dealer Sam Merrin explained was a rebirthing ritual that lasted up to 90 days. The piece, he said, was the "best representation of the practice outside of Mexico." The gallery was asking approximately €2 million ($2.2 million) for the work.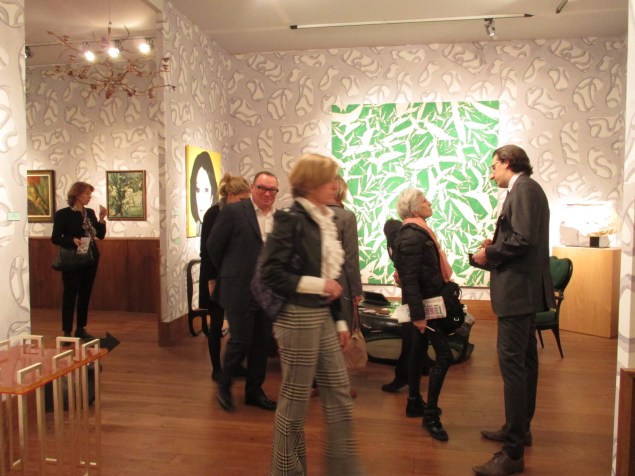 The fair is expanding its contemporary offerings. New York's Paul Kasmin was exhibiting, and the booth sported striking wallpaper designed by Swiss-born designer Mattia Bonetti based on one of his watercolors. A representative from the gallery explained that Mr. Bonetti was essentially responsible for the design the entire booth, which also included the wooden floors, upholstered chairs, and tables. His works ranged in price from $10,000 to $55,000. The gallery is offering works by Robert Motherwell, Taner Ceylan's Moon Tale sculpture for $55,000, and a large, green Simon Hantaï piece for $1.35 million.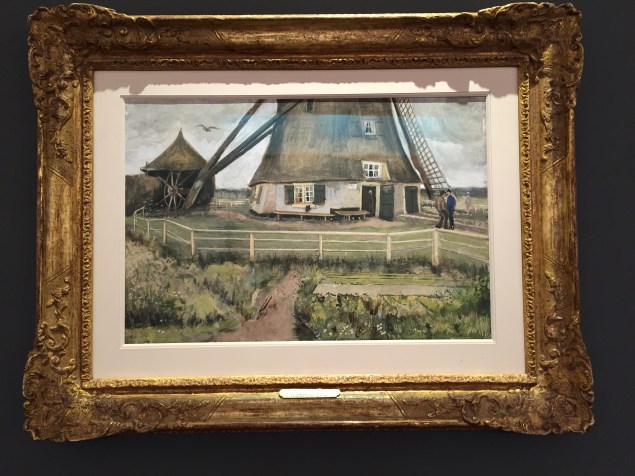 Dickinson Gallery and Alon Zakaim Fine Art, both of London, were offering van Gogh watercolors. At Dickinson, Le Moulin d'Alphonse Daudet a Fontvielle (1888), can be traced to the collection of his brother Theo that hasn't been shown in over 100 years, and is priced at a hefty €10 million. Meanwhile, The 'Laakmolen' near The Hague (1882), at Alon Zakaim, was created when Van Gogh was 29.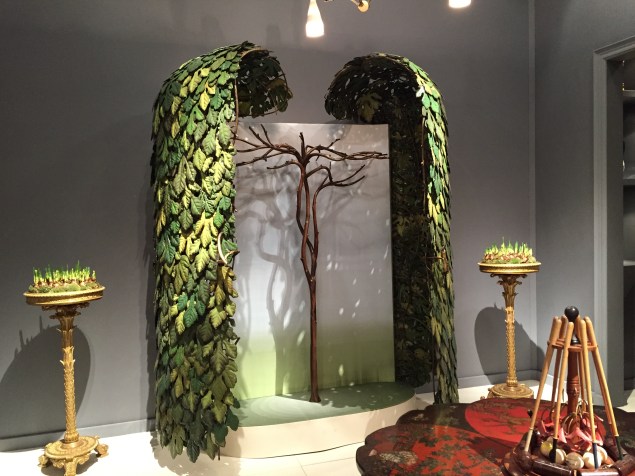 Tord Boontje's enamel, bronze, and silk armoire in the style of a fig tree covered in leaves, that opens to reveal a tree trunk and branches that could be used as a coat rack stopped us (and many other fair goers) in our tracks. Commissioned by Mallett in 2008, it was sold at the fair for and undisclosed price on Friday.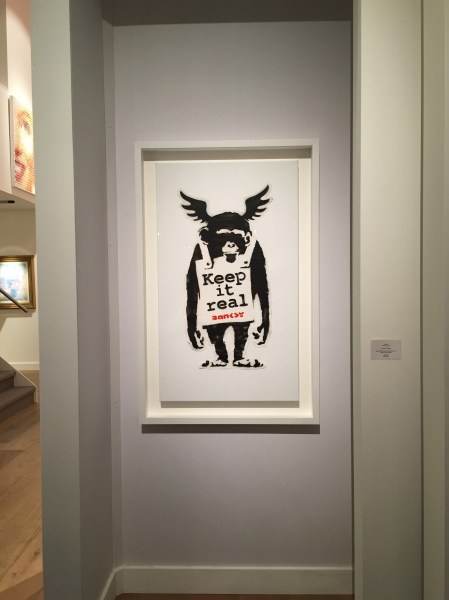 Amsterdam-based Leslie Smith Gallery is the only booth at the fair with two levels, and on the entrance wall is Banksy's Keep it Real, Monkey, certified by the artist's own authentication company Pest Control. The work is the last remaining paste-up in a series of four. Its three companions made it onto London streets, but the artist had to run from police before he/she was able to hang the last work. A representative from Leslie Smith said the work was then given to a close friend, and the deal solidified through an email that is included with the work when purchased, which supposedly contains Banksy's real name. The work is selling for €55,000.
An enormous painting by Anselm Kiefer titled Merkaba Br. AKI-1603 (2004) is on view at Dusseldorf gallery Beck & Eggeling. The work inspired audible "wows" from fairgoers passing by the adjacent Lobster Bar, who were dwarfed by the dark oil on canvas that is accommodated by extra high ceilings inside the booth.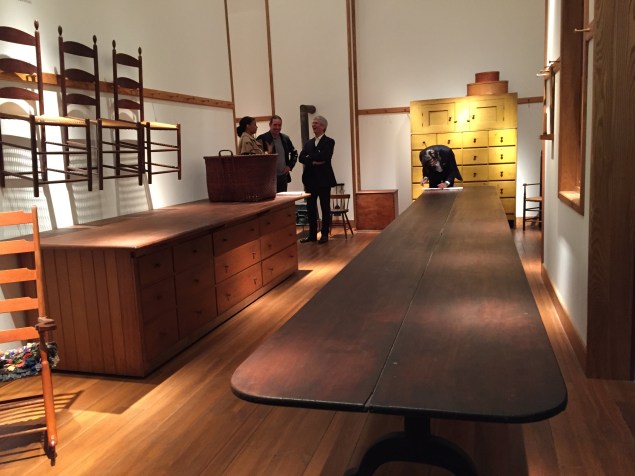 Francois Laffanour and Philippe Segalot have curated a special exhibition in Galerie Downtown's design booth titled "Masterpieces of Shaker Design (1820-1890)," in collaboration with the Shaker Museum | Mount Lebanon in New Lebanon, New York. The outside is made to look like the exterior of a wooden house, with framed windows and wooden siding, the interior quiet and plain, with a wooden decorative trim lined with coat hooks, and the minimal perfection of the furniture mirrored in unfinished flooring. There's even a cast iron stove pipe.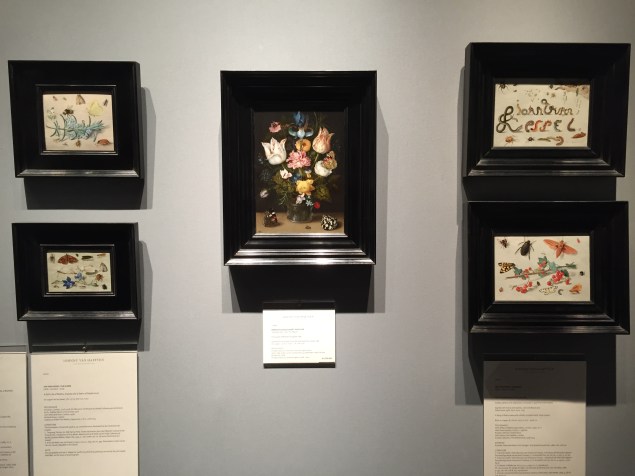 You can't visit TEFAF without seeing Johnny Van Haeften's Old Masters booth. The London dealer is a star of the fair, and this year he's brought four, small, pristine still life studies of insects and plants by Jan Van Kessel the Elder. Three of the panels are painted on copper; the fourth on panel, and one (dated 1657) playfully uses grubs and garden snakes to spell out the artist's name. It's a rare piece, and won't come cheap, prices at €1,330,000 paired with the work beneath it. The other two pieces are priced between €490,00 and €700,000. Works in a side room are hung in an impressive salon-style display.
Galerie G. Sarti's Pietra Dura table top by Giacomo Raffaelli dates to 1800, and is known as the Londonderry Table, after its former owner Charles William Vane, the 3rd Marquess of Londonderry and ambassador to Austria. The table is marble and inlaid with approximately 46 different rare stones, including Russian ribbon jasper, malachite, and oystered agate. The Hermitage owns two similar tables, and the Prado a third.