On December 17 of last year, President Obama and Raul Castro announced they were seeking to normalize relations between their two countries. And that move, along with sweeping changes already taking place in the island nation just 90 miles from Miami, are invigorating the Cuban art scene, a panel of experts agreed Friday. At a "Cuba After the Thaw,"  talk at the Volta NY Art Fair's salon, speakers described a vibrant and growing art scene but warned against expecting massive change or increased freedom for artists anytime soon.
"I used to say there were no art collectors in Cuba," said Bronx Museum of the Arts executive director Holly Block, "that the best collectors in Cuba are artists because they know how to trade works." But, now, there are indeed collectors there, she said, "The new collector in Cuba works in tourism or computers or restaurants, which has become big business."
Block has been a regular visitor to Cuba for two decades, and the Bronx Museum is currently arranging, with the National Museum of Fine Arts in Cuba, an art swap that represents the first major museum collaboration between the two nations in a half-century.  Over 80 artworks that date from the '60s to the present will be loaned to the National Museum. They will be on view, in an exhibition called "Wild Noise,"  from May 21-Aug. 16, concurrent with the well-attended Havana Biennial. Next year, about 100 works from Cuba will be shown in the Bronx.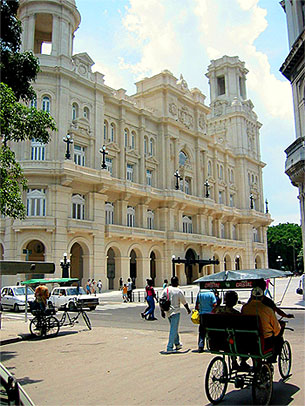 It is still a restrictive culture for artists, noted Americas Society visual arts director and curator Gabriela Rangel. Performance artist (and Chicago Art Institute school professor) Tania Bruguera  was detained early this year for planning a performance piece that set up open mics to encourage citizens in public places to discuss their wishes and worries, but the speakers at Volta agreed there were improvements.
Artists used to have to have a government seal of approval on their art, for example; today they generally do not and there are visas available to young artists to travel outside the country. Some have accepted international residencies.
For buyers of Cuban art, there are considerable pitfalls. "There is a whole industry of fakes in Cubans because so many artists graduate from schools and the government can only promote so many so they make fake Lams," noted Elvis Fuentes of Rutgers University.
Fuentes also said there were many points of disagreement still to be resolved before normalization can take place. "There are many things Castro has asked that Obama knows he cannot do, the conversation is going nowhere, like returning Guantanamo Bay. Guantanamo is Cuba."
The panel, curated by Artnet, was moderated by Claudia Calirman, assistant professor of art history at New York's John Jay College of Criminal Justice. She stressed that whatever fundamental changes do come will come from within the country, not from America.
For more, see: "Leading US Collector of Cuban Art Predicts Gold Rush in Nation's Contemporary Work" and "Andrew Cuomo on Cuba: 'Let Us Be the First One There'".