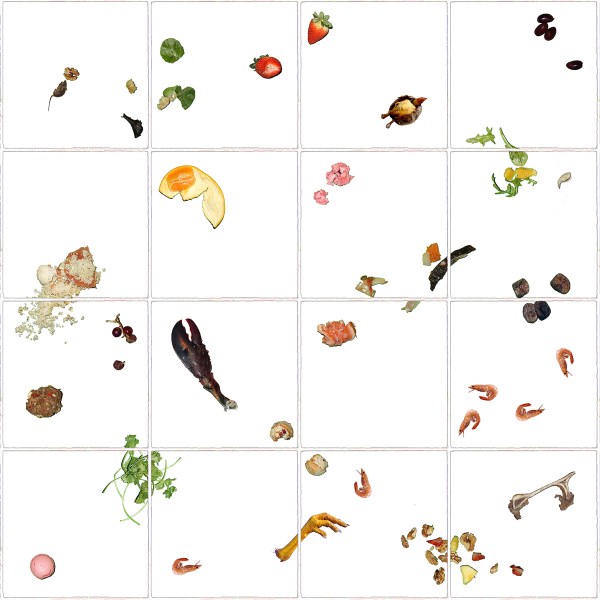 A little bit of ancient Rome will come to Scope this week in the ongoing collaborative series by artists Leslie Lyons and J.B. Wilson titled Unswept Floors. The pair takes its inspiration from trompe l'oeil mosaics of food detritus created during the reign of the Roman Empire. Meant for guests to walk on, the historic tiles signified that the homeowners were both wealthy enough to afford extravagant food and commissioned artworks.
Ms. Lyons and Mr. Wilson will show an installation of 16 porcelain tiles titled Feast at Rare Gallery's booth (1H) from March 6 through 8. Like the works created by Heraclitus in the 2nd century BCE (whose original works are on view at the Vatican Museum in Rome), visitors to the fair will be able to walk on the tiles, which measure 12-by-12-inches each, and are covered with the images of expensive, exotic—in some instances illegal—food bought through home delivery services. It's on sale in an edition of five for $3800, or $180 per tile.
And how exactly did they make the work? They set up shop in a kitchen that specializes in gourmet delicacies for delivery and shot footage for week. Then also used imagery of controversial foods like  the illicit French dish, Ortolan.
Their project focuses on the contemporary equivalents of the decadent living depicted by Heraclitus—which is perfect for the excesses of an art fair week, in our opinion. Their previous tile work Bank—a 305-tile installation, some of which was recently acquired by the 21c Museum Hotel in Durham, North Carolina—reproduced imagery of $100 bills and a special $100,000 bill only circulated by large banks, and was a commentary on the structure of the U.S. banking system.
The booth includes a preview for an upcoming solo exhibition the pair has planned at Rare Gallery in Chelsea for the 2015-16 season. The artists only recently signed with Rare, which is now lead by new gallery director Santiago Rumney-Guggenheim, the great-grandson of famed art collector Peggy Guggenheim, of the Guggenheim Museum family.