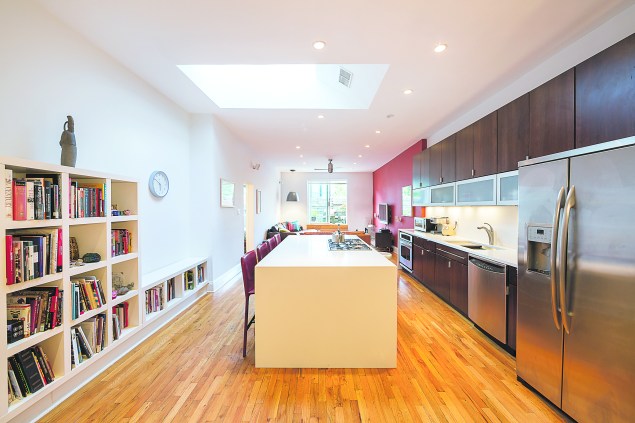 "Ideally located on a timeless and peaceful tree-lined street, this 1930s townhouse mansion offers a distinctive place to call home," cooed the listing for 117 First Place, in Carroll Gardens, which debuted the first week of January. The accompanying photos highlighted the home's elegant stairs, its hardwood floors and airy ceilings—all those sought-after hallmarks of Brownstone Brooklyn, with the price tag to match. One detail, though, would have taken buyers from even a few years ago by surprise: The listing was only for the top two floors.
Of course, no one expects $2 million to buy an entire townhouse in Carroll Gardens anymore. Though, in this case, it wasn't even sufficient to secure those two floors—a bidding war swiftly ensued, and the property went into contract for $2.17 million a few weeks later. To be fair, those floors overlook one of the most desirable streets in one of the borough's most desirable neighborhoods (and one of its most desirable school districts). They also encompass three bedrooms, 2.5 baths and a roof terrace—a generous chunk, if not quite the entirety of the townhouse ideal, in all its double-parlored, pocket-doored, formal-dining-roomed, nook-and-crannied glory, that surfeit of space whichcomprises much of a townhouse's appeal in a space-starved city like New York.
But then, Brooklyn is no longer merely the outer borough outlet for Manhattanites seeking more space, but a destination in its own right, and the space in many neighborhoods has likewise reached Manhattan-like premiums and prices. Nonetheless, the townhouse idyll maintains its luster—as the transaction at 117 underscores—whether one actually owns the entire building or not.
"There are a lot of people who want to live in a brownstone, but they can't afford it or they don't want to deal with the whole thing," explained Terry Naini, of Town Residential, who had the listing for the 117 First duplex, which had the distinction of being one of the bigger slices around.
"Any large apartment in a brownstone tends to sell at a premium," Ms. Naini said; last year she sold a 1,900-square-foot condo at 277 President for $2.4 million. "Buyers really request brownstone units and there aren't that many larger ones."
Of course, the current vogue for the co-oping and condo-ing of townhouses is but an echo of the earlier craze in Manhattan, which enjoyed its heyday during the '80s real estate boom, and illustrated that for all the competition from new construction, many buyers preferred an apartment in a gracious brownstone to a stark box. Many still do: A capacious two-bedroom co-op in a townhouse at 13 Gramercy Park South, for example, is currently asking $4.5 million, which includes a coveted key to the park. Though, in Brooklyn, where new development is scarce and the staying power of townhouses amply illustrated, the demand for such units is so fierce they rarely ever sell at ask, let alone below it.
***
A busy, four-lane thoroughfare bounded by streets of vinyl-sided working-class houses, Bushwick Avenue is not exactly the bucolic environs people envision when they hear the words "Brownstone Brooklyn," but it does have townhouses, and for those seeking that elusive $1 million mark, it is in many ways the hard stop of the Brooklyn brownstone dream. There are attached rowhouses in yet-to-be-gentrified neighborhoods, but as Corcoran broker Mark Martov noted, the working-class homes would be unlikely to come with the exposed brick and old-fashioned mantle-pieces of his listing at 1090 Bushwick, let alone interior shutters or ceiling medallions.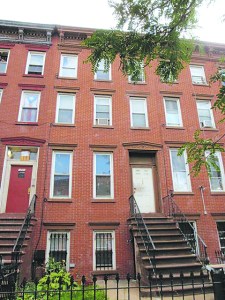 And though 1090 lacks those and many other fanciful Victorian touches that buyers might find a few blocks West, like the inlaid hardwood floor in a townhouse on Hancock Street that Mr. Martov just sold, he noted that, Bed-Stuy was "serious money now."
And so 1090's owner, O&B Properties, had the building converted into two duplexes of approximately 1,000 square feet, each with fresh mechanicals and sleek new kitchens, which he had intended to sell as condos. When we visited it was in contract for $1.07 million after multiple bidding wars, with the buyer opting for a more traditional route of renting one unit out and living in the other.
"Bed-Stuy has become very expensive and I think a lot of clients feel like they missed the boat by not buying a brownstone two years ago," Brooklyn developer Avi Tarshish  told me on the phone, which was why, he said, he'd snapped up dozens before prices soared. "This is one of the things that led me to own, at the moment, 102 properties in Bed-Stuy, among them, a townhouse on Lexington and Bedford that is being converted to condos. "Everyone wants to own a brownstone."
All the same, while a brownstone remains the Holy Grail, some buyers balk at the prospect of maintaining a whole house, particularly those accustomed to the conveniences of a full-service building in Manhattan. Which may be why condos "sell much faster than single-families," said Douglas Elliman broker Alex Maroni, who has handled a number of such transactions, among them 420 Franklin, a four-unit townhouse condo in Bed-Stuy whose ground-floor, two-bedroom duplex fetched $859,000 last summer. (The house in its entirety had sold for $545,000 in 2012.)
For example, at 181 Park Place, Mr. Maroni's listing in Prospect Heights, where two of the three units "were in contract almost before they came on the market," he said he "didn't even have time to put up pictures." One of the units in contract is asking $2.75 million; when the entire building, unrenovated, listed for $2.99 million last year, there weren't any takers.
Indeed, the idea of taking on an elegant wreck in a down-at-the-heels neighborhood is not something that appeals to Manhattan transplants in the way it once did. They don't want the Park Slope of 30 years ago; they want the Park Slope of today, the "fairytale-esque scene with cherry blossoms and kids going by on scooters," as one broker put it.
***
When Brooke Safford, a broker at Corcoran, listed the second-floor condo at 76 MacDonough Street, just east of Tompkins Avenue in Bed-Stuy last year, she advised the owners to ask for $599,000, an ambitious price for the area given that the unit was slightly shy of 800 square feet and had just one bathroom. But after it sold for $625,000, or $810 per square foot, in a bidding war, she was barraged by calls from developers interested in similar conversions.
For developers, the appeal of townhouse conversions is straightforward, especially in landmarked neighborhoods where it's difficult to find sites for new construction and local zoning laws often preclude anything taller than a townhouse anyway. ("Show me a lot in Park Slope where you can put a three-story building!" demanded one broker when asked about the neighborhood's paucity of condos. "Show me that!")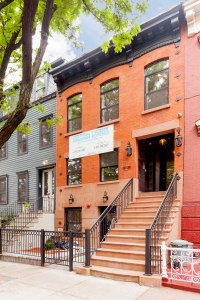 One broker also noted that they're also ideal projects for smaller developers, who require ness demand bigger margins than flipping townhouses yield, but who don't have the capital necessary for new construction.
And whereas a large proportion of Manhattan buyers lust after glassy high-rises, at least for now Brooklyn's townhouse condos are considered as, or even more desirable than new construction ones. After all, who moves to Park Slope to live on charmless Fourth Avenue?
"If people are moving to Park Slope, they want to be in a brownstone on a tree-lined street," said Jody Kriss, a co-founder of East River Properties, which is known for doing such conversions, among them 364 Union Street in Park Slope and the forthcoming 432 Tenth Street.
"I can sell a fifth-floor walk-up in Park Slope for more than a quote-unquote luxury building on Fourth Avenue that has a gym and a doorman," said Mr. Kriss. He added that low common charges made such units appealing, too, give that they're usually in the low-hundreds for basic maintenance services rather than for the low-thousands in amenity-laden, doormen buildings.
Mr. Kriss said that such conversions work best for properties that are unlikely to attract a pool of buyers willing to spend $6 million or more. "When there are people who want to spend more than five families combined, it stops making sense."
Which is why such conversions most frequently ripple over gentrifying neighborhoods, abating when prices for single-family townhouses start topping $7 million or $8 million as they have in places like Brooklyn Heights and Cobble Hill. To wit: Most townhouse co-ops and condos in Manhattan date to the 1980s and 1990s, when prices had risen high enough to stimulate demand, but before they went so high as to preclude division as a sound development strategy. 
Whether the prices in highly sought-after neighborhoods will continue to appreciate at such a rapid rate is, of course, anyone's guess, and with smaller buildings, things can get complicated: Financing can be hard to come by in tiny condos and co-ops, with many banks hesitant to lend for properties with only a few units. And one deadbeat or difficult neighbor could stymie a much-needed roof or boiler repair, to say nothing of the potential for truly bitter debates over hallway decor well known to many a bigger co-op board member.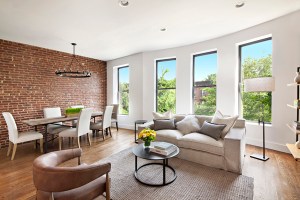 Nonetheless, brokers say that demand for such units is only likely to intensify, though prices may not rise correspondingly. The duplex at 117 First Place, for example, is hardly alone in surpassing the $2 million mark; just this week a 1,555-square-foot three-bedroom at 147 Bergen Street in Boerum Hill hit the market at $2.095 million, or 1,347 per square foot. It will probably fetch that or more, though brokers say that when prices soar above the $2 million line, the pool becomes much more rarified, especially because, with the exception of developers and flippers, most Brooklyn homes are to be used as primary residences, not pieds-à-terre of the ultra-wealthy.
"Most Manhattanites start their search by schools, but many of them realize they have been priced out of the districts where they want to buy, even when it comes to two-bedrooms," said Compass broker Gabriele Sewtz. "And when three-bedrooms are so scarce they start hitting $1.8 million or $1.9 million, a lot of people say, 'Well, if I'm spending that much, I want a yard, I want to be able to barbecue.' "
Still, much of Brooklyn's bucolic appeal has been burnished in recent years by borrowings from that crowded island across the river: The sterling public schools and the Barney's, the superior coffee and impossible-to-get-a-reservation restaurants, so perhaps its denizens will learn to accommodate themselves to apartment living—arguably Manhattan's most marked characteristic—as well.
And for those who won't? They're already looking beyond those lovely Brahmin neighborhoods where 12-foot-ceilings and mahogany prevail, to historically working-class enclaves like Windsor Terrace and Kensington, where $1.5 million can still buy a house, clad though they may be in wood, brick or—horror of horrors—vinyl.