In the art business, it's traditional, even cliché, that the children of great art dealers often decline to follow in their parent's footsteps. Great love of art tends to skip a generation. "My story," explained Marianne Rosenberg, on a recent evening on the Upper East Side, "was the reverse of that."
This Saturday, Ms. Rosenberg became a rare thing indeed: A fourth-generation art dealer. Granddaughter of Paul Rosenberg, who represented Pablo Picasso for two decades and fought for years to reclaim his art from the Nazis, great-grandaughter of Alexandre, who went into the antiques business 150 years ago, and daughter of the co-founder of the Art Dealers Association of America, Ms. Rosenberg on March 7 opened Rosenberg & Co.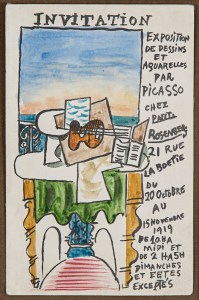 On 19 East 66th Street, off Madison Avenue, she is exhibiting "Inspired by History," a show of works spanning several decades by Picasso, Braque and Severini, among others. But one work isn't for sale and has particular sentimental value: The invitation Picasso drew to his opening at her grandfather's gallery. Ninety-five years ago last fall.
Sitting on a bench in her elegant, 1,500-square-foot space shortly before her opening party, Ms. Rosenberg was surrounded by her family, a flight of gleaming crystal glasses, and by more long-stemmed white roses than would greet a royal's wedding. Familiar to some watchers of CNN as the face of her family's fight to reclaim Modern art masterpieces looted by the Nazis, she is almost giddy about the gallery.
In her 50s now, Ms. Rosenberg is joining the family business quite late. A former attorney with a specialization in international aviation finance law, only after her second child began college did she decide it was time. "For years, I had been saying 'would have, should have.' I finally ran out of excuses," she said.    Growing up, the gallery business was such a part of her life, "Every day when I came home from school [the Lycée Français], my way home was through the gallery." Still, surprisingly, her father did not encourage her to enter the business—"my father didn't want it, and I don't know why," she said. As he died unexpectedly in 1987, she's never found out— but she's thought about it a great deal.
"Maybe he didn't want to have to chose between me and my sister, maybe it was because I was a girl, or he was disillusioned with being an art dealer…" So Ms. Rosenberg skipped college, went straight to law school in Paris, then to law school in the U.S., then became partner at White & Case at the age, she said quite proudly, of 32.   But, through all those  years, she kept buying art. Some of those works are on view (though not for sale) in the current show, a Juan Gris, for example, that she bought for herself 18 years ago.
What isn't in the show are the couple of hundred works of Paul Rosenberg that the Rosenberg family has traced or recovered over the years. Paul Rosenberg was a friend of Picasso's—the families summered together—was an early supporter of the Museum of Modern Art (his archives are bequeathed there) and put together much of the spectacular Phillips Collection in Washington, D.C. In 1940, after moving to New York, he opened an East 57th Street gallery. But when Germany invaded France, works he had left behind were seized by the Nazis—some even went through the hands of Luftwaffe head Hermann Goering. The family has spent decades trying to reclaim the works. (In 1944, Paul famously cabled Matisse: "Do you have pictures of last paintings I bought from you, because all taken by Boches [Germans] and resold.")
It has been a considerable, and controversial, undertaking, especially as several of the finest have been in public museum collections for decades. Earlier this year, for example, a Norwegian museum agreed to return it's flagship painting, Matisse's Woman in Blue in Front of a Fireplace, 1937, which had been claimed by the Rosenberg family in 2012. The work has been the centerpiece of the Henie-Onstad Art Center near Oslo since the museum was established in 1968 by Olympic figure-skating champion Sonja Henie and her husband, and it is believed they were good-faith purchasers of the artwork six decades ago. Under Norwegian law, the painting was the museum's, but it nonetheless returned it; such entities as the Seattle Art Museum and the government of Austria have also returned Rosenberg art.
Pursuing those paintings is important to her, she said. But the gallery, along with her family, is bringing "enormous fulfillment to me." She noted that the first person she told of it was "My mother. I said: 'I'm going to do this now.' "
"Inspired by History" is on view through April 25.