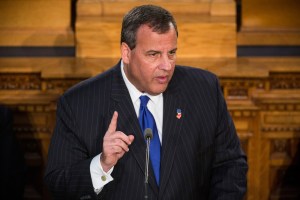 The news unfolded in real time Friday but the CNN story pinning federal corruption charges on U.S. Sen. Bob Menendez (D-N) in one stroke conceivably changed the political game in New Jersey.
Menendez has not been charged.
But if the story is true and Menendez is forced to resign, he would leave an enormous political vacuum and irrevocably alter the landscape.
First, the possible appointments at the fingertips of Gov. Chris Christie should the seat become vacant:
Former Attorney General (and former U.S. Senator) Jeff Chiesa. Christie's go-to Senate stand-in, his Jiminy Crticket sidekick stepped up to fill the senate senate vacancy casued by the death in 2013 of U.S. sen. Frank Lautenberg (D-NJ). Would Christie appoint him again?
Pro: He's already demonstrated he can do the job and not make a fool out of himself.
Con: He may be too close to Christie, who himself is in an apparently unending political skid.
Lieutenant Governor Kim Guadagno. Prior to today, the state GOP was entertaining itself with an ongoing popcorn rivalry between Guadagno and assembly Minority Leader Jon Bramnick (R-21). At stake was the right to succeed Christie as governor. Sources say Christie is personally closer to Bramnick, who's publicly gone toe to toe with any Democrat who's dared question the governor. But Guadagno is technically in the number two spot.
Pro: She has done the political legwork necessary to have strong street cred with the county party chairs and is a woman in a state lacking them in positions of power. If the Bramnick-Guadagno collision is real and a deal is to be had, a Guadagno appointment to Senate could smooth the way to governor of Bramnick and prevent a GOP bloodletting.
Con: Just like, Chiesa, the question persists about her capacity to stand on her own two feet without Christie.
Assembly Minority Leader Jon Bramnick (R-21)
Pro: He has arguably done more than any other Republican to boost a Bridgegate damaged Christie.
Con: He's moderate enough to wound Christie in a presidential primary. If Christie is indeed in head down mode, could he bear the backlash of conservatives who will rip apart Bramnick for his moderate views, precisely the kind of distraction the boss doesn't need in Iowa right now?
Senator Joe Kyrillos (R-13)
Pro: He ran once already.
Con: He ran once already.
To put a finer point on this, Kyrillos might have already damaged himself with Christie by circulating with Jeb Bush at a fundraising event. Or maybe that was just JK playing footsy with his old pal Christie for a shot at something like this.
Senate Minority Leader Tom Kean (R-21)
Pro: He has an unimpeachable family name in New Jersey
Con: He ran afoul of Christie early in the governor's tenure and remains a quietly persistent critic of the governor. Plus, he has already had some early flirtations with Bush.
Assemblyman Jay Webber (R-26)
Pro: He's a Reagan conservative whose unapologetic presence in the U.S. Capitol could be exactly the kind of red meat move Christie needs right now to rev up the crowds in Iowa. Hey, it worked once before. Remember, Christie made Webber state party chair in 2009 when he needed to get conservatives to his side following his primary victory over fire breather Steve Lonegan.
Con: Christie thrives on loyalty. And the intellectually hyper-kinetic Webber has never been a natural ally.
Max Pizarro is editor-in-chief at PolitickerNJ, where this article first appeared.