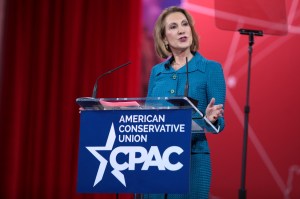 I know it seems impossibly early to argue that a candidate ought to exit a primary, especially when everyone with a voting record and a pulse is preparing to enter it. But we're deep into the "shadow primary": the same process that an untested first-term senator from Illinois used to prove his viability to Democratic elites in 2007, and that a blue-state governor with a reputation for flip-flopping used to win over the Republican establishment in 2011.
That's the contest that Carly Fiorina—along with a dozen other Republican hopefuls—is engaged in right now. It's a contest in which she's won rave early reviews, emerging as a potential dark horse, or at least a potential name on the VP shortlist. And that's why we ought to say now what everyone will be saying soon enough: Carly Fiorina is a weak candidate without a credible case for the presidency. If she persists, she risks doing a disservice to the party whose mandate she seeks.
For the many who are unfamiliar with her record, it is not a strong one. The primary mark on her CV is negative, having run Hewlett-Packard into the ground as CEO. "Call her the anti-Steve Jobs," wrote Infoworld, who put her on a list of tech's all-time top 25 fiascoes. During her tenure, the company's stock lost nearly 50% of its value, thousands of employees lost their jobs to layoffs, and Ms. Fiorina was forced to resign (read: "fired") by HP's board. In USA Today, CBS Moneywatch, and Portfolio.com, she was ranked among the "worst CEOs in America." On the day her departure was announced, HP's stock went up—and she received a $21 million severance package.
These facts were powerfully deployed against her in her lone, unsuccessful political campaign. Ms. Fiorina lost by double digits to Sen. Barbara Boxer, even after spending $6.5 million of her own money on the effort. Sure, Ms. Boxer was a Democrat running in California, but she was also one of the nation's most liberal senators running in 2010, a terrible year for Democrats. In the Republican primary, Ms. Fiorina ran a widely-mocked ad featuring a "demon sheep," a move that raised concerns about her political judgment. That judgment was further called into question when it was revealed that she had failed to vote in three-quarters of the California elections in which she was eligible.
Later, on the national stage, while stumping on John McCain's behalf, Ms. Fiorina baffled many in the campaign when she said that neither Sarah Palin nor John McCain possessed the experience necessary to run a major US corporation. Whatever her true opinion on the matter, this was a serious gaffe at a time when the economy was in free fall. As a campaign source told CNN, "Carly will now disappear…Senator McCain was furious." Her subsequent media appearances on the campaign's behalf were promptly cancelled.
This is the blemished record she brings with her into the primary. So why has all of this been ignored by the chorus praising her now? Well, consider the actual content of the praise.
Yes, Ms. Fiorina has given some good speeches. Her jab at Hillary Clinton—"Unlike Mrs. Clinton, I know that flying is an activity, not an accomplishment"—won her big cheers at last week's Conservative Political Action Conference. But didn't the Republicans spend the entire 2008 campaign railing against another politician with a thin record and a couple of good speeches? And didn't they spend the entire 2012 campaign arguing that they'd been proven right about the costs of political inexperience the first time?
Yes, Ms. Fiorina has private-sector experience, a plus at a time of economic uncertainty. But remember how Mitt Romney got savaged for making a fortune while shipping American jobs overseas? Ms. Fiorina did the same thing. At least Mr. Romney is widely regarded as an effective executive. Ms. Fiorina, as those "worst CEOs" lists demonstrate, is anything but. With her on the ticket, Republicans would be forced to make the dubious case that a fancy title is the equivalent of effectiveness, and they'll be starting at a disadvantage with every voter who's ever had a bad boss.
And yes, Ms. Fiorina is a woman—something she has in common with the likely Democratic nominee. But Hillary Clinton has cultivated the image of a candidate who happens to be a woman—not someone who is a candidate because she's a woman. That's a vital distinction. Compare that to the rationales offered by some of Ms. Fiorina's early backers: "Some women may be inclined to digest [Clinton] attacks from her differently than if they were coming from a male surrogate," said a Republican strategist and 2012 veteran. Because of her gender, writes Seth Mandel in Commentary, "she can be condescending to Hillary without coming off as bullying or sexist." Hardly a statement has been made in her favor that doesn't include some variant of the phrase "in order to court moderate women."
Let's be honest: this is tokenism, from the party that's supposed to be against tokenism. It reflects a deeply cynical take on the American voter, and it's no less insulting for the fact that it's couched in terms of what voters are supposed to want. The claims that women voters are expected to overlook an objectively shoddy record because of gender tells us a lot about these pundits' estimations of women voters. Sure, the Republican Party is aching to end the pattern of middle-age-to-elderly white men as its standard bearers. But if the party does decide to break that streak, there are prominent female Republicans with more experience and a stronger case to make for the nomination—politicians like Washington Rep. Cathy McMorris Rodgers, second-term New Mexico governor Susana Martinez, or former New Hampshire Attorney General and first-term Senator Kelly Ayotte.
But even if all of this is true, why should Carly Fiorina exit the primary now? Why not let the donors and the voters sort it out for themselves? Because primaries with obviously weak candidates do not serve the party well. How much were Republicans hurt the last time around by the endless row of longshot and no-shot candidates squabbling onstage for their bits of airtime? Consider the distractions caused by Herman Cain or Michele Bachmann. Remember, faux candidates can do actual damage. Their injudicious comments color the public's view of the party, and they open up rich lines of attack on the eventual nominee. And even when they do not cause overt harm, they suck up time, attention, and money—resources that could be better spent on viable alternatives.
Primaries shouldn't resemble a season of Survivor. They are supposed to be sober exercises in picking and preparing the possible leader of the free world. They are the accumulated weight of the party's most prominent voices and the face that the party as a whole presents to unsure voters. And Republicans in particular have suffered from too many candidates who ignore this, and who see primaries not as a well-considered run for the highest office in the land, but as a way of getting something else—higher speaking fees, a book deal, a role on Fox News, a job as VP or Cabinet secretary, or just five minutes of fame.
This year, Republicans have a chance to present a slate of qualified contenders who are, across the board, serious about running for president and who have a record to match. Carly Fiorina is not one of those contenders, and she ought to leave the race before it begins in earnest.
Jimmy Soni is the co-author of Rome's Last Citizen: The Life and Legacy of Cato. He is an editor at the Observer and lives in New York City.