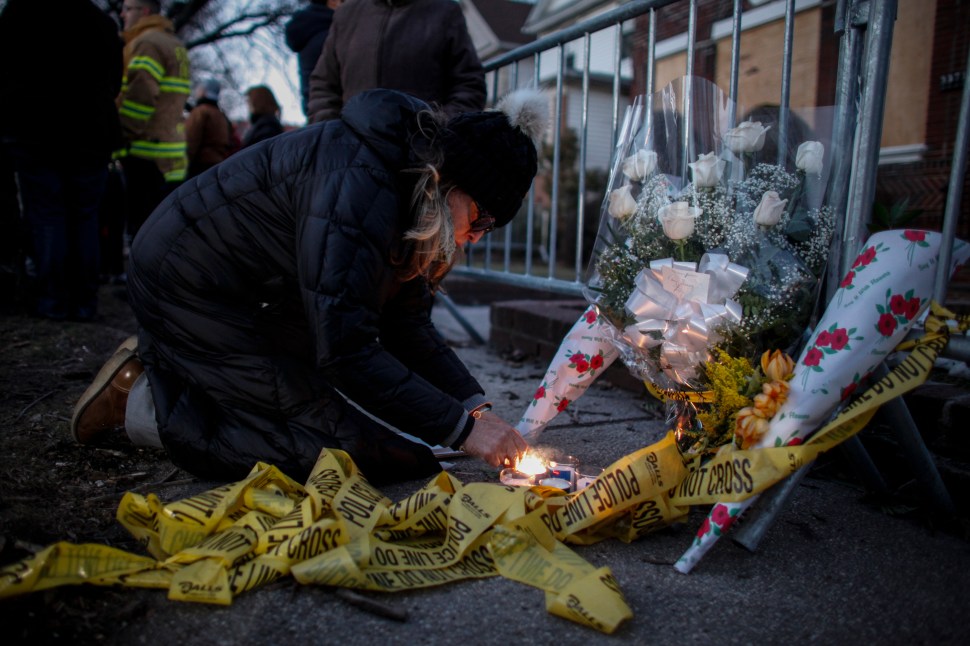 It was Saturday night, after the Sabbath, that I heard that seven children—all siblings—had died in a fire. The fact that they were orthodox Jewish children did not make the tragedy worse. All children are God's children equally. But it did make it more theologically challenging.
You see, the fire had started because the family was Jewishly observant and therefore had a hot-plate they were using so as not be cooking with an open fire, which is against Jewish law. The hot-plate was faulty. Had they not been observant, would they still be alive?
God is supposed to be our protector. When tragedy strikes our first impulse is often to defend God rather than rail and thunder against the injustice of it all.
But God's first role is not supposed to be our consoler-in-chief. Rather, He's supposed to be our foremost guardian. If He could split the Red Sea than He can safeguard against faulty electrical wiring. If He could bring down the walls of Jericho then He could have waved off toxic chemical fumes. And if he could revive the dead with Elisha then He could preserve the life of these small children.
Why God is silent and seemingly absent in the face of so much suffering is the real question of this tragedy. These kids were innocent. Does God not promise to protect the innocent? "The Lord will protect you from all evil; He will keep your soul." (Psalm 121)
These kids were vulnerable. Does God not promise to guard the defenseless? "The Lord is the keeper of little ones: I was humbled, and he delivered me." (Psalm 116:6)
These kids deserved long lives. Does God not promise to safeguard humanity? "I long to dwell in your tent forever and take refuge in the shelter of your wings." (Psalms 61:4)
---

Challenging God in the face of suffering is not blasphemous. Rather, it is deeply religious and the ultimate sign of faith.

---
Judaism gave rise to the defiant man of faith, the man or woman who like Jacob spars with angels and defeats them. The Jew is a child of Abraham who went so far as to accuse God of injustice when the Almighty sought to the destruction of both the righteous and the wicked of Sodom and Gomorrah at once. He is the disciple of Moses who thundered to God that he wished his name to be taken out of God's holy Torah if the Creator would proceed with His stated intention of wiping out the Jewish nation after the sin of the Golden Calf. Like King David who declares in Psalms, "I shall not die for I shall live," the Jew has achieved immortality through an impudent insubordination in the face of historical inevitability, daring to defy fate and forge an audacious destiny.
Our role in life should not be to offer empty platitudes about how innocent children are in heaven. Rather, we have a right to demand from God that He abide by the same values and rules that He commanded us to uphold.
Through Moses He commanded us to always choose life. "This day I call heaven and earth as witnesses against you that I have set before you life and death, blessings and curses. Now choose life, so that you and your children may live." (Duet. 30:19) Must God not also choose life? Are we human beings just so much cosmic chaff that when our children die we are meant just to bow our heads in silent submission?
No. The role of religion is not to make us compliant. Rather, faith galvanizes us to make the world a better place. That means fighting evil and protecting life. It means building hospitals and developing medicines. And it also means demanding of God that He show Himself in history and help us to make the world a safer, healthier, less dangerous place.
We can't stop every tragedy. But He can. And spare me the arguments that say if God were to stop bad things from happening we would not have any freedom of choice. When the hot-plate became a fire while all slept God could easily have extinguished it and no one would have been the wiser. It would not have compromised anyone's freedom of choice.
Challenging God in the face of suffering is not blasphemous. Rather, it is the ultimate sign of faith. It means we believe that God controls the world, controls human fate, controls the world's destiny, and has it in His unlimited power to make the world a happier place.
Rather than let God off the hook, in the face of tragedy I would rather we say, "Lord, we, your servants, are decent people. We deserve better than to see seven innocent children taken from us. In the name of all that is righteous we implore You, we demand of You, to protect our children, Your children, from harm, so that all the peoples of the world will see Your great hand in history and how the innocent are allowed to flourish, prosper, and grow old with children of their own."
Shmuley Boteach, "America's Rabbi" whom the Washington Post calls "the most famous Rabbi in America," is the international best-selling author of 30 books, including The Fed-up Man of Faith: Challenging God in the Face of Tragedy and Suffering. Follow him on Twitter @RabbiShmuley.