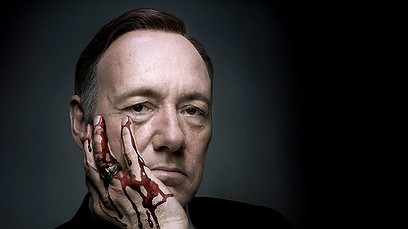 House of Cards returned last week. The Walking Dead is winding down its fifth season.  And Game of Thrones rears its (sometimes severed) head again in mid-April.
I am not a television critic nor do I work in the industry. I learned the above information at my daughter's preschool. And at the library. And in the pancake line after church.
Marketers and advertising execs could doubtless rattle off numbers for the percentages of 18-49 year-olds who watched Breaking Bad each week.  But I can tell you this much:  parents are the ones who mourn its passing the most.
Parents – God-fearing, morality-instilling, t-ball-coaching parents–are wild about smutty, violent, feckless television.  Why?
Because we have nothing else.
Yes, yes, we have carpools, and soccer games, and the kids' piano lessons on Tuesdays.  We have farmers markets and book clubs. And our children, of course. But it's all so…boring.
We do what we can to jazz it up.  We try Zumba classes and CrossFit. We host poker nights and direct the elementary school talent show. But we long for more glorious plotlines.
Years ago, there was a fire in our neighborhood  My husband and a friend called 911, but while waiting for the fire truck, they heard voices coming from inside the burning home. The front door was locked. In an instant, the friend kicked it open and the occupants stumbled out.  Afterwards, my husband was really upset.
"It's okay," I told him. "Everyone got out safely."
"Yeah," he said. "But when will I ever get another chance to kick down a door?"
It wasn't always like this. My own parents enjoyed situation comedies and dramas: Thirtysomething, ER, Family Ties.  As a young adult, I liked those kinds of shows, too. But now? I no longer want to turn on the television and see my problems mirrored there. I want to see explosions and strippers and people cooking drugs in their bathtubs.
---

When we watched the characters on Mad Men get drunk and wallow in their family failures, it allowed us to skip the booze and laugh at our own domestic mayhem.

---
I am not a violent person. I have never blown anything up or taken a hostage. I have never envisioned myself as wrathful.
But the children have unearthed my crazy. They wipe their noses on all of my shirts and spill soup on my furniture, and yes, of course, I love them, but also sometimes I want to ship them out to sea.
As a parent, I have rage.  Before children, my husband and I vacationed in places like Israel, Greece, and Italy. Now, we camp. On Saturday mornings, we used to sleep in and go to brunch, or maybe wake up early to run a charity 5K and then go to brunch. Sometimes we drove to the move theater just to see what was playing.  When we needed new clothes, we walked into a store, tried some on, and bought them. Nobody pooped. Nobody cried.  Ever.
But now?  The night is dark and full of terrors. This is a mantra from Game of Thrones. The characters are speaking of dragons and zombies, but they might as well be talking about the impossibility of a getting a decent night's sleep with kids in the house.
My husband and I should go for more walks.  We should discuss politics, and rub one another's feet.  But we are just too damn tired. My hair is falling out. My husband keeps throwing out his back getting the mail and opening jars of pickles. The Sopranos gave us a place for this rage.  Justified gave us a body count. When we watched the characters on Mad Men get drunk and wallow in their family failures, it allowed us to skip the booze and laugh at our own domestic mayhem.
Because our children are eating us alive. They are the zombies, the white walkers, ruthlessly taking everything we have. We long to retaliate. To make a backroom deal. To break the law. To release our dragons.
But it is frowned upon to smite our young.
In lieu of that, we watch television. We pretend to be Frank and Claire Underwood, or Khal Drogo and his Khaleesi. We take refuge in the fantasy, and find comfort in the part of our day that's not even real. And when, through the baby monitor, we hear the steady breaths of our sleeping children, we even smile a little. They are the real adventure of our lives, the madness that will begin again in the morning.