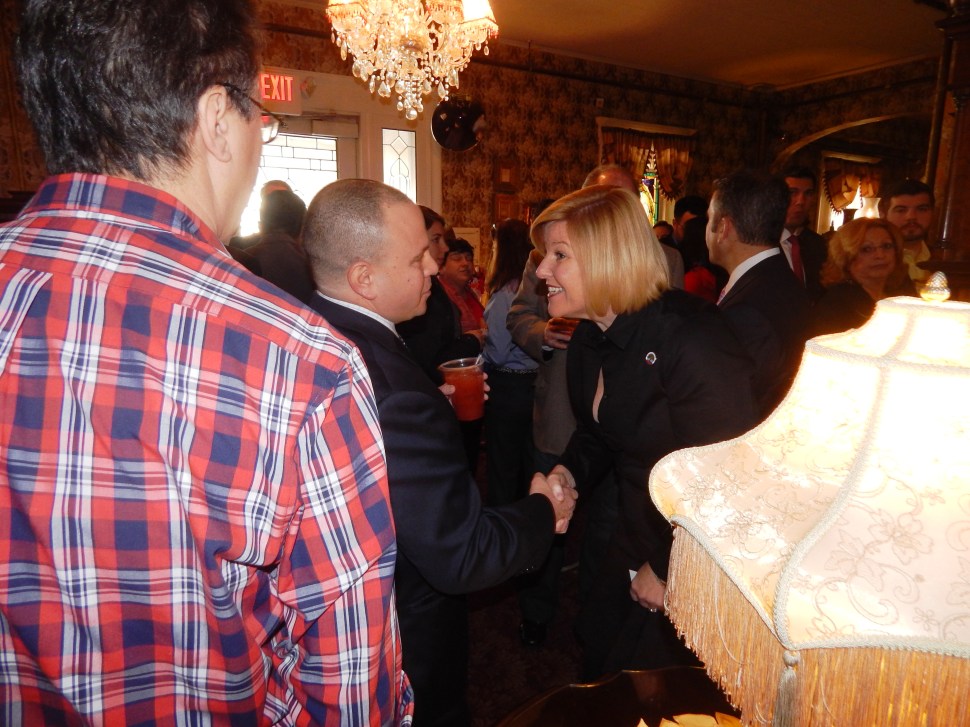 This morning the eyes of Union County Democrats turned from Jerry Green to Plainfield Mayor Adrian Mapp, the Union County Democratic chairman's local antagonist and the lone power player right now on record declaring the battleground inevitability of LD22.
"There will be a primary," Mapp teased PolitickerNJ last week.
The missing half of his ticket may be looking for a ticket out of the party establishment, for last night, a bruised Fanwood Mayor Colleen Mahr left an Italian restaurant in Green's and Mapp's hometown trailing as yet unanswered questions about whether she'll align with Mapp and – in payback mode – try to take down Green and Green's running mate former Rahway Mayor Jim Kennedy.
It would, of course, be an off the line enterprise.
In a scramble to replace shore home embattled Assemblywoman Linda Stender (D-22), Kennedy beat Mahr Wednesday 4-3, infuriating those Mahr allies who saw a mothballed brand name reappearing in their midst after their candidate, in the words of one Democratic Party insider, "had done everything right."
Mahr served as vice chair of the party – Green's helpmate over the course of a year and a half's worth of party events, including that thorny selection of Bonnie Watson Coleman over Linda Greenstein last year.
She networked and was visible.
But, Green noted at last night night's meeting, she still works for the county.
That's a sticking point, or could be, according to establishment sources. Maybe to free herself from those centers of power, she's right now eyeballing a private sector job offer, according to one source, who speculated that at this moment the establishment-discarded mayor's 75-25% likely to run with Mapp – possibly as a former county employee.
Mahr was furious that Green played the county card.
And while it's true that she works for Union, just like Stender, the woman whom she wants to replace, whose $90K gig at the Union County Improvement Authority nearly mirrors Mahr's gig at the county's economic development division, a lot of people work for the county – or have government gigs in addition to their elected offices – including those four people who last night installed Kennedy over Mahr.
Linden's Democratic Chairman Chris Hudak works as an events coordinator for Kean University. Mayor Sam Steinman, representing Rahway and likewise voting for Kennedy, is the business administrator in Bound Brook. Senator Nick Scutari (D-22), recording an aye vote for Kennedy out of Linden, has work in the Linden prosecutor's office. Then there's Green, whose son serves as an under-sheriff for the county.
Sources universally say part of Green's calculation in going with Kennedy over Mahr is his interest in shoring up committee votes in the bigger, more politically important Rahway toward his chairmanship reelection run come June.
He's got two, two-year terms to consider. He's got his LD22 seat to secure, then the chairmanship.
There are other connections at play, and musical law firms in key towns.
Weiner Lesniak just took out Decotiis in Rahway for the legal contract. That's the firm of formidable state Senator Ray Lesniak (D-20) big-footing a firm close to Jersey City Mayor Steven Fulop, whose administration just hit the eject button on the senator's firm's contract.
While this struggle went on last night, incidentally, Lesniak appeared on the Rachel Maddow Show to double down on his vow to fight the Christie Administration's settlement with Exxon Mobil that would allow the oil company to pay $250 million for $8.9 billion in environmental damage to sites in Bayonne and Linden.
Said one source close to the evolutions of Union politics, "I have no doubt Lesniak is the driving force behind all of this."
Mainly, there's the female factor.
Green and company decided to replace a woman with a man, and if they can't engage Jersey City Mayor Fulop or Sheriff Joe Cryan and are left to ally themselves with Mapp, Mahr's allies at least are convinced they can develop some traction with women.
Green insists he's ready.
Last night, he highlighted his work with women who lost sons to violence. Also, he has an argument handy in the event Somerset County Chair Peg Schaffer decides to back Mahr.
"I would remind Peg Schaffer that she could have backed Bonnie Watson Coleman when she had an opportunity and she instead backed [Upendra] Chivukula," said the Union County Democratic chairman. "Then when she had a chance to replace Chivukula with a person of color, she didn't."
Schaffer backed local Franklin Township Democratic Chair Joe Danielsen."She thought that was the politically correct thing to do," said Green, a veteran of the 17th District prior to 2001 redistricting when Plainfield exited and Franklin entered. "I got backlash in the community but that was her choice."
A source close to the chairman noted that he's backing a white female in Roselle who's running for mayor to succeed Assemblyman Jamel Holley (D-20). "What percentage of the people working in Fanwood City Hall are black?" Green wanted to know, jabbing at the town Mahr runs. "How many people on the council are black?"
For her part, Schaffer is keeping her options open.
"I intend to talk to my committee people," said the Somerset County Democratic chair. "I don't have an inclination at this juncture."
Union County establishment sources said they're convinced other players like Cryan and Fulop don't have substantial enough incentive to put their necks on the line for Mahr and Mapp.
Part of the trouble for Cryan – who has tangoed with Lesniak in recent years – is that it would be difficult for him to back the Fanwood mayor without backing an anti-establishment slate countywide.
That conceivably means he would have to align with opponents of former running mate Assemblywoman Annette Quijano (D-20) and Holley. That's an unlikely move for Cryan, just elected last year with the support of Green, Lesniak and the rest of the Union County establishment, to fill an unexpired term as sheriff.
But the situation was fluid on Thursday morning in the middle of a snowstorm and a source told PolitickerNJ that Mapp has committed to the freeholders that he wouldn't oppose them and would make his effort solely LD22 centric. Mapp yesterday said he had not talked to the Elizabeth Board of Education, and a source told PolitickerNJ he is committed to not joining with the Elizabeth BOE.