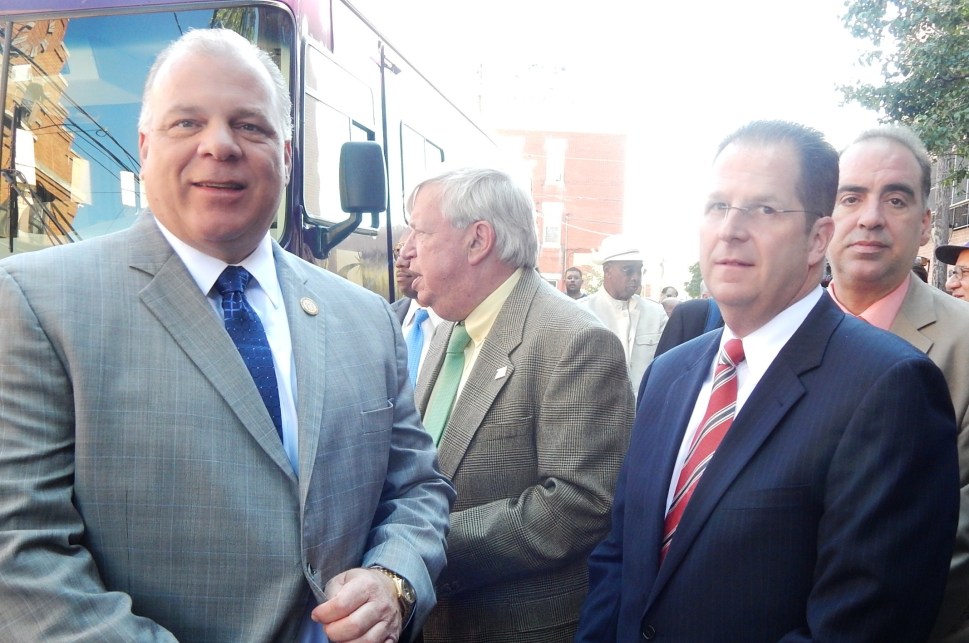 It's too easy to use the word raucous, but it looked like a St. Patrick's Day crowd bucking for a fight a day early yesterday in the senate gallery: green-shirted, loud and obnoxious and reining colorful invective on a single, smoldering, square-jawed target planted on the rostrum below.
They were actually furious environmental activists, fearful of the destruction of the environmentally sensitive New Jersey Pinelands, propelled into the statehouse hallways to torment state Senate President Steve Sweeney (D-3).
Sweeney more than once threatened to dispatch the senate sergeant at arms if they didn't quiet down, as part of a back and forth that ended finally when the senate president voted aye on the Pinelands Commission nomination of Robert Barr and sent the activists through the gallery doors shouting "Shame, shame, shame, shame."
Displacing a commissioner who opposes a natural gas pipeline in the Pinelands and offering, in the words of Clean Water Action Campaign Director Dave Pringle, "pathetically little" in the way of environmental readiness, a confidant of state Senator Jeff Van Drew (D-1), who along with Gov. Chris Christie backs the pipeline, Barr won the nomination following a very turbulent nominating process and only after last minute maneuvering by Sweeney.
An ironworker by trade who last week told PolitickerNJ that his expertise is the economy, Sweeney never pretended to be an environmentalist, but the question is whether his ram-rodding of Barr, widely disparaged as an unqualified candidate for the Pinelands Commission, denounced by four governors as a nonstarter nomination, could haunt him in a Democratic Primary.
Sweeney's pawing hard at a 2017 guv run, while arguably already encumbered by his relationship with Gov. Chris Christie, a onetime popular Republican governor turned Bridgegate-hobbled liability as he preps Iowa for a 2016 presidential bid.
"It raises bigger questions and plays into the Chris Christie/Steve Sweeney scenario ," said NJ Sierra Club Executive Director Jeff Tittel on the heels of yesterday's vote. "A lot of people are concerned with Senator Sweeney being too close to Governor Christie.
"Two Democrats abstained, but 14 out of 24 Democrats did not support the nominee and he pushed it through anyway," Tittel added, a reference to Sweeney withholding his own aye vote when he saw he didn't have 21 then persuading state Senator Joe Pennacchio to flip and back Barr before adding his own vote to get to the required majority. "I don't think that narrative helps Steve Sweeney running for governor. It also brings back the fact that he blocked the Highlands bill and pushed fast track. The only areas where he's recently been positive are in green energy jobs which are union jobs labor. On jobs where he disagrees, he clearly goes against environment."
As he scans the horizon in the lead up to 2017, by contrast Tittel said he likes what he sees early from Jersey City Mayor Steven Fulop, whose political brain trust includes former Governor James McGreevey. "I don't know if he [Fulop] has a strong understanding of the environment but he strikes me as one of those people like a young Jim McGreevey who learn policy and politics and learn where they mesh to help get the Highlands Act, as McGreevey did, and strong water protections."
What about former U.S. Ambassador to Germany Phil Murphy, another 2017 contender? "Murphy appears to be a traditional liberal Democrat who will include the environment as part of his progressive outlook," Tittel said.
Doubly irritated by what he saw as the fudge of a symbolic resolution denouncing Christie's Exxon/Mobil settlement, cover, he insisted for the Barr fiasco, Pringle a day removed from the vote still seethed over Sweeney's efforts to get Barr on the Pinelands Commission.
"We need government to function," said the veteran environmentalist. "Clearly D.C. is dysfunctional. New Jersey less so. To the degree that it's functional, Steve Sweeney and Chris Christie play to each other's worst personality traits. They happened to agree on a lousy nomination. They didn't coordinate it in this case, it was by happenstance."
The Clean Water advocate descried Sweeney's actions as arm twisting to advance a previously rejected, "unqualified nominee" at the expense 17 trillion gallons of water and the independence of independent agencies.
"It's a really sad state of affairs that our government has come to," he said. "I think I got a very good handle on the grassroots environmental movement, and this was a watershed moment – not just how folks voted but how the vote went down. This nominee was rejected over and over and over again. Evidently the senate president doesn't take no lightly."
Does it finish Sweeney as far as he's concerned? Pringle said no.
"It's also a moment in time," he said. "The senate president has done noteworthy things on off-shore wind. But he's also allowed an incredible number of anti-environment measures to go forward. He played a damaging role on the Highlands Act. He weakened the Highlands Act and tied it to fast track. We're still two years away and we'll still continue to work with him."
Pringle said the moment was valuable because he could better define environmental friends and advocates going forward. He singled out state Senators Ray Lesniak (D-20), Nia Gill (D-34), Kip Bateman (R-16), Jen Beck (R-11), Tom Kean, Jr. (R-21) and Loretta Weinberg (D-37) for praise, noting their opposition to Barr. He also bemoaned the aye votes recorded by Senators Nilsa Cruz-Perez (D-5), Nellie Pou (D-35), Jim Whelan (D-2), Paul Sarlo (D-36) and Joe Kyrillos (R-13).
"It's remarkable that we came just one vote away from defeating Governor Christie and the Senate President," the environmentalist added. "It will build for the future."
Of Sweeney's future prospects to land a Sierra Club endorsement in a Democratic Primary, "I can never say never," Tittel said, "but he did a lot of damage to himself."
Patrick Murray, Monmouth University pollster and political scientist, said the objections of New Jersey's environmental community won't much matter, even in a gubernatorial primary dogfight.
"The last time the environment was a driving factor was in the late 80s," Murray said. "It's an issue that doesn't move voters. The enviros are not very good at mobilizing a base. The only people for whom it might be an issue were those 120 people in that gallery. As a calculated move, Steve Sweeney knew he wasn't losing much. They just don't have the wherewithal to move voters or money."