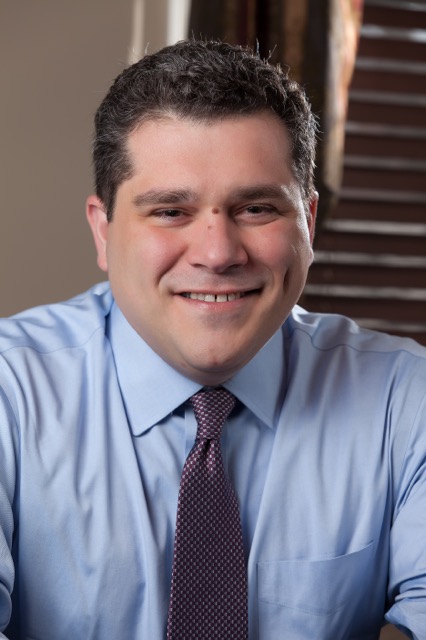 With what appears to be the full backing of Hudson County's Democratic establishment — including, first and foremost, Bayonne Mayor Jimmy Davis — Nicholas Chiaravalloti officially kicked-off his campaign today, meeting with community leaders in Bayonne and Jersey City.
"Nicholas isn't just from Bayonne – he's for Bayonne," said Davis in a statement. "He's our native son and we believe that he will proudly represent the interests of Bayonne in our state's capital."
An attorney who lives in Bayonne, Chiaravalloti enters his bid after serving as state director for U.S. Sen. Robert Menendez (D-NJ) before resigning in 2007 to focus on an unsuccessful bid for the 31st LD Assembly seat. He is the executive director of the Guarini Institute for Government and Leadership at Saint Peter's University.
The announcement puts to bed some speculation over whether LD31 could see a primary battle in June, as Chiaravalloti, aside from Davis' blessing, also has the whole of Hudson County's Democratic Organization coalescing behind him. That endorsement went to incumbent Assemblyman Jason O'Donnell (D-31) last time around, whose seat in the North Jersey district will likely go to Chiavaralloti this year.
Some wondered earlier whether other players in LD31 , including state Senator Sandra Cunningham (D-31), might have backed O'Donnell, who supported former mayor Mark Smith in Bayonne's testy mayoral primary last year.
"Surreal, that's the word I use when I think about this opportunity," said Chiavaralloti.  "For me, this is very personal.  My family, friends, neighbors, and classmates live in this district," said Chiavaralloti.
"Standing with Speaker Vincent Prieto, County Executive Tom DeGise, Sen. Sandra Cunnigham, Mayor Steven Fulop and my running mate Denise Ridley reminds me why I decided to run for the state Legislature," said Chiavaralloti.  "In a word: service."
It's unclear whether O'Donnell will fight for his seat. He could not be reached for comment at the time of publication, but sources say he's likely to take a pass against the formidable HDCO.
"I believe from the bottom of my heart that we can do more for the residents of Bayonne and Jersey City," said Chiavaralloti.  "This entire campaign is going to be about just that."
LD31's other assemblyman, Charles Mainor (D-31), also faces losing his seat this year.