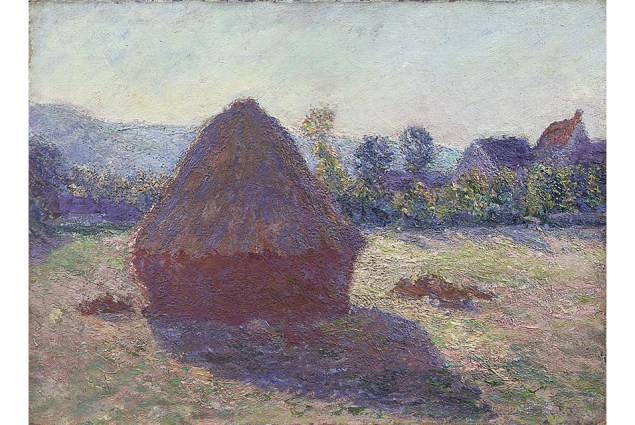 And… jackpot: Researchers at the University of Jyvaskyla in Finland have proven that a suspiciously Monet-like oil painting is indeed an original work by Claude Monet.
Since the 1950s, A Haystack in the Evening Sun has been within the confines of the Gösta Serlachius Fine Arts Foundation, its owner. With the help of a hyper-spectral camera with an XRF device, the crack team over in Finland was able to uncover Monet's signature in a corner of the work, according to ArtDaily. The researcher told Phys.org that the camera detected and took pictures of 256 different wavelengths in the near-infrared region of the painting, which is not visible to the human eye.
"The camera is principally operating as a scanner, which scans one line at a time. The optics includes a prism structure which diffuses the light's wavelength order, a custom-made sensor is used capable of recording infrared radiation. When the camera is moved using the scanner an image of the whole picture can be obtained," he said.
Through data spectrum separation methods, which have been studied in international research, Monet's signature was uncovered.
"Spectral imaging and its many applications has been a favorite area of research. Two dissertations have already been published on this subject and have dealt with, among other things, medical and environmental science applications," said Pekka Neittaanmaki, dean of the department of mathematical information technology at Jyvasklya.
Before now, the signature was hidden underneath paint, so it evaded authentication for decades. Now that we have it, let's all celebrate the existence of one more masterwork by Monet.