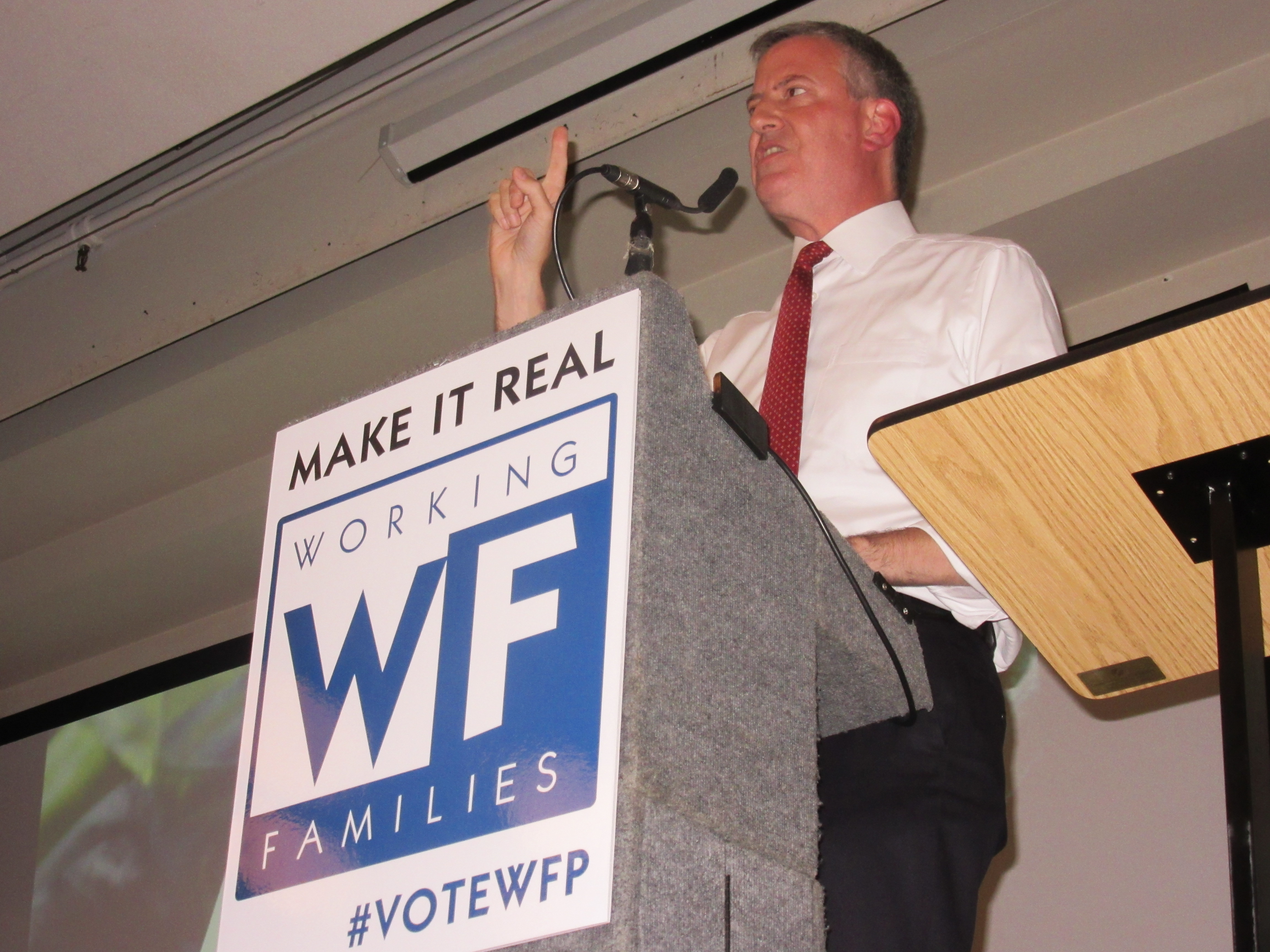 The Working Families Party over the weekend backed Mayor Bill de Blasio's push for greater school funding in this year's state budget—and pushed back against Gov. Andrew Cuomo's proposed tying of education money to a set of reforms.
Echoing Mr. de Blasio's testimony before the legislature last month, and the arguments of teachers unions and education advocates, the left-leaning third party called on supporters to insist that the budget include at least $2.2 billion for public schools. The WFP warned that the Republican-run State Senate and the Democrat-dominated Assembly are prepared to set aside far less than that—which it claimed would severely shortchange students.
"We're hearing that those proposals may end up containing significantly less than the $2.2 billion required to fully fund all of New York's public schools and provide our kids with the small class sizes, full curricula and other resources they need to succeed," State Director Bill Lipton wrote in an email to supporters.
Mr. Cuomo has said he would agree to a $1 billion outlay if the State Senate and Assembly approve a teacher evaluation system based largely on standardized testing and a program that would support the firing of teachers deemed "ineffective" and a state takeover of failing schools. Mr. Lipton, who is backed by a labor coalition that includes teachers unions, asked supporters to call their local representatives to reject this plan.
He alluded to the claims of several advocacy groups that the governor is delinquent in complying with the Court of Appeals decision in the 2003 Campaign for Fiscal Equity v. State case, which found Albany had shortchanged New York City public schools some $15 billion, and thus failed to meet the state constitution's assurances that all children would be granted a quality education.
"Fully funding our public schools is not only a constitutional requirement, it is also the right thing to do to ensure all of our kids have the opportunity to succeed. We can't hold our kids to the highest standards if we don't first provide them with all the opportunities they need and deserve," Mr. Lipton argued in his message, noting the state currently enjoys a budget surplus, unlike in past years.
Litigation regarding the state's responsibilities as laid out in the Campaign for Fiscal Equity decision is still underway. Mr. Cuomo, for his part, has repeatedly noted that New York spends more on average per student than any other state in the country, while millions of public school students remain woefully unprepared for college.
Both houses of the legislature are expected to unveil their budget proposals today.