This Saturday, March 28, the Crystal Bridges Museum of American Art, founded and funded by Walmart heiress Alice B. Walton, will put on view the most expensive work of art ever painted by a woman and one of the most expensive works of American Art.
It is Georgia O'Keeffe's Jimson Weed/White Flower No. 1. Mrs. Walton paid $44.4 million for the oversize (48″ by 40″) 1932 portrait of a flower at a Sotheby's auction in November. The artwork goes on display as the centerpiece of "See What I See," an exhibition at the Bentonville, Ark., institution that runs through May 10.
The Georgia O'Keeffe Museum was the painting's seller, and its proceeds went directly to the museum's acquisitions fund.
For roughtly the last 15 years, Mrs. Walton has been responsible for setting records in the American Art field, snapping up at auction some of the greatest works in that category that come on the market on behalf of the four-year-old mega-museum in Walmart's hometown. She has bought Andy Warhol's iconic Coca-cola bottle, Winslow Homer's Blackwell Island, John Singer Sargent's portrait of Robert Louis Stevenson and his wife. Ironically, she has inflated the sector, making her subsequent purchases more expensive.
The O'Keeffe painting will be joined in the exhibition by two of the artist's other paintings from the museum's collection, Small Purple Hills (1934), and Feather and Brown Leaf (1935), as well as a rare sculpture by O'Keeffe, Abstraction (modeled in 1946, cast circa 1979-80 in white-lacquered bronze).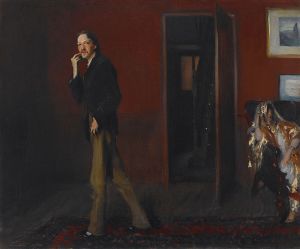 Together these works will provide Museum guests "not only with a first look at this remarkable acquisition, but also a glimpse into the scope of the artist's career," the museum said.