And you thought shipping glitter was all the rage.
This month, the Internet has borne witness to the launch of not one, but two major sites that let you ship your enemies—or your friends, for that matter—a bag of gummy dicks. What a time to be alive!
You might have read about Dicks By Mail, where users can pay $15 to anonymously ship a bag of dicks to a recipient of their choosing. But you've probably heard less about the similarly-named Ship a Bag of Dicks, where a bag of dicks only costs $12 to ship, and comes with the $1 option to add glitter to said bag. You can also pay $25 for a "MAGNUM" bag of dicks, or $100 for the mysterious "ultimate bag of dicks"—an offering the site's creator, Taylor Wilde of Austin, TX, hasn't quite figured out yet.
"When somebody buys it is when I'll figure out what it is," he told the Observer.
Mr. Wilde's background is not in online dick-shipping services—or shipping services at all, for that matter—but in software sales. He'd been innocently brainstorming April Fool's pranks to pull on his friends, when it struck him it'd be funny to mail them bags of dick candies.
"Me and my buddies would sometimes say to each other, 'Go eat a bag of dicks,'" Mr. Wilde explained, making us not remotely envious that we've never met his friends.
With SXSW coming up, it occurred to him that he could try turning the idea into a veritable online service, and marketing it at the festival. He built a URL, then recruited the aforementioned group of friends to don handwritten t-shirts and distribute mini bags of dicks to passersby. Each bag—passed out with a cheerful "Hey man, eat a bag of dicks!"—was labelled with Ship a Bag of Dicks's web address.
People enthusiastically posted photos of the candy-filled bags and shared the hashtag #bagofdicks on social media. Probably because it tapped into two of the things Internet users love the most right now—niche shipping startups and dicks—the service went viral within a couple of days.
Mr. Wilde wouldn't reveal how many customers he's had or how much money he's made, but he assured us that Ship a Bag of Dicks is "definitely profitable," and that his home has become filled, top to bottom, with boxes of supplies.
"My residence has turned into all these boxes—there's gummy dicks everywhere," he said. "It's like when Scrooge McDuck is going through gold coins, except I'm going through dicks."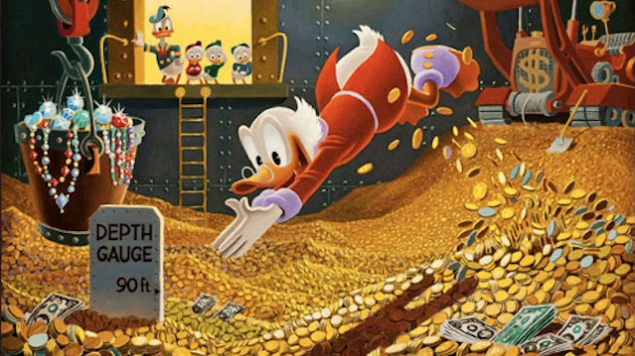 Mr. Wilde, who originally suspected no one would buy his product, has been pleasantly surprised that so many people out there evidently share his sense of humor.
"More often than not, people are sending it to their best friends," he said. "It's hilarious, and on top of it all, the gummy dicks are pretty good."
The $12 bag of dicks, without the added glitter, is his most popular order. You'd really have to hate someone to add the glitter, as it's mixed right into the bag of gummies, rendering them inedible.
Given Ship a Bag of Dicks's viral success, Mr. Wilde has considered turning it into a more wide-reaching business. He wouldn't want to pigeon-hole himself into being a prank site, but rather explore "what kind of laughs, happiness or amusement I can deliver via an envelope or a box."
"The core value is just bringing happiness to people—a slight amusement into their lives," he said. "I'm definitely not getting into shipping poo or anything like that."
Is he worried that his 15 seconds of fame are almost up? No, Mr. Wilde said.
"I wasn't in this to make money or start a business," he said. "It started from wanting to ship my friends something hilarious that didn't exist. If this is where it ends, I'll know that I made hundreds to hundreds of thousands of people happy, and made them laugh."
But for now, while he's in the limelight, how does Mr. Wilde feel about his dick-shipping competitors?
"The more the merrier," he said. "I think competition makes you better anyway."