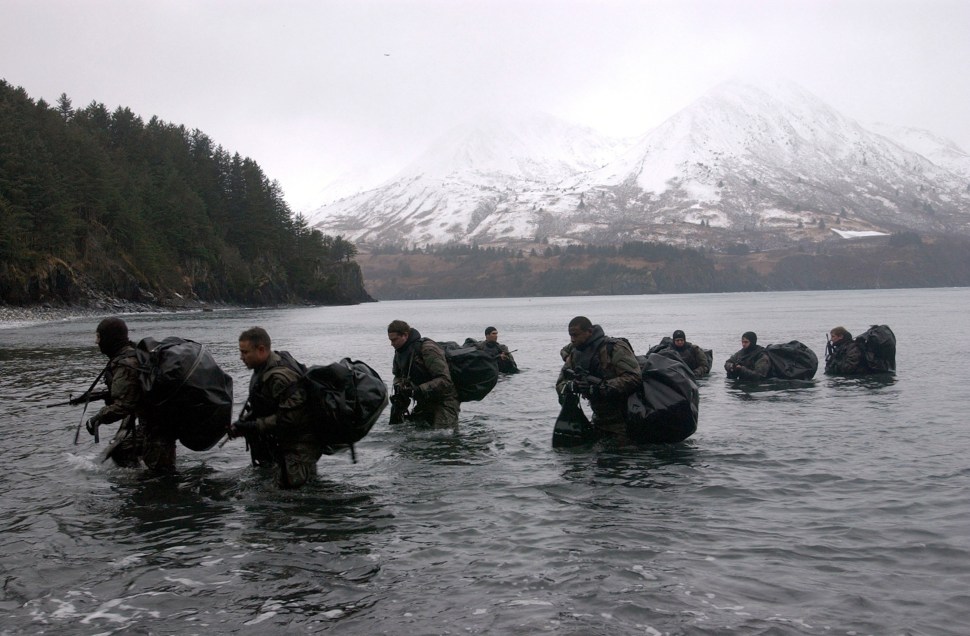 As Navy SEALs, we understood the word "frontline" to mean the place where we met the enemy. The frontline was where battles were fought and fates decided. The frontline was a place of fear, struggle and suffering. It was also a place where victories were won, where friendships of a lifetime were forged in hardship. It was a place where we lived with a sense of purpose.
But "frontline" isn't just a military term. You have a frontline in your life now. In fact, everyone has a place where they encounter fear, where they struggle, suffer and face hardship. We all have battles to fight.
And it's often in those battles that we are most alive: It's on the frontlines of our lives that we earn wisdom, create joy, forge friendships, discover happiness, find love and do purposeful work. If you want to win any meaningful kind of victory, you'll have to fight for it.
---

Resilience is the virtue that enables people to move through hardship and become better. From pain can come wisdom, from fear can come courage, from suffering can come strength—if we have the virtue of resilience.

---
Resilience is the virtue that enables people to move through hardship and become better. No one escapes pain, fear and suffering. Yet from pain can come wisdom, from fear can come courage, from suffering can come strength—if we have the virtue of resilience. People have known this for thousands of years. But today a lot of this ancient wisdom goes unheeded.
In an age of distraction, we've lost sight of a simple truth: you can develop resilience. We become what we do if we do it often enough. We act with courage and we become courageous. We act with compassion, and we become compassionate. If we make resilient choices, we become resilient.
Let's not breeze through that too quickly. "If we make resilient choices, we become resilient." It sounds simple, like, "If I put on shoes, I'm wearing shoes." But there are three important points of emphasis here.
First, you can develop resilience. Anyone can do it. No one can do it for you. You and you alone have to do the work.
Second, you can develop resilience. It's possible to build virtues. It's possible to change your character. It's possible, therefore, to change the direction of your life.
Third, you can develop resilience. Resilience cannot be purchased for you or given to you; you have to do the hard work of building excellence in your life.
But building resilience isn't easy, and a desire to be resilient is no substitute for the hard work in front of you. No short article can do justice to everything that goes into building resilience—but we can begin by considering three m's: models, mentors and mental toughness.
Models
If I sat down in your living room and placed a giant bag of jigsaw puzzle pieces on a table in front of you and asked you to put all of the pieces together, what's the first thing you'd ask for? (First you'd probably say, "Why are you askin' me to do a puzzle?" But if you accept that you're going to do the puzzle…) I'm guessing you'd ask for a picture. You'd want to know how all of the pieces come together.
You'd want to know what you're trying to make. Here's the thing: life only hands you pieces. You have to figure out how to put them together. Your life doesn't come with a picture of what it's supposed to look like on the box. You have to—you get to—choose that picture for yourself. And you choose it by looking for a model of a life well lived.
I started boxing with Earl when I was 19. I was a sophomore in college. During the day, on campus, I studied Aristotle. Aristotle told his students that "what is valuable and pleasant to a morally good man actually is valuable and pleasant." In other words, you know what the good thing is by seeing what the good person does. If you want to know how to live well, don't make things more complicated than they need to be. Just look at a model of someone who's already living well. Start there.
After reading Aristotle in class, I'd drive into Durham and make my way to a small boxing gym tucked in a corner of a rough neighborhood. There Earl and I would train with Derrick. Derrick, my training partner, worked in construction and had the powerful build of a tall, fast fighter. He fought professionally. He was a young guy at the time—26—but since I was seven years younger, it seemed to me that Derrick had a whole planet of experience underneath him. When I asked Earl, "How do I throw a jab?" he said, "Watch Derrick. Do as he does." When Earl let me start training on the heavy bag, he'd have me watch Derrick. He'd say, "There's your picture, Eric. Watch how Derrick works the bag." Derrick was my model, and I learned faster by watching and imitating him than I ever could have done by reading a book or listening to a coach alone. Earl and Aristotle. They both said the same thing: Find a model. Do as they do.
Human beings learn by imitating other human beings. Probably the most complex intellectual feat any of us will ever achieve is learning to talk. And we do it simply by listening to others, trying to do what they do. We survive because we imitate. We pass on cultures and languages and common sense because we imitate. And what we imitate are not only skills—how you ride a bike or climb a rope—but ways of being. How do you talk to your neighbor? How do you carry yourself on patrol? How do you press on when your body is begging you to quit? You watch someone else do it, and you imitate.
What's strange about the way most of us live is that we know how important it is to have models. Everyone wants their children to look for good "role models." Yet once we become adults, we stop looking. That leads to a lot of unnecessary pain. Who's your model?
Mentors
You can spend a lifetime reading books about painting without ever learning how to paint a tree. You can spend a lifetime watching videos of the great tae kwon do masters without ever learning how to throw a single kick. You can pursue any practice you like without a mentor, and you can build knowledge, but it's unlikely that you'll ever build mastery. A mentor teaches you everything you can't learn from a book. There is a difference between "knowing that" and "knowing how." You can learn facts on your own. But if you want to know how to do something—from baking a cake to writing a story to disciplining a child—you usually have to be shown. The best mentors show us how.
If you don't have a mentor, you might be wondering how to find one. There are no guarantees. But I'll tell you what I learned about finding a mentor from kung fu films. I'm a sucker for cheap martial arts movies. And when I first started tae kwon do, I rented a bunch of 'em. In Forbidden Kingdom, the kung fu master is on a long journey with a new student. The student thinks he knows more than he does. Jackie Chan, playing the master, starts pouring the student a cup of tea. The cup fills and Jackie continues to pour. The cup overflows and hot tea begins to run down the student's arm. When the student protests, Jackie says, "How can you fill your cup when it's full?" It was a simple, classic kung fu movie lesson: no matter how wise the master, he can teach nothing until the student is ready to learn. If you think you know everything, you can't learn anything. The first thing we have to learn is that our cup is empty.
---

You can pursue any practice you like without a mentor, and you can build knowledge, but it's unlikely that you'll ever build mastery. A mentor teaches you everything you can't learn from a book.

---
There's a saying: When the student is ready, the teacher will appear. As with a lot of popular sayings and quotations, it's unclear exactly who first said this or when. I don't know that it matters. No one can promise you that your mentor will materialize out of nowhere. But the idea stands on its merits: learning does not happen to you because you want it to. Learning is something you must prepare for. If you want to learn, make yourself ready to learn. This is the first task in any training, and it's the most important, because it is the prerequisite for all other learning.
If you've done that, then the next step is to demonstrate devotion to a practice. Your "practice" might be your business, your art, your sport, your career, your charity, your church, your studies or your family, but if you do what the devoted do and passionately pursue excellence, then your journey will likely lead you to cross paths with many likely mentors. I've had many mentors in my life; a youth leadership counselor, my boxing coach, English teacher, History professor, Navy officers. They all came into my life in different and often in unexpected ways. And, in most every case, I didn't set out to just "find a mentor," I'd set out to learn—how to throw a punch, how to lead a team, how to write a clear sentence—and I found a great mentor along the way. I think that if we're both humble and devoted, that we'll all find a mentor who's right for us. Who's your mentor?
Mental toughness
You can't really master pain—pain comes and goes. Some of it we choose and some of it we don't. You can, however, work on mastering yourself. You can build mental toughness in the same way that you build physical strength or moral courage—through practice. What's tough about this, is that while the world is replete with thousands of diet books and thousands more books on physical exercise, there are few guides to how we build mental toughness. I can't do justice to all that has to be practiced here, but consider just these five practices:
Write down what you are afraid of. Writing down your fears puts them in front of you. Fear does its worst work when it knocks around in your mind, hiding in the hollows of your thoughts, waiting to breed with panic, insecurity and uncertainty. When you write down what you are afraid of, you can begin to gain control of and face your fear.
Segment. Learn how to break big challenges down into small pieces. Then attack the pieces.
Mentally rehearse. Just as you can physically practice and rehearse, you can also mentally rehearse. Done well, you build strength and clarity. Done well, you will not be overcome by events, no matter how difficult, because you've thought through hardship ahead of time.
Self-talk. We all talk to ourselves. You may not speak your thoughts out loud or share them with others, but there is always a conversation in your head about your environment and, most important, about yourself. You can't shut this conversation off. The best you can do is turn it in your favor. There are times when our self-talk becomes destructive. I screwed up. I'm stupid. I don't deserve to be here. Everyone thinks like this occasionally, but repetitive negative inner monologues can be destructive. Gain control of the conversation in your own head, and direct it to help you achieve worthy goals.
Breathe. Breathing, like blinking, is one of the few processes in your body that is both voluntary and involuntary. By taking control of your breathing, you can—this is a crude analogy—pull a lever on a lot of your other involuntary systems. By learning how to breathe, you learn how to begin to link the mental and the physical. You learn how to start taking responsibility for something very small and very simple, and you build a foundation of practice that will make you stronger.
Building resilience isn't easy, and it isn't for everyone. To build resilience you have to have experience enough to know that life can be hard, and you have to be tough enough to know that hardship can create strength. Those who do build resilience will find that they lead richer and more fulfilling lives. Everyone can build resilience, including you.
Eric Greitens is a Navy SEAL, Rhodes Scholar, boxing champion and humanitarian leader. The founder of The Mission Continues and the author of the New York Times best-seller The Heart and the Fist, Eric was named by Time magazine as one of the 100 most influential people. His book, Resilience, has just been published.