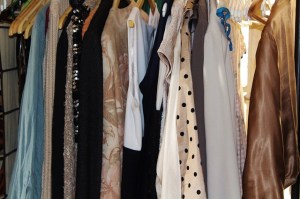 Along with meditation, pared-down diets and cleanses, closet-clearing can be a highly satisfying method of putting one's mental house in order. Even better if that process results in cash at the end of it. Don't forget, many super-wealthy types count every single penny, hence the wealth. See where we are going?   However, those not fluent in the world of luxury consignment might be left perplexed, or unwilling to engage in a process that sounds like a hassle. It is easy to dismiss the contents of one's closet as totally undesirable to anyone else. Not so. In order to make the most of a wardrobe purge, the Observer enlisted the expertise of Linda Lightman, founder and CEO of Linda's Stuff, a luxury brand consignment website, for some tips.
Start by asking yourself the five essentials
Mrs. Lightman suggested asking yourself, "Does it still fit? Have I worn it in the last 12 months? Would I wear it again? If I saw the item in a store, would I buy it? How do I look in it?" And don't be afraid to try it on. The only way you'll really know if you like it is if you see it on your body, and then once again ask yourself, "Do I like it? Would I wear it again?"
Be Brutal
"It feels so good to purge a closet," Mrs. Lightman preached. If there is a reason not to wear something, perhaps it is damaged or no longer fits, "don't hesitate!"
A Spring closet clear out is not only for women
"It should not be gender specific. Men should be clearing out too," Mrs. Lightman said. To put it simply, "men's clothing does great on consignment."
Extend the clear out past the closet
Don't limit your purge to your closet. "Anything with a discernible designer name, maybe you had a wedding gift that you couldn't use,  will more than likely sell on Linda's Stuff." Mrs. Lightman said. "In a city like Manhattan, space is the ultimate commodity, so consider letting go of that Baccarat rose bowl or the twinkling tumblers nobody actually likes holding."
Dinged up wins bucks too
While some items may seem worthless, if they have a 'label' that means value. "Even if they're dinged up and you think 'oh gosh, no one's going buy these 90s brogues,'  there is a market for them." Mrs. Lightman explained. Sometimes, the most surprising items will sell.
Consider alternatives to the classic consignment shop
Websites such as Linda's Stuff and theRealReal change the game entirely. From free shipping to in-person pick-ups, both Mrs. Lightman and theRealReal make sending in clothing utterly easy. Linda's Stuff prepares free shipping labels, arranges UPS pick-ups and guarantees payments at the beginning of every month, and theRealReal sends out Consignment Kits and provides accessible online alternatives. 
Donate
While consignment stores and websites will offer deals for buyers and sellers alike, looking into donation is a way to help out if you can't spare time.  From the Fashion Project to Dress for Success, consider that an old or possibly irrelevant item in your closet can change another person's life.
For those with a lack of motivation
When motivation is lacking, stylists come in handy. The Well Coiffed Closet  focuses on what they call a "Closet Face-Lift." for men and women. Company founder Megan Evans sorts through a client's closet, and along with purging, helps to find new ways to wear clothing that a client had trouble styling on their own. Ms. Evans then works to help donate and sell discarded clothing, and refills the closet in seasons, colors or styles that are lacking.
When in doubt, ask yourself, have I worn it in the last year?
Unless the circumstances are extraordinary (i.e. waiting for something you own to return because you are absolutely certain Raf Simons is working on bringing it back into fashion) your decision should be obvious.
 Create A Look Book
Personal style does not have to be set in stone. Tear out magazine pages of contemporaries whose personal style you admire and keep them handy when closet-clearing. Anything that does not fit the picture you have in your head of how you want to look, should go.