A handful of lucky artists, poets and arts organizations have 'won' way-below-market rent in Brooklyn through a program run by developer Two Trees Management Company.
Two Trees has offered low rent spaces to artists and art related organizations in the past through a cultural subsidy program, but now they are formalizing and expanding their efforts to encompass 100,000 square feet of rental space in the borough, much of it in Dumbo.
Among the latest artists or groups taking advantage of this rent break are sculptor Anne Peabody, who has shown at the Venice Biennale; art blog Art F City, the Edible Schoolyard and the Cave Canem Foundation, an organization which aims to rectify the under-representation of African American poets.
The artists will pay $12 a square foot for spaces that generally rent for more than three times that, according to Two Trees.
"Our goal is to maintain DUMBO as an arts-centric neighborhood," said Lisa Kim, Two Trees Cultural Affairs Director.
One of the earliest recipients was sculptor and installation artist Tom Fruin. "I signed a three year lease with them and that's a bright three years for me," said Fruin, who pays $1 a square foot for his studio.  In his "roughly" 2,000 square foot space, he created and assembled his Watertower 3, which stands more twenty feet high in steel and Plexiglas is now installed on the Brooklyn Bridge Park Pier 5. "The program means I can stay in DUMBO," he adds.
By the rules of the grants, "Space is awarded to applicants that best demonstrate their capabilities and intent to provide a social benefit to Brooklyn and have a proven track record of community engagement."
Two Trees Management Company oversees a portfolio of $3 billion in real estate, including more than 3 million square feet of office and retail space along with 6,000 apartments.
It owns the Domino Sugar Factory, where Kara Walker's enormous sculpture received considerable attention last spring.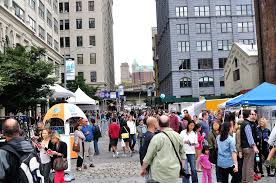 "Without low rent studio spaces in the city, artists would be pushed out to Detroit and Baltimore," said Kim.