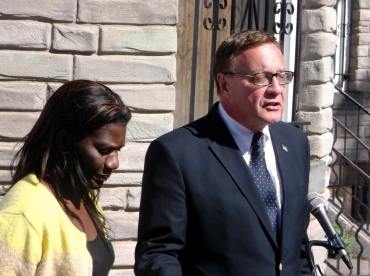 The Republican nominee for U.S. Senate in New Jersey in 2013 who ran as a bold conservative infuriated by what he cited as the pastel tones of his Democratic Party adversary today said Gov. Chris Christie's lack of a substantial record in New Jersey all but deep sixes him as a presidential candidate.
Former Bogota Mayor Steve Lonegan claims to have narrowed his own choice down to two.
Christie beat Lonegan for the Republican nomination for governor in 2009 and backed Lonegan's 2013 U.S. Senate candidacy in what turned into a somewhat harrowing effort for Cory Booker, who ultimately won by 11 points.
"Coming out of Iowa, New Hampshire and South Carolina, I don't know if he's going to go much further," Lonegan said of Christie, who's tinkering with a 2016 presidential bid. "The failures of Atlantic City, economic mediocrity, rising property taxes and his failure to appoint conservatives to the Supreme Court election all add up to a problem. Fundamentally the issue is the economy, and he doesn't have a track record for voters. That's a big problem.
"There was an opportunity to push hard for much more," Lonegan added. "I look at Atlantic City as a microcosm. It should be the jewel of the East Coast. …I openly opposed the Revel bailout from day one."
The former perennial candidate made his comments on the same day that Christie told GOP chairs at a Drumthwacket meeting, as he has in the past, to keep their powder dry on prez politics as the governor mulls over his own national designs.
Since his ill-starred 2014 CD3 race, Lonegan has traveled the country as the director of monetary policy for the American Principles Project. He is scheduled to appear this evening on Neil Cavuto's Fox television program to discuss the Fed.
If not Christie, who does he support for the presidency?
"I always thought Rand Paul was terrific," the former Bogota mayor said of the Kentucky senator who this week kicked off his 2016 presidential bid. "Unfortunately for him, [Texas Senator] Ted Cruz is also in the race and the two of them are very much alike. I fear that they split the conservative vote and allow another moderate to run up the middle."
Lonegan said he wants to see Paul and Cruz sit down and figure out who should stay and who should go. If they both stay in, they both have a problem.
"I'd like to see them resolve it," Lonegan said. "I'm really torn on this. They're both solid candidates, they're both excellent candidates with proven records but they split the conservative vote. Over the next several months, the one of the two who has the most compelling message about reining in the Federal Reserve will be the candidate I will work the hardest for. To me, that's the number one issue."
What about Wisconsin Governor Scott Governor? "When it boils down to it, he has a lot to prove [on Constitutional issues]," the former mayor said.
PolitickerNJ asked Lonegan if he felt Christie misplayed politically by hinging his 2013 gubernatorial reelection campaign strategy on corralling the endorsements of Democratic mayors.
Lonegan said he won, after all, so hesitated to criticize the strategy, but did add, "He [Christie] ran against [then-Governor Jon] Corzine as a conservative and won in 2009. Could he have done that again? Maybe. But the bigger picture is that he had an opportunity to implement sweeping changes like flattening income tax, turning Atlantic City around and putting conservatives on the Supreme Court. The governor of New Jersey has a lot of power. At the end of the day it's the economy, stupid and New Jersey's economy sucks."