Last night, the country tuned in for the Teenage Oscars, AKA the MTV Movie Awards. Amy Schumer, popular standup comedian, creator and star of Inside Amy Schumer, and upcoming film Trainwreck, took to the stage to host, filling in the shoes of many a great comedian, including Conan O'Brien, Rebel Wilson and Chelsea Handler. Like the greats, Ms. Schumer wasn't afraid to tackle the funniest and crudest, covering the Jersey Shore's Nicole "Snooki" Polizzi, Hillary Clinton's big announcement, and everything in between, including a dig at MTV, "the one network that refuses to air music."
The more touching moments of the show included speeches by teary-eyed Shailene Woodley and John Green for their wins for The Fault In Our Stars; before presenting an award, Vin Diesel broke out into an unexpected but sweet rendition of song See You Again, dedicated to his close friend, the late Paul Walker.
[youtube https://www.youtube.com/watch?v=ksrHwD9cZjQ]
During his Comedic Genius acceptance, Hart brought his two children, Heaven and Hendrix, onstage and thanked everyone that helped him get where he is today, his fiancée, ex-wife, "most amazing" children and his fans; and Robert Downey Jr. accepted a Generation Award, who advised fans and teens alike to "keep your nose clean," and "define your generation," touching on his rougher past, path to sobriety, happiness and success.
Nevertheless, MTV didn't disappoint when it came to the bizarre, à la 2013 VMAs' Miley Cyrus. Some portions of the show left many uncomfortable—Ms. Schumer's depressingly failed attempt at archery; her semi-racist comparison of Gone Girl's anti-hero to Latina women (followed by an iconic reaction from Jennifer Lopez); and a most peculiar acceptance by Dave Franco and Zac Efron for Best Duo, who took to the stage donning Robert De Niro costumes and tried to milk one another… causing a world-wide cringe.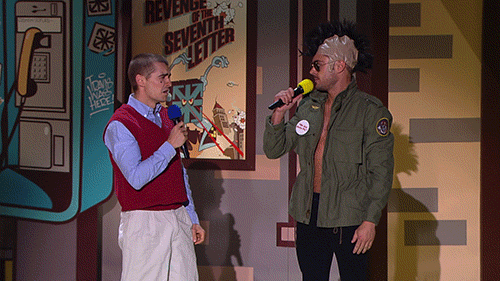 Putting MTV's usual eccentricities and award show antics aside, celebrities raked in 17 awards for the night, including wins from Elizabeth Banks, Meryl Streep, Bradley Cooper and Jennifer Lawrence. The network also premiered clips for upcoming movies Paper Towns, Pitch Perfect 2, and Marvel's Avengers: Age of Ultron.