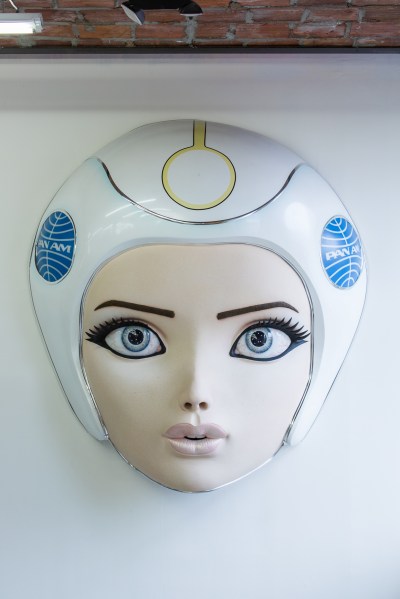 One aspect of the practice of the artist Simon Denny—New Zealand-born, Berlin-based, Venice-bound—is to steal unabashedly from the world of tech conferences. The clean look, the cheery feel, the big-poster imagery, the relentless optimism, the jargon-heavy dialect, the scream-smiling speeches, all of it. These are the big-budget spectacles of TechCrunch Disrupt, or the Munich behemoth DLD—which means Digital-Life-Design, not like that explains much—are all ripe for parody, but Mr. Denny takes these conferences totally seriously, and his new show at MoMA PS1, "The Innovator's Dilemma," proves how they can inspire insanely eye-catching, abrasive but still somehow sobering installation works. There's a series of posters with inspiration quotes from tech luminaries dotting the walls in one corner, a complicated installation involved a glassed-in bed in another, and then at one side of the room, recreations of the bizarre, enormous sculptures owned by Kim Dotcom, the embattled Megaupload founder who became infamous after U.S. forces raided his compound in New Zealand. And for those not going to Venice for the Biennale, the show will give visitors a taste of what Mr. Denny plans to do as the representative from New Zealand.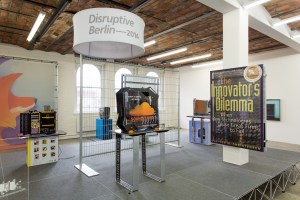 I sat down with the artist and Peter Eleey, Curator and Associate Director of Exhibitions and Programs at PS1, who curated the show while working closing with Mr. Denny during an arduous install.
The Observer: So how did this come together, in the beginning stages?
Eleey: I've been looking at Simon's work for some time. Last year we acquired a group of his work for the museum, and that got us thinking about how to best represent Simon in the collection. Most of Simon's shows have been installations, sort of looked at as a complete structure rather than individual works that have been arranged in space. And the question became 'Well then, how do we adapt what were complete environments into something that is literally excerpted into a kind of highlights reel?' And the trade-show logic gave us a way to do that. You know, with, I hoped, some degree of irony.
The Observer: And regarding the amount of irony or remove, just looking at your practice, Simon, it seems on some level you have real, earnest appreciation for this phenomenon.
Denny: I'm a tech world fan boy, I really am. I totally am. I'm a big fan of this context and I really drink it in. So that's definitely a component of the research, because I love to know about the stuff, you know?
The Observer: So does it matter if someone outside of the world of TechCrunch Disrupt and DLD and sees this as a big pot shot on of the entire thing? Does that matter to you?
Denny: No, it doesn't. There's a space for that, for criticism. Tech is a space where they value innovation, right? They value people doing things differently. They value things that change conventions, right? It's kind of in the law of their culture, right? Sort of challenge things to question things. To make things. To look at things, to really scrutinize them and see what they're saying. I'm a fan of a show like "Silicon Valley," which is totally hilarious and makes great jokes about the whole scene, and I know tech people also love that show. But in terms of my work, I don't think, like, 'Well, I don't see my work as satirical or critical.' That's not the way I think about it. It's not a question that comes up.
Eleey: I think all these things that Simon just outlined are also things that we can say are qualities of art in our art history. And that the issues of what Simon's both celebrating or critiquing or scrutinizing isn't just limited necessarily to the appearance or subject matter of the work. He's using the slogans and content of the tech industry and that notion of relentless innovation and newness to turn back on those same assumptions of the structure of the art world.
The Observer: But when you staged your own TED Talk, it was at least somewhat sanctioned by TED.
Denny: It was completely sanctioned by TED. I went through the same process as anyone else doing a TED Talk.
The Observer: But then you had it in Liechtenstein, and on the stage, you had an island that participants had to stand on—making them "offshore" to reflect the nature of Liechtenstein as a tax haven for "offshore" accounts. So that's a little bit subversive, right?
Denny: Yeah, but doing it on a quadruple landlocked country which has more companies in it than people, officially, is underlining these issues that we're facing today—like, who's paying taxes where.
The Observer: I found myself always drawn to the Kim Dotcom works. I've always been fascinated by him.
Denny: He's an amazing hero.
The Observer: You've been following him for a while, a someone from New Zealand.
Denny: It's much more complex from a New Zealand perspective than it is from an international perspective. As a New Zealander, nobody knew who he was until he got busted. And that happened from the US coming and showing muscle in New Zealand that they hadn't shown in New Zealand for a long time. Like, you don't get these kind of FBI busts in New Zealand. Cops in New Zealand don't carry guns. And then it turns out he's living in the most expensive mansion in the country. Turns out he's got all these crazy things going on. Turns out, he's like a Bond villain, which also I'm sure is why the US picked him to make an example of when many people break the same laws. Like, why is the US picking on this successful businessman who's innovating, who's doing his own thing? It became like a small man against the world kind of thing. He was like a hero in New Zealand for about a year. And then he started the Internet Party and things got complicated. There was this event called The Moment of Truth, where he flew in Glenn Greenwald, he beamed in Snowden and Assange, and he had this huge event with a TechCrunch Disrupt kind of feel. Kim sits on stage with a bunch of heroes, and they talk about changing the world. And he thought that would be inspiring and motivating to New Zealanders—and New Zealanders hated it. It was too loud, it was too self-important, it was the rich guy paying for people, paying for voices. And so it completely put other people off the Internet Party.
The Observer: Of the Berlin-based startups you focus on, the most well-known might be Soundcloud. What exactly is Soundcloud's presence in Berlin? Is it representative of Berlin's startup scene in general?
Denny: I mean it's a great global company right? And the founders said they started it in Berlin because Berlin is this giant, creative space. It's cheap, it's fun—I think the founder uses "edgy" or something like that. The overhead's low. You know…
Eleey: —the same reason artists go there.
Denny: And they don't engage with Germans and German culture there. That's another interesting thing about Berlin compared to Munich because Munich is very German. And Berlin is full of expats. And Soundcloud is an English-speaking company. The founders are Swedish.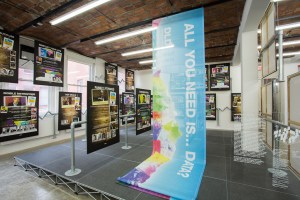 The Observer: I had no idea they were found in Berlin, but it's not surprising. And I like that you have the Soundcloud piece in there. The speaker. It's just constantly playing Dubstep.
Denny: Dubstep is the DLD official soundtrack! It really is. Dubstep is the go-to because it's new, right? It's new material. Like, you can't choose an old music form to soundtrack something that is about newness. You can't do it. So, Dubstep is new.
Eleey: What was really interesting for us is, how is this stuff supposed to age? What do we do as an institution that's trying to conserve a work's physical structure and form over time when it's got built into it a quality that makes it already a little dated at the time that it's acquired. The Samsung monitors that are in those works are only manufactured on a 6-month cycle. At a certain point, they'll just stop working. We'll end up with an object that's really a historical artifact.
The Observer: I was thinking that when you have the iPhones in a row—it's just like, yeah, these are already a mausoleum. Another thing that struck me: I know that when you did the TEDx Talk you brought Emily Segal from K Hole…
Denny: Correct.
The Observer: …and I've known her for a few years, she's great.
Eleey: She's amazing.
The Observer: …and I really like what K-HOLE has done in terms of being this artist collective and also acting as a very serious trend forecasting firm—like, the memos they produce are just totally straight faced and very serious. And what's really interesting to me is that not too long ago Genius brought on Emily and the rest of the K-HOLE team to work on developing Genius, to annotate the Internet. And tonight, the party, it's hosted by Genius, right?
Denny: Correct.
The Observer: So K-HOLE is somewhat now part of this startup that's received tens of million in VC funding from Andreessen Horowitz and others, valuing the company at $400 million—can what K-Hole is doing with Genius, then, be considered part of its practice, like, its artistic practice? If it's for a company worth that much and funded by Marc Andreessen?
Denny: The short answer is definitely. Yeah—absolutely. And that for me is working with culture on its own terms. My position to the art is this: I can engage with other types of culture and bring it to a different audience.
The Observer: So what exactly are you doing for Venice? What's the project?
Denny: New Zealand doesn't have a pavilion so, luckily, I can choose where I wanted to show the work, which is great. I chose to work with the airport, the Marco Polo Airport, and the national library, which is right in San Marco. And both of those places, I see them as repositories of knowledge—places that deal with different types of knowledge. Obviously a library is a historical archive, and an airport is something that literally lets exchange happen. Which makes perfect sense for a biennale.