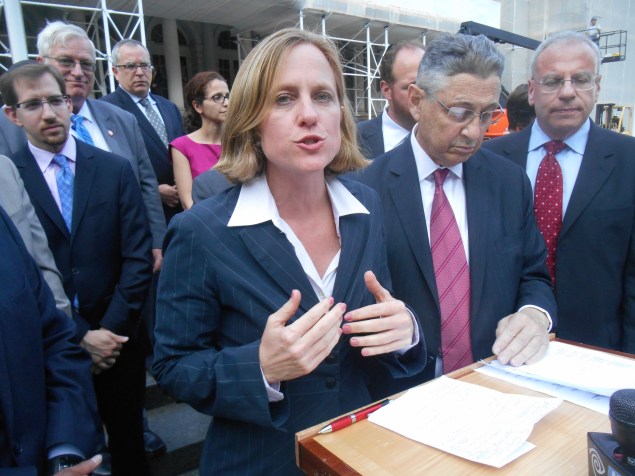 Queens Borough President Melinda Katz and a host of fellow Democrats announced this afternoon they are opposing a new congestion pricing plan, pitting themselves against a slew of Manhattan elected officials, including the island's borough president.
More than a dozen Queens lawmakers, encompassing members of the Assembly, Senate and City Council, said the pricing scheme, known as the "Move NY Fair Tolling Plan," is unfair to Queens residents and does not guarantee the borough will see mass transit improvements. Under the plan, tolls would be placed on East River bridges connecting Manhattan and Queens and motorists entering Manhattan south of 60th Street would be charged. In turn, tolls would be lowered on other outer borough crossings.
But as critics have pointed out, there would be no guarantee the toll revenue would be redirected toward any particular transit upgrades–or even that it would be used to lower tolls elsewhere.
"It is fundamentally unfair to charge residents a fee to travel within one city. It is certainly unfair to the families who live in the transit desert of Queens as it would landlock our Borough," the Queens Democrats said in a statement.
"The ideas in the proposal for mass transit improvements are great. But without any direct connection between the revenues generated from the proposed tolls to those very improvements, there is simply no guarantee that this proposal will actually yield anything tangible or amount to anything more than just that: an interesting idea," they added.
In addition to State Senator Tony Avella and Assemblyman David Weprin, two lawmakers who have loudly opposed congestion pricing, the statement was jointly issued by Assembly members Jeffrion Aubry, Barbara Clark, Vivian Cook, Phillip Goldfeder, Ronald Kim, Michael Miller, Michael Simanowitz and Michele Titus; And State Senators Joseph Addabbo, Jr., Tony Avella, Leroy Comrie and Toby Stavisky; City Council members Karen Koslowitz, Rory Lancman, Daneek Miller, Paul Vallone and Ruben Wills.
Many of the elected officials represent more suburban portions of southeast and northeast Queens where subway access is nonexistent and many residents own automobiles. The Queens Democrats pushed back on a provision of Move NY that would slash tolls on other outer borough bridges, including some that connect Queens to the Bronx, arguing that it's inherently unfair to levy "different charges for different residents of different boroughs."
"We recognize it is critical that we find more stable transit funding sources other than from the driving and riding commuters' pockets to fill deep budget gaps," the Democrats said. "But we reject the notion that there is only one way to generate additional monies for the Metropolitan Transportation Authority and our region's infrastructure."
Move NY was advanced earlier this year by former Traffic Commissioner "Gridlock" Sam Schwartz as a way to raise additional revenue for the perpetually cash-strapped Metropolitan Transportation Authority. The plan has won additional backing from business and labor groups than an earlier proposal that was never brought up for an Assembly vote in 2008.
Manhattan Borough President Gale Brewer and several Manhattan Democrats, including State Senators Daniel Squadron and Brad Hoylman, recently came out in favor of Move NY. The coalition also has support from at least two Queens elected officials, Councilman Mark Weprin and State Senator Jose Peralta.
But the joint statement from the Queens Democrats shows that the plan faces many hurdles before it ever becomes reality. The Assembly and Senate must sign off on Move NY before it makes it to the governor's desk. Assembly Speaker Carl Heastie has not been supportive of congestion pricing and the Republican-controlled Senate is not expected to be receptive. Mayor Bill de Blasio, whose support could swing at least some state lawmakers, left congestion pricing out of the sustainability initiative he unveiled last week.
View the full statement below:
"The 'Move NY Fair Plan' is far from fair and lacks any promise of returns. It is fundamentally unfair to charge residents a fee to travel within one city. It is certainly unfair to the families who live in the transit desert of Queens as it would landlock our Borough.
"The ideas in the proposal for mass transit improvements are great. But without any direct connection between the revenues generated from the proposed tolls to those very improvements, there is simply no guarantee that this proposal will actually yield anything tangible or amount to anything more than just that: an interesting idea.

"Our city's mobility and growth depends on more affordable, reliable and efficient mass transit. We recognize it is critical that we find more stable transit funding sources other than from the driving and riding commuters' pockets to fill deep budget gaps. But we reject the notion that there is only one way to generate additional monies for the Metropolitan Transportation Authority and our region's infrastructure. Moreover, this proposal is not unlike the many other unfulfilled promises introduced over the years. This one does, however, have an equity deficit for many reasons, including but not limited to:

1. The proposal tolls all routes from Queens to Manhattan;

2. There is inherent unfairness in the different charges for different residents of different boroughs;

3. The proposal doesn't guarantee that any of the funds collected will be spent toward bettering transportation access for Queens' residents."