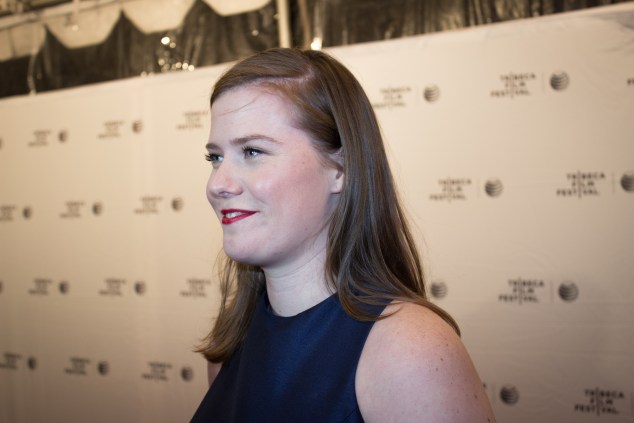 "You're talking to a human being, and I'm an over-sharer. I'm Irish." Erin Carr, the 26-year-old twin daughter of the late New York Times media reporter David Carr, has a disarmingly meta way of discussing her own work as a documentarian; effectively turning our conversation into another example of the murky, transactional intimacy between profiler and subject. In a dark suit, with blonde hair pulled back in a severely practical ponytail that only served to highlight her set jaw and jutting cheekbones, she could be a dead ringer for Anna Chlumsky's character Amy Brookheimer on Veep. Like Brookheimer, the president's campaign manager and "everything-doer," Ms. Carr tends to talk in terms of convictions, and she does so with that same cautious urgency of someone who knows how easily words can be taken out of context.
I'd been asking her about how she keeps her boundaries, while effectively getting her subjects to divulge information against their better judgment. Case in point: The Tribeca Film Festival had screened the premiere of her upcoming HBO documentary, Thought Crimes, the night before. The film focuses on New York's "Cannibal Cop," Gilberto "Gill" Valle, with whom Carr spent over two years cultivating a trusting relationship. A Queens-born NYPD officer, Mr. Valle became feast for tabloid fodder in fall 2012, when he was arrested and eventually convicted of conspiring to kidnap, cook and consume young female targets. When a judge overturned the decision after a 21-month prison sentence, it was Ms. Carr whom Mr. Valle picked out of the hordes of press requests from larger and more reputable outlets and personalities, granting Ms. Carr exclusive, extremely personal interviews about the case.
Thought Crimes was associated with HBO, sure, but Ms. Carr had sold it on spec. (Her previous work existed only online; short films about esoteric subjects for Vice.com.) To go with a newbie was not, one might argue, Mr. Valle's best PR move. So how did Ms. Carr manage to snag him?
"The press attention had died down, he had been convicted, and here was this woman sending him letters saying, 'I'm still interested in you,' " she explained at HBO's headquarters. "I think there were a couple moments where [he] was confused about the relationship when I was with him," she admitted. "I mean, he was this guy from Queens. These are nuanced boundaries…"
Ms. Carr catches herself, course-correcting as seamlessly as any political flack. "Well, not nuanced, actually. These are the black-and-white boundaries between journalist and friend … you can't be both."
Thought Crimes shows an unguarded Mr. Valle opening up for the first time about how he became involved with The Dark Fetish Network, a social network in which users engage in fantasy-based erotic torture and snuff scenarios. Mr. Valle went by the handle "Girlmeat Hunter," a fact that's hard to dismiss while watching his bashful, teddy-bear responses to an off-screen Ms. Carr. While her voice is never heard asking questions, he directs all his statements slightly to the side of the camera with a shy smile.
It's not hard to imagine Mr. Valle believed he'd found a sympathetic and perhaps romantically inclined ear in Ms. Carr, a fact that makes me feel at once sorry for him and legitimately frightened for her, the ostensible exploiter of that misunderstanding. "There's always a possibility that those thoughts were in his head," she says of being in the crosshairs of Mr. Valle's extremely violent sexual fantasies.
Though Thought Crimes deals in dark subject matter, it has moments of grim comedy. There are frequent shots of Mr. Valle cooking and eating banal meals—a splattered omelet, a fist-sized burrito, an unspooling of pasta and sausage, talking all the while about his case, as if unaware that his foodie habits might be viewed as stomach-churning in light of his charges.
"It's not a sexy answer, but this guy was on house arrest," Ms. Carr copped when I asked the inspiration for the queasy visual jokes. "He couldn't even go outside. One of the only things he could do was make a lot of food. "
Though this is her first feature-length documentary, it's not Ms. Carr's first rodeo profiling strange, intense men: as one of the early hires for Vice's original content video series for Motherboard, she'd first gained notoriety with an investigation of tardigrades, microscopic organisms that can survive and thrive in outer space, in which the creatures themselves took a backseat to an eccentric named Mike Shaw, who spent his days hunting these "space bears" in the woods of rural Virginia.
Later, she would do another documentary about a man who made 3-D printed guns. "He wanted to be friends. And it was confusing, because I was like, 'O.K., this guy is a psycho, but I like him. What is this?' But I'm also covering him." Ms. Carr offered a wry smile. "I really got versed in that quickly."
Growing up, she'd been inspired by HBO's previous true crime documentary, The Cheshire Murders, as well as Andrew Jarecki's infamous Capturing the Friedmans. (She's seen it 15 times; when the time came for her to pitch Thought Crimes to HBO as a development deal, he was the documentarian she called for advice.) But despite the darkness of the subject matter, she walked away with the desire to explore "how to humanize the people who need humanizing."
Ms. Carr's mission with Thought Crimes, too, was that her own opinion on Mr. Valle—his guilt, his innocence, his sincerity and apparent need for absolution—never be made known to audiences. And though the film does an admirable job in its lack of editorializing, Mr. Valle, who had seen an advance copy earlier in the week and had not liked it. Ms. Carr was conflicted by this turn of events, noting that it was "highly unusual" for them not to be in contact, though she understood why he'd been displeased by anything other than an 80-minute portrayal of his victimhood. "I could not, and will not, hopefully ever, make a propaganda piece for someone," she said adamantly.
She paused, and I imagined her remembering how much he had confided in her, and weighing that against how much she should confide in me. "I think … he was remarkably upset," she allowed. But she wasn't about to let their 24-month-long involvement get in the way of the story that needed telling.
"It's always difficult," she said. "But it's always something that has to be thought about." 
Thought Crimes will premiere on HBO Monday, May 11 at 9 p.m. EST.