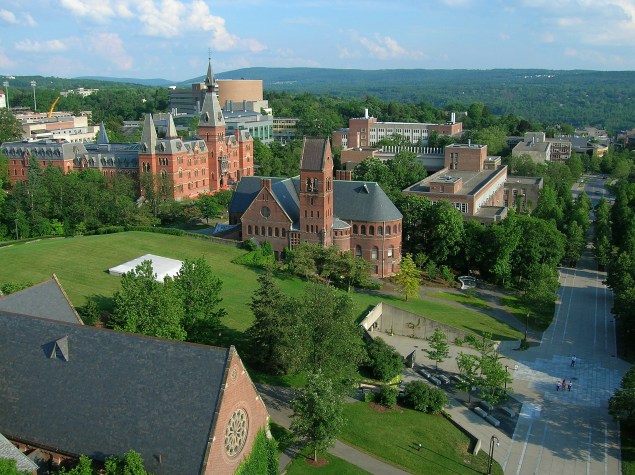 Though Oxford University enjoys a reputation as an exclusive redoubt for the British gentry, the storied school educates the hoi polloi in summer, offering noncredit courses open to those who can afford the tuition. The school's famous Summer School for Adults attracts students who are looking for a holiday in England as well as the chance to brush up on literature, music, religion art history and apparently flirting (the program is known as a hotbed for hookups). But Oxford has not cornered the market on educational tourism. Here, the Observer audits a slew enticing summer courses.
New York University, Tisch School, Continuing Education
Enjoy a staycation at NYU, which opens many courses to adult learners, including Writing the TV Sitcom, Producing Live Music Events and Editorial Photography for New Media. You can even live like a ramen-eating student again, as the school rents dorm rooms at remarkably reasonable rates.
Tuition varies depending on the course. Housing in furnished dorm: $187 per person per week or $255 for a single. Application Deadline: Recommended to apply by May 26
Session I: May 26- July 2; Session II: July 6-August 15, 2015
specialprograms.tisch.nyu.edu, 212-998-1500
Rhode Island School of Design—Continuing Education
RISD provides adult learners with more than 20 different kinds of courses including six-week intensive seminars, weekend classes and single session lectures on subjects such as Product Development and the Business of Art and Design. Along with noncredit courses, RISD's Continuing Education Program features several certificate programs in animation, apparel design and knitting, among other disciplines.
Tuition: $490 – $2,600 + fees, per course. Private dorm: $430 per week.
Registration begins on April 20
ce.risd.edu/overview/adults, (401) 454-6200
Interlochen College of Creative Arts—Adult Arts Program
Hoping for a second chance at the quintessential liberal arts experience? Look no further than Interlochen College of Creative Art's Adult Arts Program. The school in bucolic Northwest Michigan focuses on five key categories, music, visual arts, creative writing, media, and professional development.
Tuition: $55 – $795; college.interlochen.org; (231) 276-7200; lodging near the campus costs between $100-$129.00 a night.
Cornell University—Adult University
From offbeat classes like "Coffee, Cloves, and Chocolate: How Plants Have Shaped Human History," to sailing clinics, Cornell's week-long courses seems more like summer camp than summer school. Adult University provides four weeklong sessions in upstate New York, throughout July and several tour-groups led by Cornell professors. Scott MacDonald, a professor of philosophy and Christian studies, for instance, will guide guests on a 13-day cruise with stops in Croatia, Montenegro, Albania and Italy and Greece. The voyage will retrace "Jason and the Argonauts' quest for the Golden Fleece" and culminates with an ascent to Sumela Monastery in the mountains of Turkey.
Cost: Adult University starts at $1,055 per week plus $695 for lodging with air conditioning, semi-private bathrooms, and a separate "quiet wing" for adults only. The cruise costs $6,990 double occupancy or $9,990 for a single cabin; sce.cornell.edu/cau; (607) 255-6260
Paris-Sorbonne University
Still kicking yourself for not taking French during your undergrad years? Expunge any regrets at the prestigious Sorbonne University in Paris' Latin Quarter. First offered in 1919 as thanks to the Yanks for intervening in WWI, the Sorbonne offers its Cours de Civilisation Francaise at bargain prices. Tuition starts at $320 euros ($345), though housing is not provided; ccfs-sorbonne.fr; 3314-410-77 00