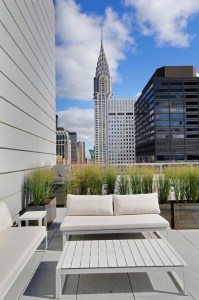 The New York-based agency MediaCom handles the planning and buying of advertising for some of the world's biggest players in the energy, pharma, entertainment and automotive industries–Shell, Glaxo Smith Kline, VW and Universal, just to name a few. They are, by their own estimate, the "Content + Connections Agency," where "Content" is "fuel for high-performing systems," and "Connections" is the method for guiding said content "around the system." That a communications company is capable of so nonsensically mixing metaphors right in the midst of their own efforts at self-promotion would seem likely to give pause to the multinational corporations at which that self-promotion is aimed.
But apparently not, because the profits seem to be rolling in! MediaCom chairman and CEO Stephen Allan, together with his wife Hayley–who also once worked in advertising–has just closed on a three-bedroom at 325 Lexington Avenue for about $7.51 million, according to city records. (To be fair, MediaCom does "offer clients a unique opportunity to partner with Pelé, one of the world's last living legends," who can provide "fame and authenticity on a global and regional level" to your brand.)
The couple's new Lexington Avenue address does not have quite the same cache, either global or regional, as Pelé. But the building–fresh construction courtesy of Carmel Partners and Times Square Construction, with an assist on the sales end from Corcoran–offers niceties often associated with the sorts of addresses that do enjoy that kind of reputation. You know, like the ones on Park and Fifth. A rather modern affair, the 2,529 square-foot penthouse has floor-to-ceiling windows, offering tons of light and transfixing views of the Empire State and Chrysler buildings, as well as of downtown Manhattan, all the way to the World Trade Center. Ceilings are 11.5 feet high and a gracious terrace off the great room comes ready-made for cookouts. It sounds as though all the buyers will need is fuel for their high-performing system!