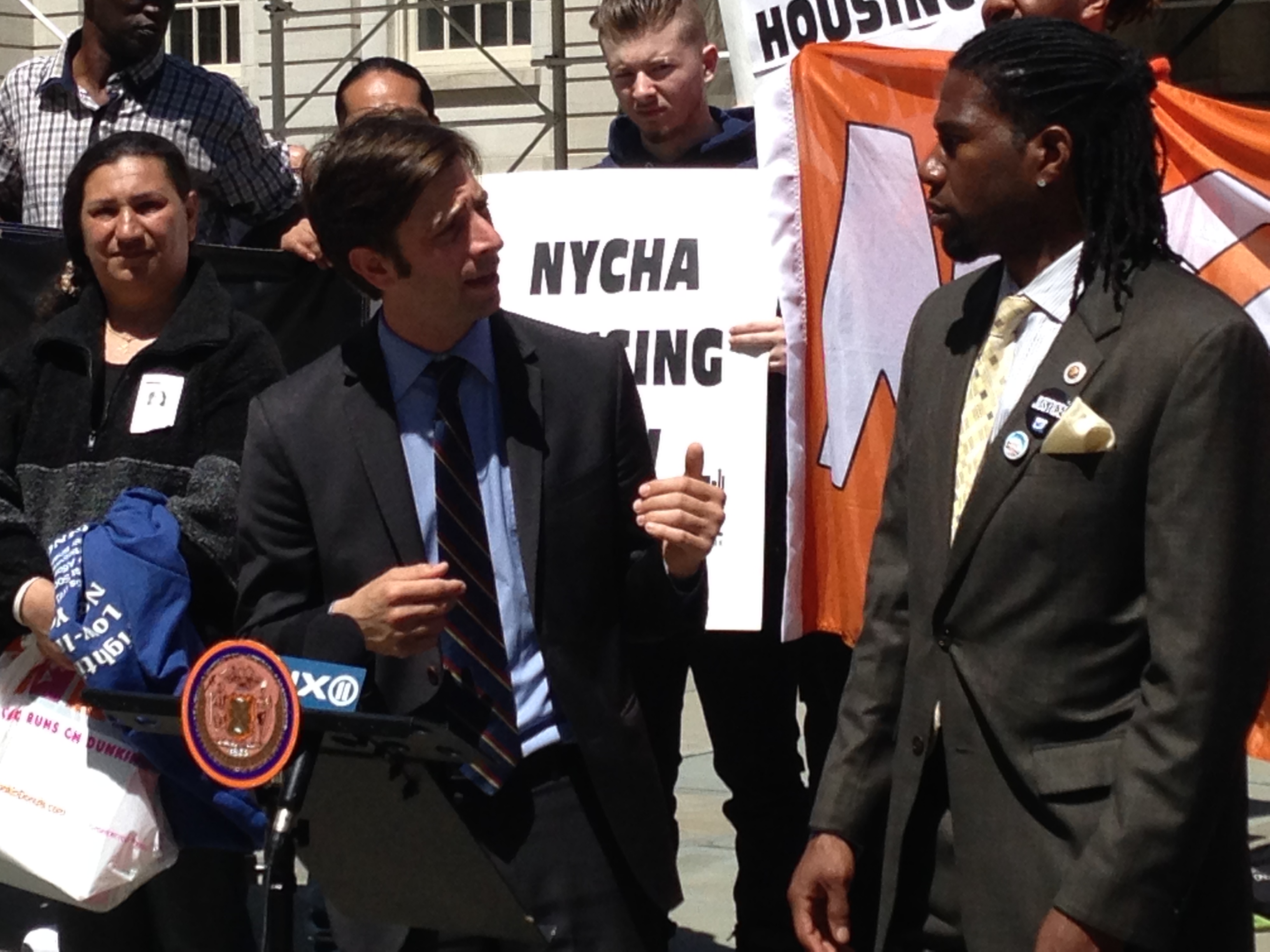 Politicians and activists kept up pressure on the de Blasio administration to increase its allocations of New York City Housing Authority apartments for the homeless in the face of a spiraling indigent crisis—and brandished a sheet of statistics showing that previous mayors had granted shelter families greater access to public housing despite dealing with smaller populations.
Chanting "fight, fight, fight, housing is a human right" on the steps of City Hall, the officials and advocates insisted that Mayor Bill de Blasio and his NYCHA Chairwoman Shola Olatoye make 2,500 of the 6,000 public housing units that open up each year available to homeless families, almost four times the mayor's current outlay of 750. The statistics cited in the report they distributed were largely a rehash of figures the Coalition for the Homeless released in its "State of the Homeless" report in March: that former Mayor David Dinkins had set aside 1,215 NYCHA spots for homeless families a year during his four-year tenure, while former Mayor Rudolph Giuliani had made 854 slots available during the 1990s—when the number of people without regular shelter was half the current population of 60,000 families in the system today.
"The city has direct control over thousands of public housing units that should be prioritized for those with the highest immediate housing needs," said Public Advocate Letitia James. "By expanding the number of NYCHA units set aside for families in our shelter system, we can provide the kind of permanent and stable housing that is necessary to end the vicious cycle of homelessness."
Former Mayor Michael Bloomberg, seeking to ease entry for the 270,000 families on NYCHA's waitlist, cut off access to people coming out of the shelters in 2005, which the report blamed for the burgeoning numbers of people on the streets. The council members in attendance, many of them liberals like Mr. de Blasio, were careful not to blame the current mayor for the problem even as they pressed him to fix it.
"This administration has done some very good things when it comes to combating this homelessness crisis here in New York City," said Mr. Levin, noting that—unlike many programs—public housing is in complete control of the city, not the state. "There are some very interesting things happening, but what they have to do more of is find NYCHA units for the homeless. This is one of the things we have complete control over."
Councilman Jumaane Williams also focused the blame on Mr. Bloomberg, though he expressed disappointment at Mr. de Blasio's provisions for the homeless.
"This mayor inherited a crisis," he said. "It is a problem though that administrations past have given so much of NYCHA housing to the homeless."
Ms. Olatoye, however, stressed in testimony to the Council last month that NYCHA had no intention of increasing the allocation. However, the administration stood up for itself, saying that—on top of the main outlay of 750—the administration will house 500 domestic violence victims in public housing this year and grant federal Section 8 housing vouchers to 500 more.
Some 440 homeless military veterans will also receive special subsidized vouchers. The administration noted that the housing market places far more pressure on low-income New Yorkers in all circumstances than it did during the Dinkins and Giuliani administrations, and that NYCHA has a responsibility to all those waitlisted
"Today's realities are very different from that of 15 or 20 years ago—we've lost thousands of units of affordable housing, resulting in 400,000 New Yorkers on waitlists for NYCHA units and Section 8 vouchers—that is larger than the population of New Orleans," said spokewoman Ishanee Parikh in a statement sent to the Observer. "With such pressing demand for affordable housing, the de Blasio administration is leveraging NYCHA fairly to help different populations and combat our homelessness crisis."
Updated to include comment from Ms. Parikh.